Published
May 22, 2020 - 09:45pm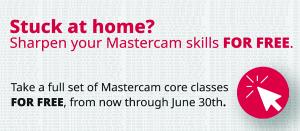 May 14 (Tolland, Connecticut) –- CNC Software Inc. has made free training available to those looking to sharpen their skills using Mastercam CAD/CAM software. Until June 30, users can sign up to take a full set of Mastercam core classes through Mastercam University.
Mastercam University offers 24/7 access to fully online training and the courses are designed to be self-paced. Each lesson contains a set of learning objectives, assessment questions, and challenges to be completed. Users will earn a certificate for each course that is completed.
The following is a list of the free courses being offered on Mastercam University:
Mastercam Essentials
STEM: Principles of Machining
Mastercam 2D Mill (for both 2019 and 2020 versions)
Mastercam 3D Mill (for both 2019 and 2020 versions)
Mastercam Lathe (for both 2019 and 2020 versions)
To assist in efforts to maintain learning opportunities and transition to remote instruction, Mastercam is also providing an array of free resources to use for online teaching initiatives and virtual classroom instruction.
Three projects in the Mastercam Quick Part Series are available free of charge. These project-based learning modules provide tutorials for Mastercam Mill, Mastercam Router, and Mastercam Lathe. Each includes guided curriculum that takes students through the CAD/CAM/CNC process from project start to a finished part. These tutorials provide instructors a convenient means of teaching students about manufacturing terminology, techniques, and processes while providing valuable experience using Mastercam.
For more information about the free Mastercam University courses, please visit https://www.mastercam.com/news/blog/free-training-available-from-mastercam/.
For more about teaching from home resources, please visit https://www.mastercam.com/news/blog/helpful-mastercam-resources-for-remote-educational-curriculum/.
Related Glossary Terms
computer numerical control ( CNC)


computer numerical control ( CNC)

Microprocessor-based controller dedicated to a machine tool that permits the creation or modification of parts. Programmed numerical control activates the machine's servos and spindle drives and controls the various machining operations. See DNC, direct numerical control; NC, numerical control.

lathe


lathe

Turning machine capable of sawing, milling, grinding, gear-cutting, drilling, reaming, boring, threading, facing, chamfering, grooving, knurling, spinning, parting, necking, taper-cutting, and cam- and eccentric-cutting, as well as step- and straight-turning. Comes in a variety of forms, ranging from manual to semiautomatic to fully automatic, with major types being engine lathes, turning and contouring lathes, turret lathes and numerical-control lathes. The engine lathe consists of a headstock and spindle, tailstock, bed, carriage (complete with apron) and cross slides. Features include gear- (speed) and feed-selector levers, toolpost, compound rest, lead screw and reversing lead screw, threading dial and rapid-traverse lever. Special lathe types include through-the-spindle, camshaft and crankshaft, brake drum and rotor, spinning and gun-barrel machines. Toolroom and bench lathes are used for precision work; the former for tool-and-die work and similar tasks, the latter for small workpieces (instruments, watches), normally without a power feed. Models are typically designated according to their "swing," or the largest-diameter workpiece that can be rotated; bed length, or the distance between centers; and horsepower generated. See turning machine.

milling machine ( mill)


milling machine ( mill)

Runs endmills and arbor-mounted milling cutters. Features include a head with a spindle that drives the cutters; a column, knee and table that provide motion in the three Cartesian axes; and a base that supports the components and houses the cutting-fluid pump and reservoir. The work is mounted on the table and fed into the rotating cutter or endmill to accomplish the milling steps; vertical milling machines also feed endmills into the work by means of a spindle-mounted quill. Models range from small manual machines to big bed-type and duplex mills. All take one of three basic forms: vertical, horizontal or convertible horizontal/vertical. Vertical machines may be knee-type (the table is mounted on a knee that can be elevated) or bed-type (the table is securely supported and only moves horizontally). In general, horizontal machines are bigger and more powerful, while vertical machines are lighter but more versatile and easier to set up and operate.