Published
May 19, 2017 - 08:30am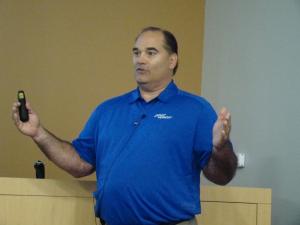 By using software to automatically optimize NC program feed rates, parts manufacturers can achieve the benefits of high-efficiency machining. So says David Sutkey, sales engineer at Irvine, Calif.-headquartered CGTech, who presented a technical session about it on May 18 at BIG KAISER Precision Tooling Inc.'s Breakfast & Learn 2017. The May 16-18 event took place at the toolmaker's headquarters in Hoffman Estates, Ill.
Sutkey emphasized the goal of optimizing feeds with CGTech's VERICUT verification, optimization and CNC simulation software is to reduce cycle times. Optimization is achieved without changing the trajectory of the cutting tool or the part geometry. "No toolpath trajectories were harmed in the making of this presentation," read one slide.
Other gains realized from feed optimization include less tool wear by maintaining a constant chip load, finer surface finishes and reduced wear and tear on the machine tool.
Sutkey compared an adaptive control, which he called a reactive method, to feed-optimization software, which looks ahead and is proactive.
The next step is cutting force optimization, he said. CGTech states that its VERICUT Force module is a physics-based optimization method that determines the maximum reliable feed rate for a given cutting condition based on four factors: force on the cutter, spindle power, maximum chip thickness and maximum allowable feed. It calculates ideal feeds by analyzing tool geometry and parameters, material properties of the stock and cutting tool, detailed cutting edge geometry and VERICUT cut-by-cut contact conditions.
"It considers the actual loads on the tool and spindle," Sutkey said. "Cutter geometry becomes very important."
He added that the software module "shines" when cutting difficult-to-machine workpiece materials and when the opportunity for tool deflection is high because of long tool overhang.
When a large amount of material is removed, such as during roughing and semiroughing, the cycle time reductions when implementing feed optimization can be 20 to 30 percent, Sutkey said. However, even when machining castings, when the amount of stock removal is lower, a cycle time reduction of 4 to 5 percent is "huge" when the part volume is high.
According to Sutkey, there is no excuse not to optimize NC program feed rates, and shops frequently tell CGTech that they can't afford not to optimize them, especially because optimization software is easier than ever to use and implement.