Published
March 13, 2019 - 06:00pm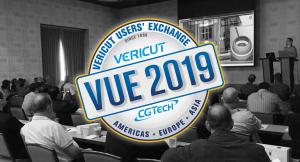 Irvine, CA, March 13, 2019 – CGTech kicked off the first of its 2019 North American VERICUT Users' Exchange (VUE) events last week in Irvine, CA. At VUE, attendees learn about new software features, tips and tricks for improving manufacturing efficiency, and have the opportunity to express ideas about the future direction of the software. There is no charge to attend.
Each year CGTech hosts many VUE events for its customers. More than 5,000 attendees are expected at 50+ VUE events worldwide in 2019.
This year at VUE, attendees get a first-hand look at the new features in VERICUT 9.0, such as:
• New enhanced graphics – sharper views of the cutting process and enhanced performance
• Improved efficiency – programmers get their jobs done faster, with flexibility to use major functions (like X-Caliper, Section and AUTO-DIFF) in any view, easily switching between Workpiece and Machine views, layouts and docking arrangements.
• Added power and convenience – more and easier ways to section the part, use translucency, streamline setup for toolpath optimization, and significant enhancements for lathe and mill-turn tooling.
VERICUT Product Manager, Gene Granata says, "In addition to seeing the exciting new things coming, another great benefit of attending VUE is that users learn about helpful features available in the software they use today, but may not have been aware of. In addition, they get to meet CGTech staff and share knowledge with other VERICUT users that they can use immediately to improve their processes."
VUE attendees that complete the VUE survey will receive 1 complimentary day of training to use at any standard VERICUT training class by the end of this year.
Sign up for VUE today to receive all of these benefits at no cost to you. To register for any VUE event, or to find a VUE location near you, call (949) 753-1050 or visit cgtech.com/about/vue/
Related Glossary Terms
lathe


lathe

Turning machine capable of sawing, milling, grinding, gear-cutting, drilling, reaming, boring, threading, facing, chamfering, grooving, knurling, spinning, parting, necking, taper-cutting, and cam- and eccentric-cutting, as well as step- and straight-turning. Comes in a variety of forms, ranging from manual to semiautomatic to fully automatic, with major types being engine lathes, turning and contouring lathes, turret lathes and numerical-control lathes. The engine lathe consists of a headstock and spindle, tailstock, bed, carriage (complete with apron) and cross slides. Features include gear- (speed) and feed-selector levers, toolpost, compound rest, lead screw and reversing lead screw, threading dial and rapid-traverse lever. Special lathe types include through-the-spindle, camshaft and crankshaft, brake drum and rotor, spinning and gun-barrel machines. Toolroom and bench lathes are used for precision work; the former for tool-and-die work and similar tasks, the latter for small workpieces (instruments, watches), normally without a power feed. Models are typically designated according to their "swing," or the largest-diameter workpiece that can be rotated; bed length, or the distance between centers; and horsepower generated. See turning machine.

toolpath( cutter path)


toolpath( cutter path)

2-D or 3-D path generated by program code or a CAM system and followed by tool when machining a part.