Published
April 25, 2019 - 05:00pm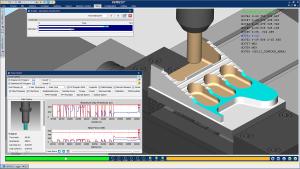 Irvine, CA - At the Western Manufacturing Technology Show (WMTS), June 4-6, 2019, CGTech will demonstrate VERICUT's Force optimization module and new graphics and features coming soon in version 9.0 in booth #230.
"CGTech is committed to helping customers improve their competitive stance through NC toolpath and process optimization. CGTech consistently works to improve simulation performance, and to provide powerful and easy-to-use features that streamline each user's verification process," says VERICUT Product Manager, Gene Granata.
VERICUT's Force optimization reduces machining times by as much as 30-70%, even for superalloy metals, and makes cutters last longer.
• New enhanced graphics –Sharper views of the cutting process, enhanced performance, and flexibility to rotate or zoom while cutting. Improvements in the view environment including realism, improved translucency, metallic and other appearances.
• Improved efficiency – use major functions (like Section, X-Caliper and AUTO-DIFF) in any view and fluent switching between Workpiece and Machine views, layouts and docking arrangements.
• Added power and convenience – more and easier ways to section the part, streamlined setup for toolpath optimization, and significant enhancements for lathe and mill-turn tooling.
Related Glossary Terms
lathe


lathe

Turning machine capable of sawing, milling, grinding, gear-cutting, drilling, reaming, boring, threading, facing, chamfering, grooving, knurling, spinning, parting, necking, taper-cutting, and cam- and eccentric-cutting, as well as step- and straight-turning. Comes in a variety of forms, ranging from manual to semiautomatic to fully automatic, with major types being engine lathes, turning and contouring lathes, turret lathes and numerical-control lathes. The engine lathe consists of a headstock and spindle, tailstock, bed, carriage (complete with apron) and cross slides. Features include gear- (speed) and feed-selector levers, toolpost, compound rest, lead screw and reversing lead screw, threading dial and rapid-traverse lever. Special lathe types include through-the-spindle, camshaft and crankshaft, brake drum and rotor, spinning and gun-barrel machines. Toolroom and bench lathes are used for precision work; the former for tool-and-die work and similar tasks, the latter for small workpieces (instruments, watches), normally without a power feed. Models are typically designated according to their "swing," or the largest-diameter workpiece that can be rotated; bed length, or the distance between centers; and horsepower generated. See turning machine.

numerical control ( NC)


numerical control ( NC)

Any controlled equipment that allows an operator to program its movement by entering a series of coded numbers and symbols. See CNC, computer numerical control; DNC, direct numerical control.

toolpath( cutter path)


toolpath( cutter path)

2-D or 3-D path generated by program code or a CAM system and followed by tool when machining a part.