Published
July 25, 2017 - 03:00pm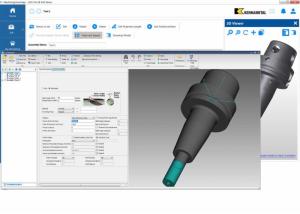 Irvine, Calif.-based CGTech, creator of Vericut, and MachiningCloud Inc., Camarillo, Calif., have announced a Vericut enhancement in MachiningCloud software whereby Vericut customers can import cutting parameters from cutting tool manufacturers from within MachiningCloud directly into Vericut.
Vericut CNC machine simulation, verification and optimization software detects CNC programming errors, as well as potential collisions from the same NC code that drives the CNC machine. MachiningCloud is a product data provider for cutting tool manufacturers, CNC machines and workholding.
After defining a tooling package on the MachiningCloud and directly downloading all the tool assemblies within the package into Vericut, customers can now obtain the cutting parameters of the tool to verify that it was programmed correctly.
"This enhancement in the Vericut MachiningCloud connection will further help the simulation process by bringing the cutting tool manufacturer's knowledge into Vericut," said Christophe Rogazy, director of product management at MachiningCloud.
"The importing of the tool's cutting parameters with the 3D tool geometry into Vericut will allow the user to take advantage of other verification checks our software offers to further improve their programs," said Jeff Voegele, Vericut product specialist at CGTech. "These tool-cutting parameters can also be used in Vericut's Force and OptiPath modules to better optimize the CNC program."
Related Glossary Terms
computer numerical control ( CNC)


computer numerical control ( CNC)

Microprocessor-based controller dedicated to a machine tool that permits the creation or modification of parts. Programmed numerical control activates the machine's servos and spindle drives and controls the various machining operations. See DNC, direct numerical control; NC, numerical control.

numerical control ( NC)


numerical control ( NC)

Any controlled equipment that allows an operator to program its movement by entering a series of coded numbers and symbols. See CNC, computer numerical control; DNC, direct numerical control.