Published
June 19, 2020 - 04:15pm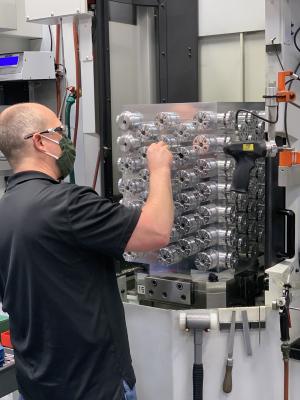 Ceratizit USA Inc. has joined forces with several companies to make ventilators. The CERATIZIT Group has extensive experience in the carbide production process, from the powder to the finished cutting tool. Not only does this allow special-purpose tools to be developed for customer-specific applications but it also means that a full range of industry-specific standard tools are held in stock and quickly available. High-precision drilling, reaming, countersinking and boring are specialties of CERATIZIT. Involved in this effort is Staub Precision Machine and the industrial distributor Abrasive Tool.
Staub Precision Machine used CERATIZIT reamers to perform a finishing operation of high-precision holes to size. The reamer was a solid carbide PCD tipped (polycrystalline diamond) with through-tool coolant diameter of .626" +.0005 -.0000. The material cut was aluminum and the production run quantity was 2,500 parts per week. In addition, Staub designed and machined two tombstones as well as collets. There were 33 parts on each of the four sides of the tombstone in the machine and Staub made 132 parts at a time. The machine was running at 4900 RPM (revolutions per minute) and 78 inches per minute feed. The hole was only .250" deep, taking less than a second per hole to ream. In addition, the hole was sized .616" before reaming, leaving .010" of stock allowance. While the hole has a .0005" tolerance, the reamer cuts the same size every time with a high mirrored finish (See photos 1 and 2).
Located in Hamburg, New York, Staub Machine Company was founded in 1975 in Tony Staub's garage. Over the next 43 years, the company developed into an industry leader in precision machining and the precision industry. In 1995, Staub moved into an old Super Duper grocery store located at 206 Lake St. in Hamburg. Tony Staub decided to sell the assets of Staub Machine Company to Staub Precision Machine, Inc. to keep the company intact, innovating and growing. Today, the company supplies high-volume production to match the needs of customers, producing machine component parts for a number of manufacturers across the country, especially in Western New York.
The close collaboration between Staub and CERATIZIT was achieved thanks to Abrasive Tool. Located in Buffalo, New York, the company is a distributor of high quality tooling solutions. Jay Janca, distributor sales engineer, supplied Staub Precision Machine with the reamers, helped process the part and also coordinated delivery of several other parts. He and Tony Staub started this project on a Thursday evening in his garage with a set of drawings and a part he needed to make for a ventilator client. Through Janca, he reached out to Chuck Somerville, CERATIZIT sales engineer and told him about the project. Quickly, Tony, Jay, Chuck and the staff at CERATIZIT worked on confirming details of the tool. CERATIZIT had an approved drawing at the beginning of the week and the reamers were shipped on Friday of the same week and in production the following Monday. This was just over a week after the initial discussion. Staub machines run unattended for maximum productivity 24/7, so CERATIZT worked to make the process as smooth as possible. Tony was very happy with CERATIZT, saying, "I was amazed at how quickly they responded and the reamers produced a beautiful part. I am sure we will continue working with CERATIZIT in the future."
Another two companies that joined CERATIZIT in the manufacturing of ventilators were Blackhawk Industrial and another manufacturer of precision metal components. As CERATIZIT products are distributed by Blackhawk, the company helped connect CERATIZIT with their customer. Commenting on why CERATIZIT was chosen, sales engineer Mitch Vraja said, "We were asked to provide reamers because they know our quality and we had a quick delivery." Blackhawk Industrial is an industrial distributor in Brunswick, Ohio. The machining process performed by their customer company involved machining adapters. In order to ensure that the tool holding device could accommodate various types of cutting tools, CERATIZIT reamers were used to create a hole for better positioning. Different cutting tools in the adapter were used on various machines. The tool involved was number 52M.57.0497, known as Fullmax - DBGU - Ø4,97 +4µ (see photo 3). The material cut was stainless steel. The ventilators had to fit in a precise location, thus dowel pins were used to locate the mounting brackets to the mobile unit. In this process, five reamers were used to provide a true position diameter. The tool diameter of the reamed blind hole in stainless steel was .1958 +/- .0005. There were three holes in each bracket and over 10,000 brackets were made.
Blackhawk's customer blends old world craftsmanship with cutting- edge technology. Capabilities include precision turning, grinding, milling, automated assembly and inspection, semi-automated assembly, manual assembly and wire EDM. Additional capabilities are CNC machining, Swiss machining, machining ranges between 3mm and 66 mm and material neutral machining. The company serves the automotive, hydraulics, sensor, recreational vehicle, plumbing, application, natural gas, firearms, off-road vehicle and medical equipment markets. Within the medical field, the company specializes in manufacturing small diameter components requiring strict tolerances and superior finish.
As an industrial distributor, Blackhawk specializes in metalworking equipment categories such as carbide cutting tools, abrasive, fabrication and machining equipment. In addition, the company has a wide offering of packaging, MRO products and a proven ability to provide custom industrial vending solutions, as well as creative supply chain solutions.