Published
February 17, 2023 - 07:00am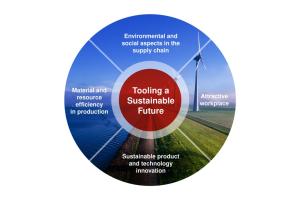 Ceratizit has developed a sustainability strategy that it says will "solidify its leadership in sustainability for the hard metal and cutting tool industry by 2025."
The strategy was presented during AMB – The International Exhibition for Metalworking 2022 in Stuttgart, Germany. During the same event, Ceratizit also won the MM Award for its SilverLine milling cutter made from the company's CT-GS20Y "GreenCarbide" material.
Thierry Wolter, executive board member, announced the company's sustainability goals, which he said will affect the entire supply chain.
"Climate change is one of the greatest challenges of our time and requires the industry to rethink in many areas as well," said Wolter. "For Ceratizit customers to also be able to produce more sustainably, we've set some aggressive targets for our products and services. Our vision is to be the leader in sustainability in the hard metal and cutting tool industry by 2025."
Sustainability along the entire value chain
To become truly sustainable throughout the company, Ceratizit will evaluate the entire value chain regarding environmental, social, and governance criteria (ESG) while also including company partner cooperation. In the first phase, the focus will be on those aspects that have the greatest leverage effect.
Reduction of the carbon footprint
Ceratizit is initially focusing on three major levers to quickly and significantly reduce its carbon footprint. A decisive factor is the increase in the use of secondary raw materials to over 95%. Compared to primary raw materials from ore, this processing requires 70% less energy and reduces CO2 emissions by 40%. A positive side effect is the safeguarding of the supply chain for raw materials so that both customers and Ceratizit benefit twice.
Another focus is on the power supply. Ceratizit plans to switch the power supply of all sites to green electricity from wind, solar, and water power in the next few years.
Closely related to the change in the power supply is the hydrogen supply. Hydrogen is used as a production medium in the hard metal industry, especially for the production of tungsten powder. Up till now, hydrogen has mainly been obtained from natural gas by steam reforming – referred to as "grey" hydrogen. For the future, Ceratizit plans to use blue hydrogen, which is produced from water by electrolysis with green electricity. For this purpose, Ceratizit will cooperate with its existing suppliers and also build its own electrolysis plants.
First milestone: CO2-neutral by 2025
The first milestone in the implementation of the new strategy is 2025, by which time Ceratizit foresees not only being CO2 neutral – to offset all emissions along the entire supply chain – but also reducing actual emissions by 35% compared to the reference year 2020. The second stage, 2030, envisages a reduction of 60% compared to 2020 with the help of further measures.
The most ambitious goal, however, is the achievement of "net zero" by 2040 – a target expected by the Paris Climate Agreement for 2050. "Reducing CO2 emissions along the entire value chain by at least 75% by 2040 is without question a challenge," said Wolter when explaining the company's motivation. "However, with a view to future generations, we see no alternative to this path and are pleased to also let our customers participate in this through products such as our GreenCarbide rods and our award-winning SilverLine milling cutter with sustainability formula as well as through a wide range of services."
Award-winning SilverLine
As essential tools for performing milling operations, the SilverLine solid carbide milling cutter geometries are now produced from the carbide grade CT-GS20Y with an extremely low carbon footprint. Tools made from this carbide developed by Ceratizit not only reduce
the company's carbon dioxide balance but will also soon provide an economic advantage to customers through a certified carbon footprint.
Known as a "green carbide," CT-GS20Y consists of over 99% high-quality secondary raw materials. Additionally, Ceratizit guarantees low-carbon manufacturing by using low-emission production processes and energy sources as well as short transport routes throughout the entire process chain.
At 2.6 kg CO2/kg of green carbide, Ceratizit has achieved the llowest-evercarbon footprint for a premium carbide grade. When green carbide is used to produce the SilverLine milling cutter, a mere 4.4 kg of CO2/kg is emitted compared to 19.8 kg CO2/kg for a conventionally produced SilverLine milling cutter. This equates to a CO2 emission saving of 78%.