Published
January 27, 2015 - 06:00pm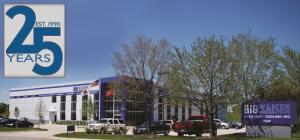 BIG Kaiser Precision Tooling Inc., Hoffman Estates, Ill., celebrates 25 years of North American operations in 2015. Incorporated in the spring of 1990 under the name Kaiser Precision Tooling (KPT), the subsidiary of Heinz Kaiser AG, Oberbüren, Switzerland, provided the North American market access to Kaiser's boring tools and modular boring systems.
"We set out to be driven first by our engineering capabilities," said Jack Burley, vice president of sales and engineering, who has been with the company from the beginning. "We had an expression, 'give us your toughest boring problem.' This kind of cooperation with customers has allowed us to relate to them as peers for the long term, not just being opportunistic, and looking to make a quick sale and run."
Daily orders have gone from the teens to 150-plus over 25 years, according to the company, and available parts that numbered around 2,000 in 1990 now exceed 20,000. A major catalyst of that growth came in 2003 when KPT formed an alliance with BIG Daishowa Seiki, a Japanese manufacturer of toolholders, cutting tools and measuring accessories, and became BIG Kaiser Precision Tooling Inc.
"Regardless of how fast or how large BIG Kaiser grows, how we get there will not change," said BIG Kaiser President and CEO Chris Kaiser. "Quality, innovation and performance—it's always been about that. It's what has gotten us to where we are today and it will not change. Whether it's when we walk in to the office tomorrow or we're looking towards the next 25 years, we're not going to stray from those things."
Related Glossary Terms
boring


boring

Enlarging a hole that already has been drilled or cored. Generally, it is an operation of truing the previously drilled hole with a single-point, lathe-type tool. Boring is essentially internal turning, in that usually a single-point cutting tool forms the internal shape. Some tools are available with two cutting edges to balance cutting forces.