Published
April 14, 2015 - 07:00pm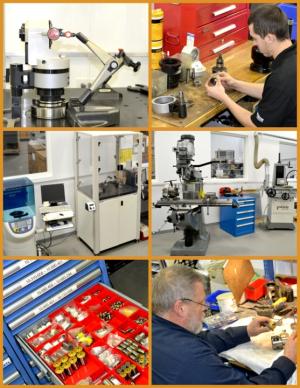 BIG Kaiser Precision Tooling, Hoffman Estates, Ill., has enhanced its BIG Profit Maker, KAISER and Unilock repair services by bringing services in-house that, until recently, were performed overseas. The company is also eliminating charges for some commodity parts, as well as offering same-day services.
"Sending tools to us is much more convenient and cost effective for our customers," said Shawn Stevens, repair technician. "Take, for example, BIG Daishowa Profit Maker tools, such as angle heads. If the unit's crashed, broken, snapped or sheared off, we can fix it here now, and in 1 day if need be."
BIG Profit Maker repair Improvements include:
Repair prices have been decreased an average of 40 percent to encourage customers to have repairs and periodic maintenance performed by a certified technician with the appropriate tooling.
No charge for commodity parts like cap screws, set screws and O-rings.
Same-day service available upon request.
Repairs are tested to assure runout accuracy, decibels and heat generation are within spec before tools are sent back to the customer.
Trade-in discounts and free inspection service of existing units are also available.
KAISER repair improvements include:
Repairs to Series 310 EWN finish heads now performed in the U.S., whereas only Series 112 and 317 EWN finish heads were previously fixed in the U.S.
Typical KAISER repair can be done in less than 1 week.
Loaner heads are available during repair.
Unilock repair Improvements include:
Until recently, Unilock repairs had to be sent back to Austria, but now most repairs can be done at the Illinois facility.
Repairs can be done in 2 days as long as parts are available in stock.