Published
July 03, 2019 - 12:45pm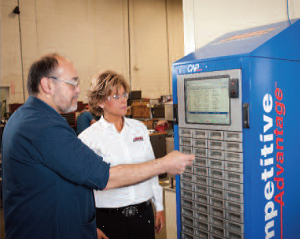 No matter what kind of manufacturing facility I'm in, there's one thing I hear over and over when I ask workers on the floor about indirect inventory: They want it available—no matter when, no matter how frequently or infrequently they need it.
Workers want to be confident that when they need a part or supplies they will be there. They don't want to wait for a repurchase order to go through and then for the inventory item to actually arrive and be stocked.
This pressure from the floor often flows through to buyers who have a hundred other concerns pulling at them and are already pressed for time. As a result, I see three common inventory mistakes that are regularly repeated. If left unchecked, these errors can increase costs, decrease efficiency and reduce margins.
Mistake No. 1: Overbuying and over-inventorying
Plants often source from multiple suppliers and distributors. Sometimes a manufacturer may not be a reliable supplier for a particular item. This can lead to problems with inventory visibility, which in turn can lead to shortages of certain parts or other items. How do workers respond to these problems? They take more than they need.
If operators aren't confident that a part will be in the toolcrib or available from a vending machine when needed, they'll take extras to store in their workspace. While this might solve their short-term, individual problem, it can create a costly buildup of invisible inventory throughout the plant.
The recorded crib inventory will then be lower than what's actually available outside the crib, resulting in early and unnecessary buying. The rate of consumption of some inventory items, based on inventory data, may appear higher, resulting in overbuying. The net effect of all that is more inventory on hand than the plant really needs.
Solution No. 1: Allow a trusted distributor to manage your indirect inventory. Not only will that remove that task from your to-do list, it will create a more reliable inventory-tracking system. That, in turn, means that workers will start to trust the system more, reducing hoarding and the problems associated with it.
Mistake No. 2: No single source of truth about inventory
I often tour plants that have inventory data sitting in multiple, disconnected systems. Data about purchases lives in the purchasing system. Crib inventory records may track some of the inventory managed there. Other inventory may be managed and tracked in a separate vendor-managed system or not tracked at all.
These disparate systems can make it difficult to have a reliable, single source of truth about your inventory—how much you've purchased, how much the plant has used and what's sitting in a crib, vending machine or somewhere else on the floor.
As a result, accurately analyzing how your indirect inventory is used, setting re-order intervals and knowing your true cost of production can be nearly impossible.
Solution No. 2: Integrate your purchasing and inventory tracking processes into a single business system. A distributor can often help with this solution.
Mistake No. 3: Multiple part numbers for the same item
More times than I can count I've gone into a plant and, in the course of analyzing its operations and maintenance, repair and operations (MRO) inventory, discovered that the facility has been buying the same part from multiple suppliers or distributors. This creates a number of problems.
That item often is given a different part number by each supplier, creating invisible, duplicate inventory. It can seem like it's time to re-order something when you already have a supply of that item on hand, if you can identify the right part numbers. Part of your balance sheet may be hidden in this invisible inventory and unavailable until you find a way to unlock it.
Solution No. 3: Choose a single, trusted distributor to help you identify those duplicate part numbers and then consolidate that item in the same place under the same part number. This is one of the ways that a broad-line, consolidated distributor can give your facility a competitive edge.