Published
September 25, 2020 - 10:00am
Automated mixed batch regrinding with RFID workflow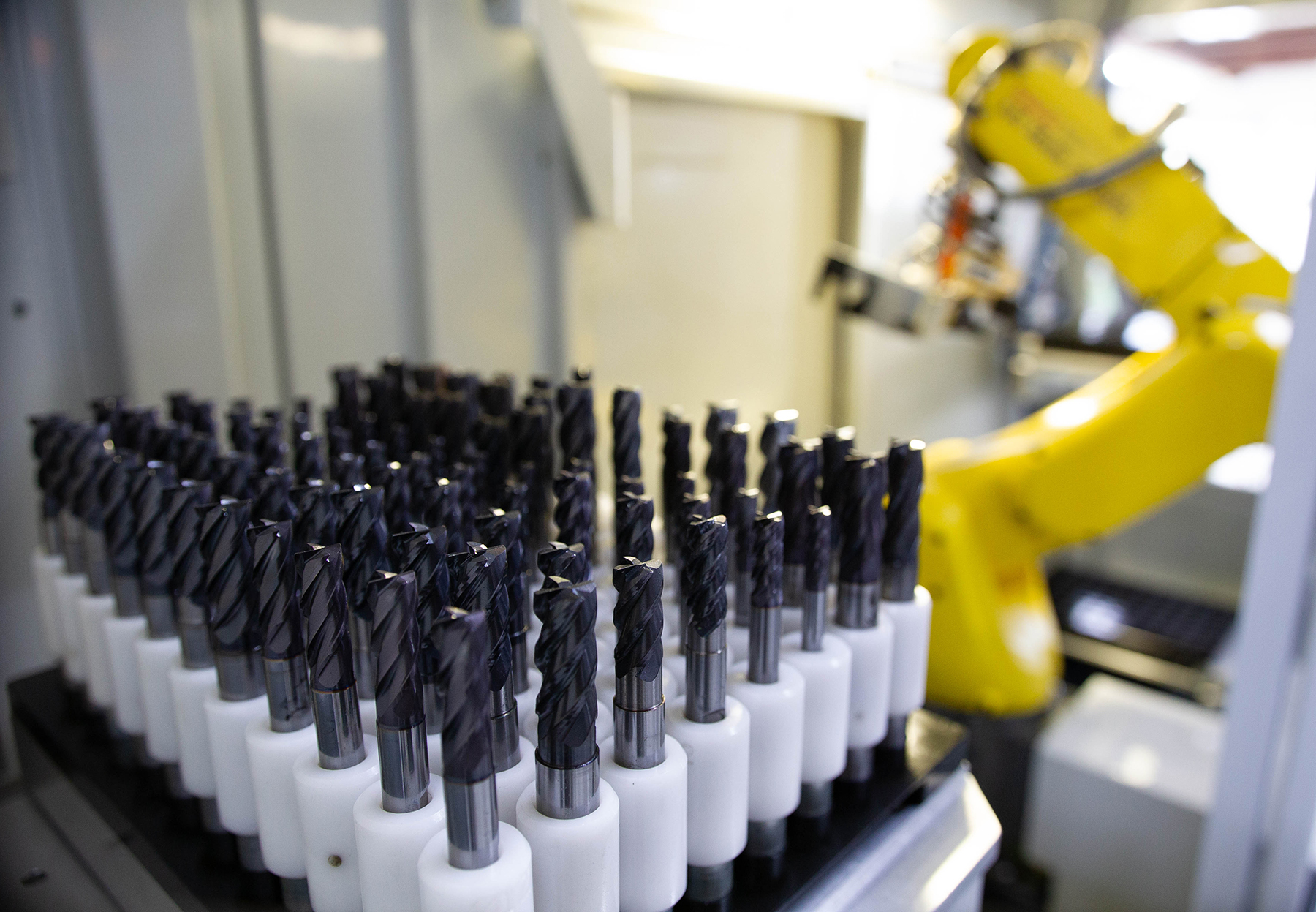 Schunk, a premium tooling and resharpening company in Germany, utilizes state-of-the-art grinding systems and a workflow RFID system to finish job packets in a chaotic fashion that is driven by production needs rather than by job order.
In 1979, Siegfried Schunk founded SCHUNK Präzisionswerkzeuge GmbH in a garage in Coburg, Germany. From its humble beginnings as a one-man resharpening service, the company transformed into a solution provider, that manufactures precision cutting tools for standard and custom applications.
Christian Schunk, managing director, began manufacturing cutting tools in 2010, and this line now represents 60% of the business. The company supplies tooling to the automotive, aerospace, die-mold and medical industries. In addition, Schunk offers a professional resharpening service, which includes edge preparation and re-coating under the SCHUNK pro finish banner.
In 1998, the company invested in a 5-axis CNC tool and cutter grinder and developed its own chaotic loading system for mixed batches. Siegfried Schunk implemented a chaotic regrinding system for mixed customer batches using Manutec Siemens robots on three different grinding machines.
Regrinding with mixed batches of tools has been practiced at Schunk for more than 20 years. Being able to grind a mixed batch of tools unattended leads to increased productivity, and this lights-out, 'industrial' way of thinking was the main driver in 2017 for investing in an ANCA MX7 grinder from ANCA. Schunk is now investing in a second ANCA MX7 and expanding its existing RFID workflow capabilities.
Chaotic loading is a proven formula for efficiency. Schunk previously worked as per customer order, loading all diameters of one customer together. Now, they have changed to a fully chaotic loading system, independent from the actual customer order and invested in ANCA's RFID workflow technology.
For Christian Schunk it was important to retain the chaotic loading capability and at the same time benefit from the increased accuracy of collet changing.
To "structure the chaos" of mixed tool batches and multiple jobs, Schunk has developed a storage system to sort all tools of a customer order on a common tool board. The board has a label and a barcode containing all relevant job information like tool type, number of tools, due date, and other relevant data, and serves to re-collect the tools after grinding for each customer order.
Schunk implemented the ANCA RFID workflow for chaotic resharpening, and also uses the production data in a digital scheduling board showing the status for each job ticket.
The Schunk company runs its grinding machines unattended, a workflow aided by ANCA's RFID technology. The system allows tools to be sorted as required for production rather than by customer orders.
Any number and combination of tools from different customers can be prepared for regrinding at a dedicated programming station. Every tool gets assessed at the station where skilled operators select and modify the required grinding program. The individual program is then coded onto a RFID tool holder and subsequently the tool holder and tool will be placed in a pallet for the grinding machine. Every RFID tool holder receives the customer name and job number.
Upon the return of the tools after regrinding, the RFID information gets read out and the tool will be returned to its original customer order. The RFID tool holder goes back into storage and can be used for another job in the future.
In production, the RFID information is scanned, and the tool grind file is loaded; all grinding parameters, required wheel pack changes or collet size changes are executed automatically.
"It makes sense to keep collet changes at a minimum, which means tools usually get sorted by diameter and tool type, like square endmills, ballnose endmills or drills," said Schunk. "This way, we optimize cycle times, extends the life of collets, and save the collet adapter. Most importantly, it contributes to a better run out."
Schunk also makes sure the machines are utilized at a maximum, therefore the employees will start on Thursday to prepare tools for automated regrinding on the unstaffed weekend. The tool pallets are loaded to suit the optimal production processes; using chaotic loading increases productivity and minimizes cycle times.
For the delivery of their second ANCA MX7, Schunk and ANCA are working on an expanded RFID workflow that will accommodate a larger tool diameter of 25mm.
ANCA, a worldwide supplier of grinding machines and accessories, can be reached at www.anca.com, with U.S. headquarters in Wixom, MI, 248-926-4466.