Published
January 29, 2019 - 08:45am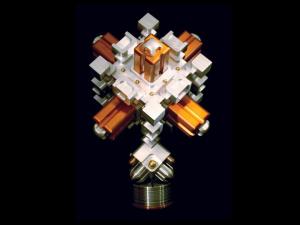 A metal blisk or heat exchanger component can certainly be aesthetically pleasing, but those and the vast majority of other machined metal parts serve a practical function first and foremost. The metal parts Chris Bathgate machines don't.
That's because Bathgate is a metal sculptor. "My approach to sculptures is most purely about the engineering involved, using machine work as the creative medium," he said.
Bathgate explained that he started to learn welding while in high school and studied sculpture at art school but became disillusioned and dropped out. He continued to weld sculptures but soon tried another approach. That was 18 years ago.
"I started dabbling with machining and quickly found it infinitely more fascinating than welding and shaping steel with the torch," Bathgate said. "That led me down the road to learning machining."
Being a struggling artist and with a dearth of low-cost machine tool options, with the possible exception of micromachining centers, Bathgate decided to build his own equipment "using cheaper Chinese iron and off-the-shelf electronics." Even without a mechanical engineering background, he built two milling machines and two lathes over the years, as well as a 3D printer for making fixtures and models.
"As those machines have worn out and broken down, I've substituted them with lower-cost entries," he added.
In addition to a limited budget, Bathgate's shop/studio in the basement of his house in Baltimore has a ceiling height of only 6'6". "Some machine heads go up between the ceiling joints. I'm working in special circumstances for sure," he said, adding that he's looking to move to a ground-level studio.
The full article is available in the Shop Operations column of the March 2019 issue.
Editor's Note: A video about Bathgate's path to becoming a machinist sculptor is available by clicking here.