Published
November 17, 2017 - 04:30pm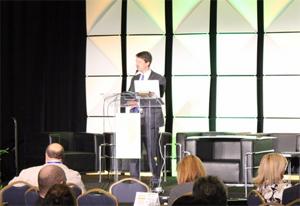 Earlier this week we shared the conclusions of the McKinsey Report, which stated that it may be possible for U.S. manufacturing to grow by 20 percent and add more than 2 million jobs by 2025. That was the good news. It can only happen, however, if manufacturers invest in Industry 4.0 technology.
"Companies cannot capture the demand opportunities described above unless they step up their game," according to the McKinsey report, overview. "New technologies will play a large role in determining whether they can compete. ... Industry 4.0 is driven by an explosion in the volume of available data, developments in analytics and machine learning, new forms of human–machine interaction (such as touch interfaces and augmented-reality systems), and the ability to transmit digital instructions to the physical world. Such complementary technologies can run smart, cost-efficient, and automated plants that produce large volumes—or, conversely, plants that turn out highly customized products."
Are U.S. manufacturers getting the message? Software Connect, a vendor-neutral service that enables businesses to source the ideal technology for their needs, has just released a new report based on survey data from 158 manufacturing companies, analyzing the businesses' current and planned use of Industry 4.0 components such as material requirements planning (MRP) software, manufacturing execution system (MES) software, and other industry-specific technology tools. The survey was completed in September 2017, and was released on November 14th.
Among the study's key findings:
61% of SMB manufacturers already use or plan to buy MRP software within the next year. Naturally, tracking raw materials is big business for manufacturers. Almost half currently use MRP software, and 27% plan to buy or upgrade their MRP in the next 12 months.
34% already use or plan to implement MES software within the next three years. After MRP software, MES was cited as the most common tech manufacturers need.
Manufacturers are less likely to use cloud software than other industries. 51% do not use or plan to use cloud-based manufacturing software. In fact, manufacturers are 5% less likely to even consider using cloud-based systems (compared to all other industries).
Expect general growth in software/technology investments in 2018. 83% plan to invest the same (37%) or more (46%) in 2018 (compared to 2017).
"As manufacturing automation becomes more sophisticated, savvy manufacturers are continually assessing their options for technology tools to support their processes," stated David Budiac, a managing partner at Software Connect.
"Identifying the right tools can go a long way towards helping manufacturers plan predictable budgets and time frames, enhancing operational efficiency. On the shop floor, MES software can continually measure and analyze resource utilization and performance in real time. By investing in the right technology tools and annually auditing their technology needs, manufacturers can gain an edge over competitors that haven't incorporated modern technologies into their processes."
Those percentages show that not a small percentage of manufacturers have yet to get started in using such tools. Detroit's Automation Alley, a technology and manufacturing business association, held a conference last week with the aim of educating them. "Integr8" attracted more than 500 manufacturing and technology professionals with seminars on such topics as cybersecurity, big data and artificial intelligence, additive manufacturing, advanced materials, robotics, the Industrial Internet of Things, cloud computing and modeling, simulation and visualization.
"While no one knows for certain what our nation's employment landscape will look like in a decade, it's important we are not threatened by technology, but empowered by its potential," Automation Alley CEO Tom Kelly told the conference. "Whether you belong to a large corporation, a small-to medium sized business, or a startup, disruptive innovations are creating upheavals to the landscape of many industries and their business models."
Breakout panels at the event were a resource for my upcoming feature on shop-floor communication: Watch for it in January.
Related Glossary Terms
robotics


robotics

Discipline involving self-actuating and self-operating devices. Robots frequently imitate human capabilities, including the ability to manipulate physical objects while evaluating and reacting appropriately to various stimuli. See industrial robot; robot.