Published
February 08, 2021 - 06:00am
ARCH Cutting Tools launches master catalog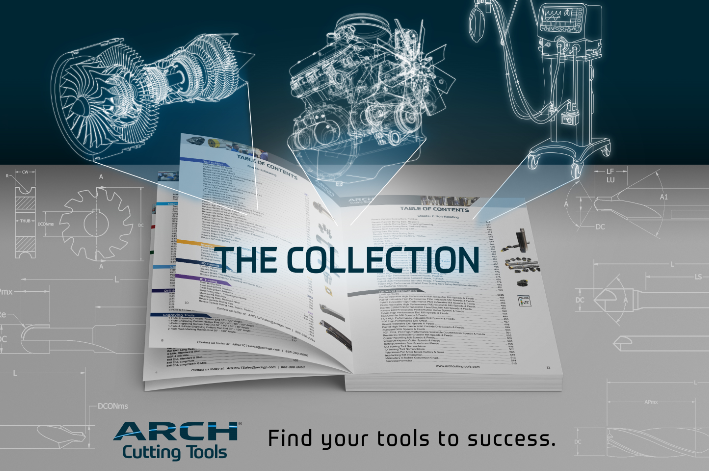 ARCH Cutting Tools in Bloomfield Hills, Michigan, released its first fully integrated master catalog, titled "The Collection," which includes information on the company's complete standard cutting tool portfolio.
The catalog launch coincides with the company's new Centralized Distribution Center (CDC) that opened in late 2020. Combined, the two further streamline how ARCH Cutting Tools can provide its customers products and professional service.
The integrated catalog is a comprehensive compilation of the complete ARCH Cutting Tools standard cutting tool product collection. It also showcases the company's expanded standard solid round tool offerings under the KEO brand name, and its full indexable portfolio under the Ultra-Dex brand. The catalog integrates all heritage KEO products, a full line of micro tools, and a comprehensive offering of Patriot High Performance milling and drilling tools in an Easy-to-Choose, Easy-to-Use format designed with the end-user in-mind.
"We listened to our customers," said Jeff Cederstrom, company president. "They called for ease of doing business and for a broader tooling portfolio with new and innovative stocked standards, that's what we've done in our new Master Catalog, The Collection. Its refined format includes supplemental technical and application information to make selecting tools intuitive and straightforward and will serve as a platform for planned expansions of our product collection."
To obtain the catalog or learn more about the company, visit https://www.archcuttingtools.com/the-collection/.
Related Glossary Terms
gang cutting ( milling)


gang cutting ( milling)

Machining with several cutters mounted on a single arbor, generally for simultaneous cutting.

milling


milling

Machining operation in which metal or other material is removed by applying power to a rotating cutter. In vertical milling, the cutting tool is mounted vertically on the spindle. In horizontal milling, the cutting tool is mounted horizontally, either directly on the spindle or on an arbor. Horizontal milling is further broken down into conventional milling, where the cutter rotates opposite the direction of feed, or "up" into the workpiece; and climb milling, where the cutter rotates in the direction of feed, or "down" into the workpiece. Milling operations include plane or surface milling, endmilling, facemilling, angle milling, form milling and profiling.