Published
November 26, 2019 - 12:45pm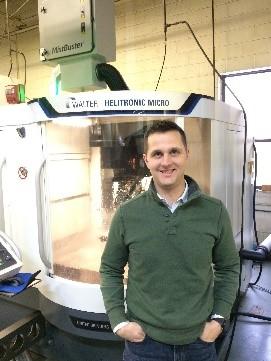 Arch Cutting Tools hired Charlie Novak Jr. as Arch Specials business development and coordinator. He will be located at Arch-Mentor and report to Brent Sheerer, product manager for Arch Specials (dotted line to Jeff Cederstrom, divisional president of Arch Cutting Tools). Novak joined the company on Nov. 11, Veterans Day, as the toolmaker honored those who've served.
In this role, he will continue to develop the cooperative efforts of cutting tool business units supporting Arch Specials and put to work his applications and sales skills filtering Arch Specials RFQs, as well as provide "gatekeeping" duties to internal quotation routings and support our sales staff as needed. The company's goal is to elevate the Arch Specials game for all its business units, working mainly with Arch external sales teams. In time, Arch Specials will be coordinated out of the Mentor, Ohio, facility, where 100% of the focus is specials, made in a broad road range of cutting tool types.
Novak has broad and varied experience in cutting tools, both internal-facing in design and production of tools, as well as customer-facing roles with applications and products. He comes from Fives Landis – Citgo Diamond, where he most recently spent seven years as product manager over PCD and CBN cutting tools, grinding wheels and dressing products, as well as overseeing R&D and new product development. He started at Fives as technical sales and applications engineer, managing specific accounts, solving problems with applications skills and developing special custom tooling solutions.
Prior to Fives Landis, Novak spent seven years with Competitive Carbide (Arch-Mentor) as a custom cutting tool CAD designer, and then in manufacturing in CAM and CNC programming. He holds an associate degree from Lakeland Community College. He lives in the Painesville, Ohio, area, where Novak and his wife, Heather, are raising Charlie Jr. (9) and Evan (7).