Published
February 20, 2023 - 07:00am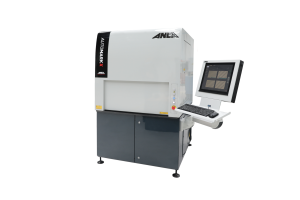 ANCA Americas in Wixom, Michigan, a longtime Eastec exhibitor and a manufacturer of CNC grinding machines, will return to the West Springfield, Massachusetts, show May 16–18 at Booth 1118.
"We're excited to be participating in Eastec. ANCA has a very strong and extremely loyal customer base in the Northeast, and we love introducing them to our latest innovations. We feel our MX7 Ultra will make a big impact on the market in the East, a customer base that requires an extremely high level of accuracy, and we're excited to showcase it live at EASTEC," said Russell Riddiford, president of ANCA Inc. Not only will ANCA be showcasing the new MX7 Ultra at Eastec, but the company will also have an AutoMarkX the automatic laser marking system, on display at the show.
MX7 Ultra ANCA'son display
The MX7 ULTRA can manufacture large volumes of endmills and other cutting tools of the highest accuracy and quality. The size of a micron is smaller than what the human eye can see, but in becoming even more precise and moving from micrometers to nanometers,
New software, hardware and design features are combined to make significant advances in surface finish, accuracy, and controlled runout, to deliver batch consistency from the first ground tool to the thousandth.
Laser marking machine
The AutoMarkX is an automatic stand-alone laser marking station replacing manual and labor-intensive processes. The operator simply loads up to two full pallets of tools and the robot performs the laser marking operations, freeing up staff to take care of other tasks in the factory. The unit can accommodate a wide range of tool sizes, making it a versatile proposition for many manufacturers.
To learn more about the MX7 Ultra, click here.
For more information about the AutoMarkX, click here.
Related Glossary Terms
computer numerical control ( CNC)


computer numerical control ( CNC)

Microprocessor-based controller dedicated to a machine tool that permits the creation or modification of parts. Programmed numerical control activates the machine's servos and spindle drives and controls the various machining operations. See DNC, direct numerical control; NC, numerical control.

grinding


grinding

Machining operation in which material is removed from the workpiece by a powered abrasive wheel, stone, belt, paste, sheet, compound, slurry, etc. Takes various forms: surface grinding (creates flat and/or squared surfaces); cylindrical grinding (for external cylindrical and tapered shapes, fillets, undercuts, etc.); centerless grinding; chamfering; thread and form grinding; tool and cutter grinding; offhand grinding; lapping and polishing (grinding with extremely fine grits to create ultrasmooth surfaces); honing; and disc grinding.

micron


micron

Measure of length that is equal to one-millionth of a meter.