Published
January 13, 2017 - 06:15am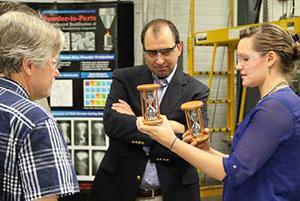 With potential ramifications for 3D printing of metals, particularly of expensive metals such as titanium, Ames Laboratory reports it has created a process for making "perfect" metal powder. Each particle is smooth and spherical, allowing it to flow without clumping and pack together more densely.
An Ames Laboratory news release describes two of their metallugists, Iver Anderson and Emma White, showing samples of metal powders encapsulated in custom-made hourglasses to visitors. "Dull gray, the powders are barely remarkable in and of themselves, let alone in comparison to each other."
Until the hourglasses are flipped, and observers can compare how the powders flow through the narrow necks of glass. The powder created by traditional manufacturing methods doesn't, exactly. It starts and trickles and stops. It needs shaking and manipulating to get through. The other powder, produced at the laboratory's high-pressure gas atomization facility, pulses smoothly through the hourglass of its own accord.
It's all because of the smooth spherical particles produced by Ames Laboratory's gas atomization method, an improvement over traditionally manufactured powders. The individual round particles have little internal porosity, and pack together optimally in bulk. Both qualities reduce dead air space and improve the quality of parts produced using these powders.
Using gas atomization, Ames Laboratory has produced powders of iron, aluminum, nickel, copper, tin, magnesium and various other metals and alloys, in addition to titanium, one of its key research accomplishments.
"The titanium industry is extremely interested in powder metallurgy and final-shape consolidation methods," stated White. "Titanium is expensive and the large amount of waste titanium produced during machining cast parts into final shapes significantly increases their costs. They see advances in powder metallurgy as an effective cost control strategy by making parts into near-final shapes and minimizing waste titanium."