Published
July 21, 2017 - 11:15am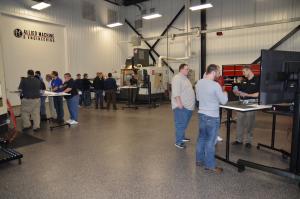 Allied Machine & Engineering Corp., Dover, Ohio, a tooling manufacturer of complete holemaking solutions, has announced its new engineering training department, which provides comprehensive, hands-on education programs for new employees, end users and distributors from around the world.
The new 3,000-sq.-ft. facility in Dover includes two VMCs and one HMC to showcase the range of Allied's tools. Each machining center features a dedicated camera with a live feed directly to 60" monitors, giving participants an excellent view of tools in action. Demonstrations are available featuring Allied tools running in a wide variety of materials, including low-carbon steel, alloy steel, high-strength alloy, 304 and 17-4 stainless steel, structural steel plates, 6061 aluminum and iron. Training demonstrations include active participation, with attendees helping to select speeds and feeds.
The training department instructs new Allied associates in the proper use and application of Allied's tooling in all phases of holemaking solutions in metal. Trainees participate in a 3-month technical, hands-on training program focusing on how the tools work and where to apply them in various applications.
For end users and the distributors that support them, Allied offers an intense 2.5-day technical educational seminar featuring classroom and metalcutting demonstrations. These seminars, limited to groups of 15-30 attendees, are designed to keep participants abreast of the latest industry trends and the technology offered.
For those unable to travel to the Dover training facility, the training department sponsors open house events at machine tool manufacturers' distributors, as well as on-site training programs for engineers and machinists. Customizable training programs are available for groups of all sizes.
"We are extremely excited to unveil this unique new training environment, which combines hands-on learning, interactive classroom demonstrations and access to the latest tools Allied has to offer," said Andrew Fliger, Allied's engineering trainer. "Our training programs are focused to equip participants with the right tooling and knowledge for the jobs they're facing today."
For more information, please visit www.alliedmachine.com.
Related Glossary Terms
feed


feed

Rate of change of position of the tool as a whole, relative to the workpiece while cutting.

machining center


machining center

CNC machine tool capable of drilling, reaming, tapping, milling and boring. Normally comes with an automatic toolchanger. See automatic toolchanger.

metalcutting ( material cutting)


metalcutting ( material cutting)

Any machining process used to part metal or other material or give a workpiece a new configuration. Conventionally applies to machining operations in which a cutting tool mechanically removes material in the form of chips; applies to any process in which metal or material is removed to create new shapes. See metalforming.