Published
January 21, 2016 - 06:00pm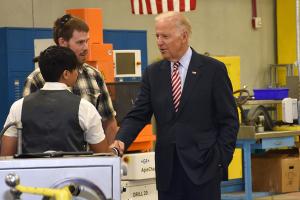 A partnership between GF Machining Solutions, Lincolnshire, Ill., and a Colorado community college that brought 5-axis training to the school's machine technologies program recently earned recognition from the Obama administration for its efforts to confront an estimated 2 million manufacturing jobs expected to go unfilled over the next decade, according to a GF Machining Solutions news release issed Jan. 21.
U.S. Vice President Joe Biden recently toured the Advanced Manufacturing Center, which opened in the fall of 2015 at the Community College of Denver (CCD). Biden met with students enrolled in the machining technologies program and spoke about the importance of building a Colorado workforce with the right skills for jobs that pay well.
The new 33,280-square-foot Advanced Manufacturing Center enables the college to increase enrollment in the machining technologies program, which consists of three types of course offerings: introduction, operation and programming. Students will obtain real-world training experience by focusing on applications of the 5-axis machine in a variety of industries, including aerospace, medical and plastic mold, according to the news release.
The 5-axis training program features GF Machining Solutions' Mikron HPM 450U, a machine intended for universal, automated production that combines dynamics and stability. The machine is said to be adaptable to suit a variety of manufacturing requirements while offering machining capabilities from simple drilling to complex 5-sided and simultaneous 5-axis machining processes.
"We continue to look for ways to help manufacturers overcome their labor challenges," said Gisbert Ledvon, director of business development for GF Machining Solutions, which is working with CCD to train its instructors. "Partnering with Community College of Denver to develop this type of hands-on learning program is one of the best ways to mitigate the brain drain that is occurring as baby boomers retire."
Dr. Chris Budden, dean of the CCD Center for Career and Technical Education, said students now learn on leading-edge machine tool technology that is responsible for re-invigorating manufacturing in America. He added that the facility also looks forward to working with companies that have adopted 5-axis machines to train their incumbent workers.