Published
March 08, 2015 - 07:00pm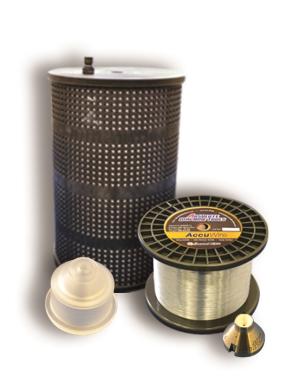 Absolute Machine Tools, Lorain, Ohio, now offers a full line of EDM consumable products and services through its AccuteX EDM business unit, based in Mason, Ohio. AccuteX EDM now offers not only consumables for its line of EDMs, but also for most other OEMs, such as Mitsubishi, Sodick, FANUC and others.
"The addition of an extensive, price-competitive EDM consumables line will enable us to comprehensively support manufacturers," said Steve Ortner, president and owner of Absolute Machine Tools. "This is a huge advantage for manufacturers because many own different brands of wire EDMs, so their parts needs vary considerably."
Absolute also offers resin regeneration through a service that picks up spent resin bottles and delivers new or regenerated bottles. Absolute is also partnering with tooling providers Hirschmann, System 3R and Erowa to supply tooling and chucks. Further, the company now carries its own dielectric fluid line along with brand name dielectrics such as Commonwealth and Iona Plus.
Related Glossary Terms
electrical-discharge machining ( EDM)


electrical-discharge machining ( EDM)

Process that vaporizes conductive materials by controlled application of pulsed electrical current that flows between a workpiece and electrode (tool) in a dielectric fluid. Permits machining shapes to tight accuracies without the internal stresses conventional machining often generates. Useful in diemaking.