Published
March 25, 2015 - 07:00pm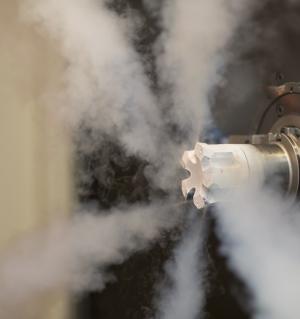 Machine tool builder Okuma America Inc., Charlotte, N.C., has joined forces with 5ME LLC, Warren, Mich., to demonstrate the advantages of cryogenic machining, including faster processing, longer tool life, increased part quality and lower environmental impact, according to the companies. The strategic partnership will establish two cryo demonstration facilities—one at 5ME's Technical Center in Warren, and the other at Okuma's Aerospace Center of Excellence in Charlotte—where manufacturers can test various machining processes using 5ME's cryogenic machining technology. Both facilities will have Okuma machines equipped with cryogenic systems that use vacuum jacketed feed lines to deliver small flow rates of liquid nitrogen through the tool directly to the cutting edge.
"Cryogenic machining is particularly suited to the processing of tough materials like hardened/stainless/alloy steels, Inconel and titanium, commonly used in aerospace part production," said Pete Tecos, executive vice president of 5ME, a member of Partners in THINC, an Okuma consortium. "Okuma was an early adopter of cryogenic machining and this partnership will continue the development of cryogenic machining applications and allow manufacturers to present real-world production challenges to determine how cryo can provide a solution."
5ME's multi-patented cryogenic machining process enables higher cutting speeds for increased material removal and longer tool life by transmitting liquid nitrogen at 321°F through the spindle/turret and tool body, directly to the cutting edge, according to the company. This increases throughput, part quality, tool life and profitability while reducing energy consumption.
"This partnership gives us the opportunity to show the productivity-boosting, energy-saving qualities of cryogenic machining, and assist aerospace manufacturers in their quest to meet tough part processing challenges," said Wade Anderson, product specialist manager for Okuma America.
Editor's Note: 5ME's cryogenic technology was featured in the cover story in Cutting Tool Engineering's January issue.
Related Glossary Terms
feed


feed

Rate of change of position of the tool as a whole, relative to the workpiece while cutting.