Published
April 22, 2022 - 07:00am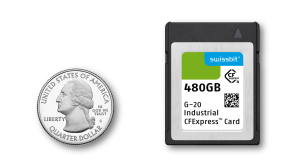 After Compact Flash and CFast, CFexpress marks the next most important leap forward in the development of industrial memory cards, said Roger Griesemer, general manager of memory solutions at Swissbit.
But what exactly are the advantages and why does the form factor have the potential to become the number one removable storage media for demanding industrial applications? Here are five arguments compiled by Griesemer.
Performance
Originally developed for high-end photography and other consumer applications, CFexpress combines the benefits of a removable storage medium with the performance of a PCIe SSD. With a 2-lane NVMe 1.3 and PCIe Gen 3.1 specification interface, CFexpress achieves up to 1,620 MB/s for sequential reads and 840 MB/s for sequential writes. The performance increase is particularly evident when compared to the read data rates of Compact Flash cards (120 MB/s) and CFast (520 MB/s).
Temperature Resistance
High performance always goes hand in hand with increasing heat development. CFexpress compensates for this supposed shortcoming with a robust metal housing (CFexpress 2.0 type B), which, due to its size (38.5 × 29.8 × 3.8 mm) and design, enables excellent heat dissipation to make the high performance usable. This is particularly important in industrial environments with high temperatures and fanless housings.
Robustness
The already mentioned CFexpress 2.0 type B housing offers excellent mechanical protection against environmental influences – even in harsh production environments. The construction with completely covered pins, which are thus protected from touch, makes CFexpress cards almost insensitive to the ingress of dust or moisture and at the same time resistant to vibration.
Flexibility
CFexpress can demonstrate its advantages in numerous applications ranging from industrial automation and gaming to transportation and medical technology. This flexibility is promoted by additional properties such as hot-plug capability (replacement during operation) and simple host implementation without bridges or multiplexers in native PCIe host systems.
Future-proof
Although SATA is still quite common in some applications and systems, there is no denying the triumph of PCIe. In combination with the NVMe protocol, PCIe is the established SSD storage interface that stands for high bandwidth and low latency. This also applies to the majority of future host controllers, which will rely on PCIe / NVMe by default and thus underline the pioneering positioning of CFexpress as an exchangeable storage medium.
CFexpress is the first choice for all applications that require a quick replacement or memory upgrade. The combination of flexibility, robustness and performance makes the format unique. In conjunction with special firmware adjustments, the suitability for industrial use can be further optimized, as is the case with the G-20 series from Swissbit, for example.
Related Glossary Terms
flash


flash

Thin web or film of metal on a casting that occurs at die partings and around air vents and movable cores. This excess metal is due to necessary working and operating clearances in a die. Flash also is the excess material squeezed out of the cavity as a compression mold closes or as pressure is applied to the cavity.