Published
November 10, 2017 - 02:30pm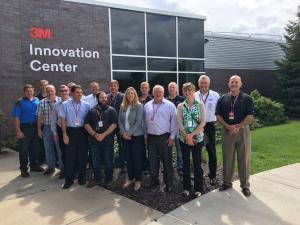 Historically, the round tool cutting industry hasn't offered many educational events to customers for collaboration. 3M is on a mission to change that.
Aug. 10-11, 2017, 3M's Precision Grinding & Finishing business hosted its first annual 2-day Round Tool Technology seminar at 3M's headquarters in St. Paul, Minn., creating an open forum for customers, manufacturers and suppliers from across the country to come together and learn about tool grinding technologies.
"Technology is undeniably changing the tool grinding landscape, and we understand how our customers can benefit from learning about these advancements," said Nick Orf, marketing manager for 3M Precision Grinding & Finishing. "Our interactive seminar gave participants the opportunity to get ahead in the industry—to learn from, and collaborate with, both peers and experts."
ANCA Inc., Rush Machinery and Blaser Swisslube partnered with 3M for this event to present their best practices for grinding optimization, while also speaking to current issues facing customers.
Session topics covered many aspects of the grinding process from wheel design, technology and use by 3M manufacturing and application experts, Janusz Hajduk and Richard Crowley, to the future of CNC machine grinding technology presented by Russell Riddiford, president of ANCA. Grinding wheel profiling methods were outlined by Rob Robbins, sales manager at Rush Machinery and Paul Christy of 3M, while Jed DeJong, application manager at Blaser Swisslube, discussed the importance of coolant selection and application optimization techniques.
Throughout the seminar, sessions incorporated peer-driven group discussions as well as hands-on training in 3M's Customer Abrasive Methods training center. Event attendees found value in the collaboration and productive technical discussions.
"What's so vital about the collaboration is the support and confirmation from the industry experts," said Joshua Weber, Superior Tool Service Inc. "We're all doing our own research and testing, so to have a wheel dressing company and a grinding wheel company verify and back up your testing results is extremely beneficial. They might come across something and realize a variable that you don't find or think about; then, that clicks and brings it all together."
Mark Morrie, president of Scrimger Sales added: "The people here are very knowledgeable about our industry. Whether it's offline dressing, fluting carbide, coolants―everything you need―the answers are right here for you. This type of back-and-forth, question and answer forum is very beneficial. And, the camaraderie with everyone is the best."
For questions about the event or interest in attending 3M's 2018 Round Tool Technology Seminar, contact Nicholas Orf, marketing manager for 3M ASD, Precision Grinding & Finishing, at naorf2@mmm.com.