Published
July 31, 2015 - 07:00pm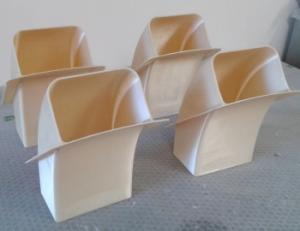 Stratasys Ltd., a leading global provider of additive manunfacturing (AM) solutions, this week reported that Italian Service Bureau, ZARE, has halved production costs for its direct manufacturing customers in automotive and aerospace since purchasing a fleet of Stratasys Fortus 3D Production Systems.
In a July 22 news release issued by Stratasys, which is headquartered in Minneapolis, Minn., and Rehovot, Israel, the AM company underscored ZARE's decision to use 3D printing for production parts.
"With our materials advancing, customers are finding that they can build more parts than ever before with parallel strength and durability to those traditionally manufactured," said Davide Ferrulli, Stratasys' Italian Territory manager.
ZARE deployed its Fortus 3D Production Systems to expand its direct manufacturing services that span a spectrum of traditional manufacturing applications, including injection molding, tooling and the production of final parts.
"After a steady decline in traditional manufacturing business, the introduction of Stratasys Fortus FDM technology has given us a significant edge over our competition, and has enabled us to reduce manufacturing costs for our aerospace and automotive customers by 50 percent," reported Andrea Pasquali, ZARE's R&D manager.
"This has been key to revitalizing our direct manufacturing business, as we can quickly produce durable end-use parts for our customers in the final material," said Pasquali. "We have seen a substantial reduction in iteration costs and turnaround times, and we have reduced the cost per final part by around 30 percent."
ZARE was able to replace metal-manufactured parts with high performance thermoplastics for an aerospace customer keen on reducing overall aircraft weight. As an example, Pasquali cited the use of additive manufacturing to directly manufacture lightweight air conditioning ducts for aircraft.
Related Glossary Terms
parallel


parallel

Strip or block of precision-ground stock used to elevate a workpiece, while keeping it parallel to the worktable, to prevent cutter/table contact.