Published
November 17, 2023 - 09:30am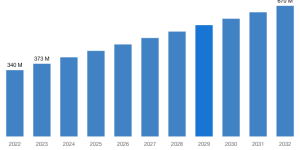 According to a recent research study, the demand of global 3D Motion Capture System Market size & share was valued at approximately $340 Million in 2022 and is expected to reach $373 Million in 2023 and continue to grow through the decade to reach a value of around $670 Million by 2032.
This represents a   compound annual growth rate (CAGR) of about 8.2% during the forecast period 2023 to 2032.
Here are some of the information from the Global 3D Motion Capture System Market: Growth Factors and Dynamics survey:
•    Entertainment and Gaming: The entertainment industry has been a major driver of the 3D motion capture system market, with the demand for realistic character animation and special effects in movies, video games, and virtual reality experiences.
•    Sports and Biomechanics: In sports, 3D motion capture systems are used to analyze athletes' movements, helping to enhance performance and reduce the risk of injuries. In biomechanics research, these systems provide valuable insights into human movement for medical and scientific purposes.
•    Healthcare and Rehabilitation: 3D motion capture technology is playing a crucial role in physical therapy and rehabilitation, providing accurate tracking and analysis of patients' movements to aid in recovery.
•    Robotics and Automation: In the field of robotics, these systems are used to teach robots to mimic human movements, making them more versatile and capable of tasks that require fine motor skills.
•    Virtual Reality and Augmented Reality: 3D motion capture systems are instrumental in creating immersive virtual reality and augmented reality experiences, enabling users to interact with digital environments in a natural and intuitive way.
•    Research and Development: Research institutions and companies rely on 3D motion capture for a wide range of projects, from studying animal behavior to developing autonomous vehicles.
To request a copy of the survey, visit https://www.custommarketinsights.com/request-for-customization/?reportid=33738.
 
Related Glossary Terms
recovery


recovery

Reduction or removal of workhardening effects, without motion of large-angle grain boundaries.

robotics


robotics

Discipline involving self-actuating and self-operating devices. Robots frequently imitate human capabilities, including the ability to manipulate physical objects while evaluating and reacting appropriately to various stimuli. See industrial robot; robot.