Author
Alan Richter
Published
August 23, 2022 - 10:00am
As demand for their goods remains strong, manufacturers face multiple head winds to provide products, including inflation, trade uncertainties, supply chain disruptions caused by shutdowns in Asia to battle COVID-19, challenges with access to capital and the war in Ukraine. Those, however, are overshadowed by the tight labor market as manufacturers have difficulty trying to find sufficient workers to meet capacity needs.
"Labor is a big problem for manufacturers, getting enough employees in their manufacturing plant to produce product," said Jeff Major, director of U.S. sales at Greenfield Industries Inc. in Seneca, South Carolina, and president of the Cleveland-based United States Cutting Tool Institute. "A lot of companies — I know ours has — have struggled with finding people to work the second and third shifts."
He said some manufacturers are attempting to overcome the skills gap by offering tuition incentives for continuing education and seeking workers through machinist and other manufacturing programs at vocational-technical schools.
A common approach is to direct money at the problem.
"It's high wages and in some cases incentives," Major said, "such as sign-on bonuses, retention bonuses and things of that nature to attract employees."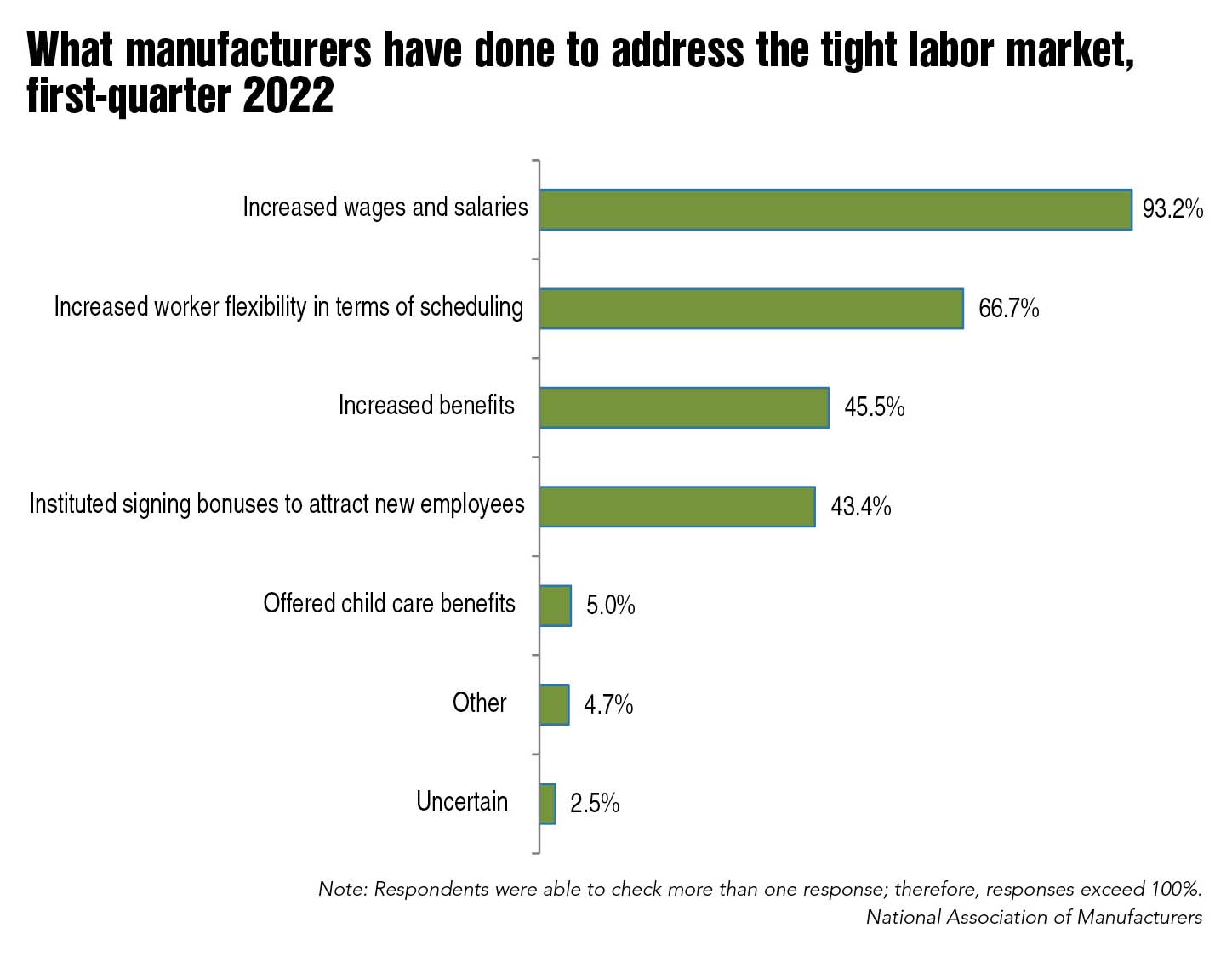 According to the Manufacturers' Outlook Survey for the first quarter of 2022 by the Washington, D.C.-based National Association of
Manufacturers, companies expected 3.9% growth in employee wages over the subsequent 12 months. That is a record high dating back to NAM's first survey, which was conducted for the fourth quarter of 1997.
The latest survey was based on responses from 290 manufacturers, including 61 small firms, 114 medium-sized ones and 115 large
manufacturers.
NAM reported that manufacturers had 800,000 or more job openings — a very elevated rate — for 10 straight months. Notably, that was just before the Russian invasion of Ukraine. The severe disruptions caused by the war and the resulting sanctions have added significant uncertainty in the global marketplace, exacerbating supply chain issues, energy costs and inflationary problems for manufacturers, according to NAM.
Generous benefit packages help attract and retain skilled workers. Nonetheless, Major said companies face the dilemma of providing those benefits to existing employees when used to entice new hires.
In addition, the most common benefit, health insurance, is expected to exert more pressure on the bottom line for manufacturers that offer it. NAM's survey showed that the growth rate for health insurance costs was projected to increase 7.9% over the next 12 months, which is the highest rate since the fourth quarter of 2017 at 8.1%.
As the U.S. and global economies transition from a pandemic to an endemic scenario, Major said cutting tool manufacturers are grappling with acquiring needed raw materials and production components.
"We're not unlike the automotive industry when it comes to chips and so forth for equipment," he said. "I know the supply chain coming out of China with the disruptions of the ports, both in China and the States, has extended lead times on
material."
Lead times also have extended for manufacturing equipment.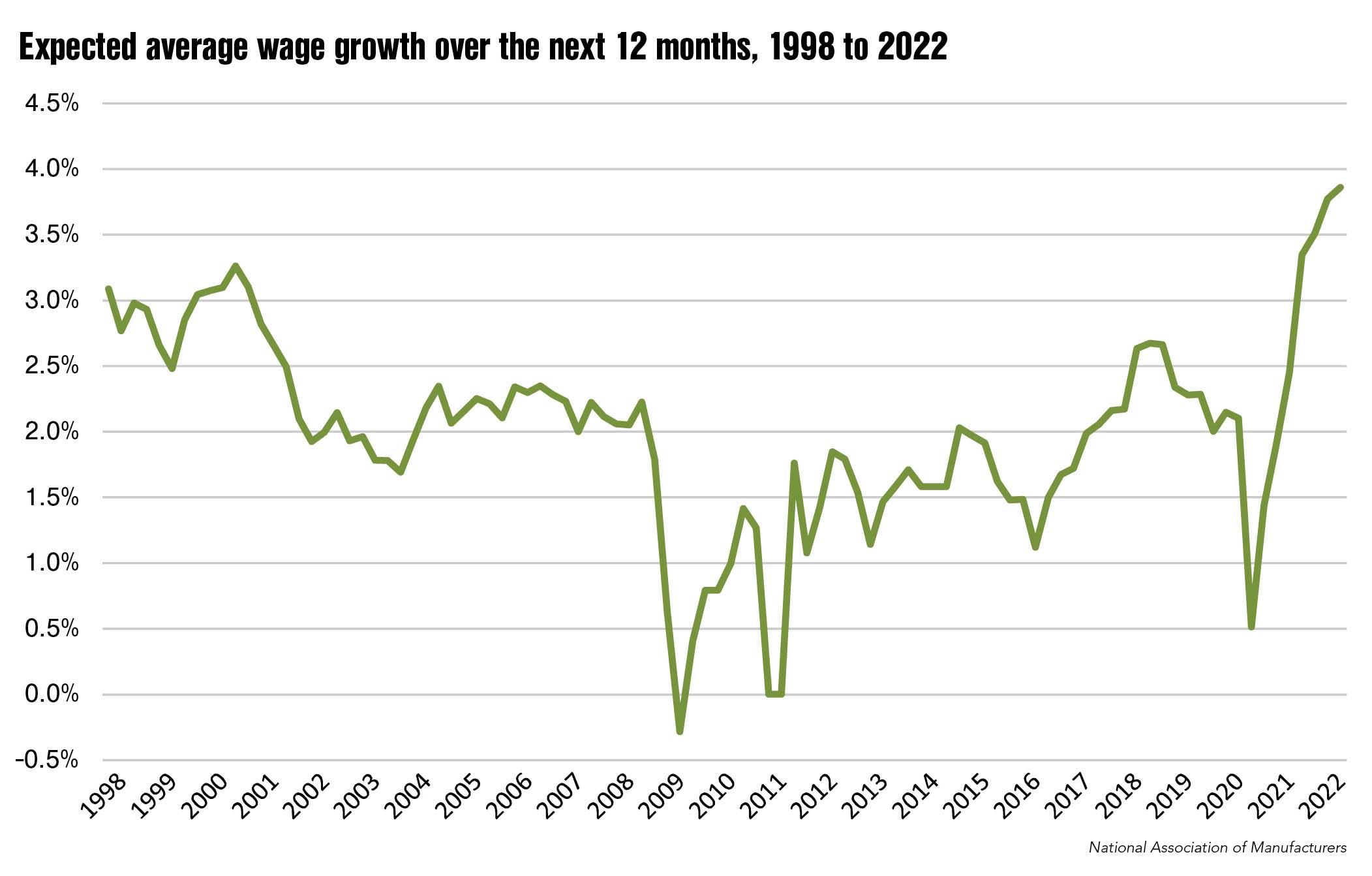 "If you are going to buy a piece of equipment," Major said, "you are generally looking at six to nine months out before you actually get it on the floor."
As lead times increase, so do costs. Manufacturers expected raw material costs to rise 7.1%, NAM reported, which was up from 6.5% in the fourth quarter and close to the 7.5% reading in June of last year. As a result, manufacturers forecast 6.1% growth in prices for their products over the following 12 months, a record inflation rate for the survey.
Although cutting tool manufacturers are seeing rising costs for raw materials, such as tungsten carbide, Major said most of the increases are in packaging materials, such as cardboard, metal cases and tubing, as well as grinding wheels and coolant.
"Pretty much everything has been affected regarding rising costs," he said. "In some cases, it's multiple increases within three-month, six-month time periods."
Even with the challenging environment, Major predicts a 3% to 4% increase in revenue from early 2022 to early next year for the U.S. cutting tool industry based on his conversations with other cutting tool professionals.
"We're very busy," he said about Greenfield Industries.
Worldwide, the carbide tools market is expected to rise throughout the decade, according to a report from Research and Markets in Dublin. The global carbide tools market was valued at $11.3 billion in 2020 and is projected to reach $18.3755 billion by 2030, registering a compound annual growth rate of 4.9% from 2021 to 2030.
Advancements in industrial design, as well as increased interest in bettering production efficiency, are encouraging manufacturers to investigate improved machine tool products, raising demand for carbide tools, according to Research and Markets. A primary reason expected to propel the market growth is an increase in use of carbide tools, particularly in industrial applications.
Whether in standard offerings or specials tailored to specific applications, Major said part manufacturers seek cutting tool innovations to cut costs, be more efficient and create better products.
"That's always a challenge for us manufacturers," he said. "If it is a new project, that's where you get your best shot of putting a new tool in."
The tight labor market is likely to continue to vex manufacturers for the foreseeable future, but supply chain disruptions are expected to abate in the near term. NAM's survey reported that 40.4% of respondents see such turmoil lessening in the second half of 2022 while 32.5% expected that decrease in the first half of next year.
"I wish I had a crystal ball on that," Major said. "What I've heard is that sometime near the end of the third quarter or the fourth quarter, it should ease." 
Related Glossary Terms
coolant


coolant

Fluid that reduces temperature buildup at the tool/workpiece interface during machining. Normally takes the form of a liquid such as soluble or chemical mixtures (semisynthetic, synthetic) but can be pressurized air or other gas. Because of water's ability to absorb great quantities of heat, it is widely used as a coolant and vehicle for various cutting compounds, with the water-to-compound ratio varying with the machining task. See cutting fluid; semisynthetic cutting fluid; soluble-oil cutting fluid; synthetic cutting fluid.

grinding


grinding

Machining operation in which material is removed from the workpiece by a powered abrasive wheel, stone, belt, paste, sheet, compound, slurry, etc. Takes various forms: surface grinding (creates flat and/or squared surfaces); cylindrical grinding (for external cylindrical and tapered shapes, fillets, undercuts, etc.); centerless grinding; chamfering; thread and form grinding; tool and cutter grinding; offhand grinding; lapping and polishing (grinding with extremely fine grits to create ultrasmooth surfaces); honing; and disc grinding.

tungsten carbide ( WC)


tungsten carbide ( WC)

Intermetallic compound consisting of equal parts, by atomic weight, of tungsten and carbon. Sometimes tungsten carbide is used in reference to the cemented tungsten carbide material with cobalt added and/or with titanium carbide or tantalum carbide added. Thus, the tungsten carbide may be used to refer to pure tungsten carbide as well as co-bonded tungsten carbide, which may or may not contain added titanium carbide and/or tantalum carbide.