Author
William Leventon
Published
December 02, 2021 - 01:00pm
Called the J series for "jig," a line of CNC machines introduced by Mitsui Seiki Kogyo Co. Ltd. in Japan is said to combine jig borer accuracy and machining center productivity.
The company designed the vertical machining centers to handle precision boring, milling, drilling and tapping. The J series includes four basic machines to accommodate a wide range of workpieces for the medical, optical, aerospace and mold and die industries.
"The large-frame machines are suited for doing large mold-base work and things of that nature," said Bill Malanche, chief operating officer at Mitsui Seiki USA Inc. in Franklin Lakes, New Jersey. "But we also make (smaller) J-style machines for doing things like ultraprecise medical components."
Included in the J series are the PJ812 (PJ stands for "profile jig"), which offers the least axis travel and the lowest table load capacity of the group; the J1220; the J1230, which presents the most x-axis travel; and the J1625, which has the highest table load capacity. X-axis travel provided by the different machines ranges from 1,200 mm (47.2") to 3,000 mm (118.1"), y-axis travel runs from 800 mm (31.5") to 1,600 mm (63"), and table load capacity ranges from 1,500 kg (3,307 lbs.) to 6,500 kg (14,330 lbs.). Z-axis travel for all the machines is 500 mm (19.7"). The line furnishes positioning accuracy and repeatability of ±1 µm (0.00004"), according to Mitsui Seiki.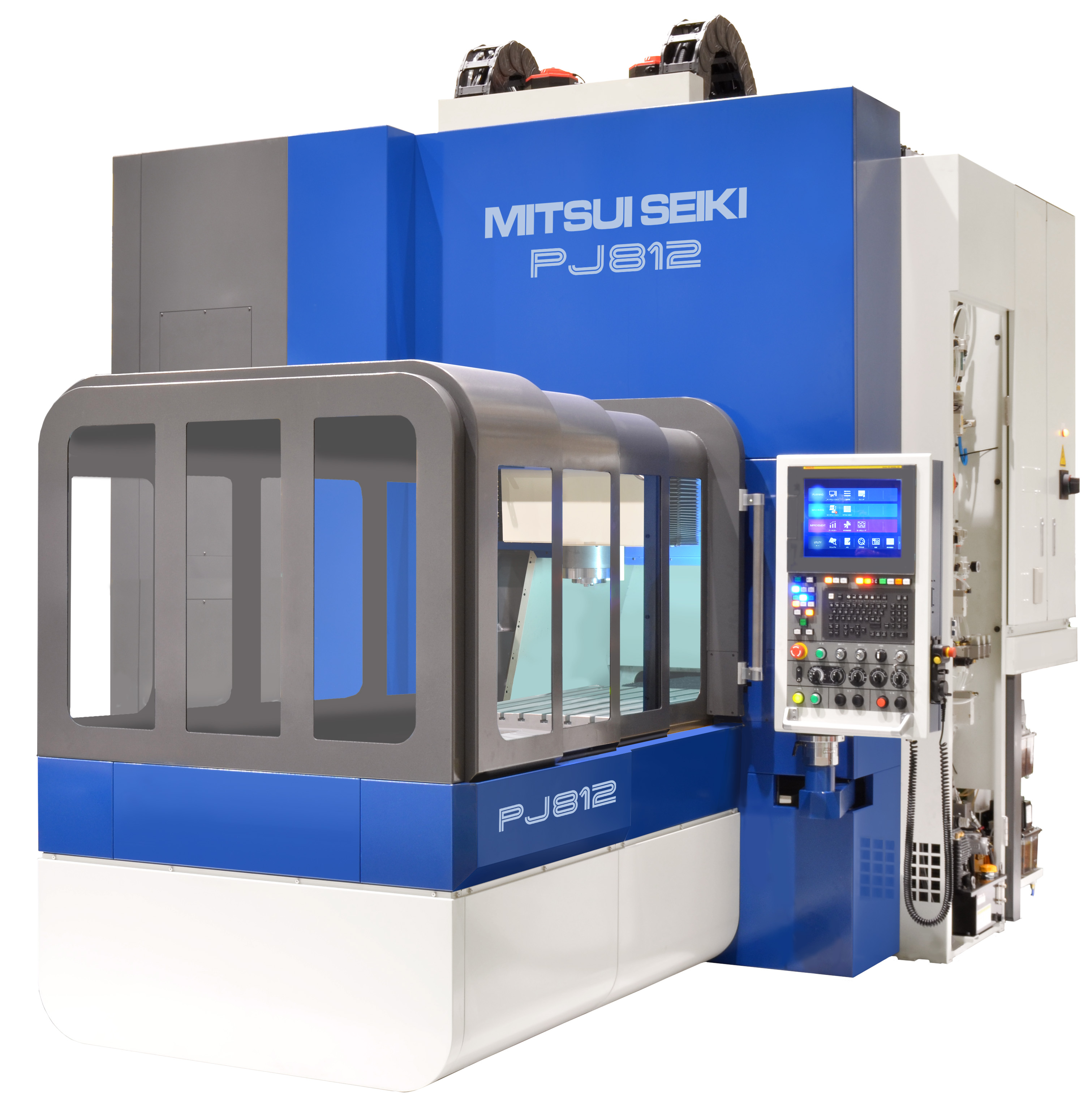 J series VMCs are designed to offer both machining center technology and jig-milling precision. Image courtesy of Mitsui Seiki USA
The component accuracy offered by J series machines is attributed partly to an automatic thermal compensation system that employs sensors on the machine face plate and inside the spindle to minimize the effects of temperature changes. Mitsui Seiki says the system reduces temperature-related displacement by 60% and cuts z-axis thermal growth and deflection by 30%.
Other design features include a proprietary design element that increases the static rigidity of the z-axis to more than six times that of conventional z-axis arrangements, the company reports. In addition, machine precision and rigidity get a boost from hardened and ground tool-steel box slideways and contact elements designed to improve acceleration, reduce stick-slip and allow feed accuracy of 0.1 µm (0.000004"). Malanche explained that the contact elements are part of the gib system, which was modified to reduce the effective weight on the ballscrew during machining to allow the machine to move more precisely.
The company says another feature that distinguishes J series machines from the competition is the way in which the guide ways are attached to the machines. After hand-scraping cast machine surfaces to a true, flat condition, Mitsui Seiki bolts on the steel guide ways from underneath.
"A lot of machine tool designers put those bolts through the top of the way, down to the casting material, and then put little plastic caps or something like that over those holes," Malanche said. "We completely eliminate any kind of obstruction there by doing it the opposite way and bolting on the guide ways from underneath the axes."
J series machines also benefit from a special cooling system for slideways and ballscrew cores aimed at increasing axis feed precision. He pointed out that slideways and ballscrews traditionally have been lubricated with either a heavy grease pack or a heavy lubricant. By contrast, Mitsui Seiki cools these components with an air-and-oil atomization system.
"Instead of drowning the ballscrews and slideways with liquid," Malanche said, "we're spraying a light mist with cold air as well."
For some potential users, one of the most attractive features of J series VMCs may be their ability to do more complete component machining.
"In a lot of cases, people tend to not use their precise machines for roughing and finishing," Malanche said. "But because of the construction of these machines, they are capable of doing the whole job. They're heavy and rigid enough to do roughing work. And they can move ultraprecisely for the finest elements that need to be done."