Author
Kip Hanson
Published
April 01, 2020 - 09:00am
Bakers use double ovens to whip up twice as many cakes and cookies each day. Double martinis get the job done in half the time. A bicycle is safer than a unicycle. There are many other examples in which two of something is better than one, but possibly nowhere is this more quantifiable than with twin-spindle machining centers. After all, for a slight increase in floor space and additional tooling expenses, having two spindles can effectively halve production costs for a variety of parts compared with a single-spindle machine. So why don't twin-spindle machining centers rule the production floor at machine shops everywhere?
Gemini Man
In some situations, twin-spindle machining centers do rule. Graham Roeder, national product manager at Jtekt Toyoda Americas Corp., Arlington Heights, Illinois, said primary users of the company's Gemini XL line of twin-spindle machining centers make automotive parts, such as steering knuckles and brake caliper components.
"But twin spindles present significant advantages to pretty much any high-volume shop, automotive or not," he said.
Roeder said the number of sales inquiries for twin spindles has been rising. Even companies that replace antiquated twin-spindle machines can look forward to dramatic performance improvements. Today's twin spindles are better in every respect, with larger tool magazines, higher accuracy, faster spindle and traverse speeds and, perhaps most importantly, integrated automation.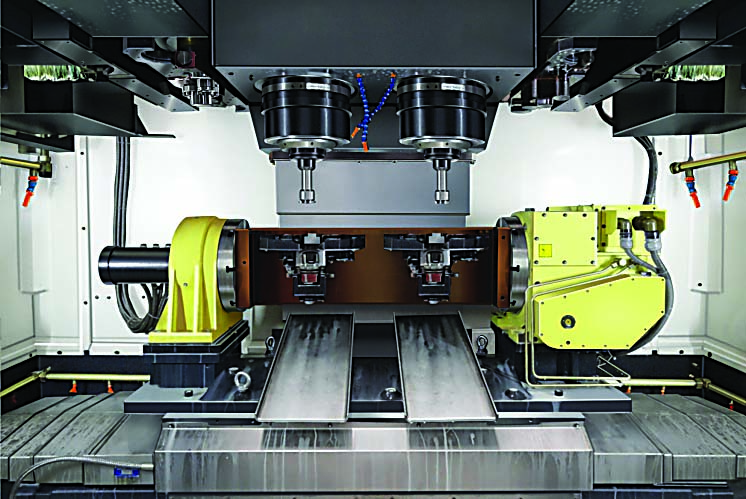 According to Jtekt Toyoda Americas, Gemini XL twin-spindle machining centers present significant advantages to any high-volume shop. Image courtesy of Jtekt Toyoda Americas
There's just one problem: These new and improved machine tools are no easier to set up than those of yesteryear. The tool length and diameter on the right-hand spindle must match those of the left-hand spindle, and fixture placement and construction must be equally precise. He said accomplishing all this requires enhanced planning and a high level of engineering skill, which is why many customers purchase machines as turnkey systems — tooled up, programmed and ready to get to work.
"We're typically building complete packages to order, with most going out with rotary tables and some level of automation," Roeder said. "Compared to the typical 40"×20" (1,016 mm × 508 mm) single-spindle machining center you can find in any job shop, twin spindles are purchased with one thing in mind: maximum spindle utilization. For that, you want either a pallet changer or robotic part handling."
Why W?
An additional difference in the world of twin spindles is the presence of a w-axis. In Jtekt Toyoda Americas' case, this provides up to 20 mm (0.787") of independent z-axis travel to compensate for any differences in tool length. A w-axis is a nice feature, though it's probably less important than it once was.
The people interviewed for this article said offline tool presetters have made setting up a twin spindle easier. So has zero-point workholding, which allows shops to tool up a range of parts and quickly swap fixtures and vises as needed. For these two reasons above all others, twin spindles deserve a second look from those who've discounted them as "only automotive" machine tools.
Chiron America Inc., Charlotte, North Carolina, is enjoying similar demand for twin spindles and has released a machine model, the FZ/DZ 25, in response. Ross Clark, account manager and product specialist, said the FZ/DZ 25 is a bridge-style machine that boasts 800 mm (31.496") between spindles, with each spindle able to traverse independently in the x- and z-axes. Tool changes are independent as well, and the machine can be equipped with either a dual five-axis trunnion or a "w-style table," or rotary pallet changer.
"The FZ/DZ 25 targets large electric vehicle parts — battery trays, for example," he said. "As a country, the U.S. has been slow in committing to this market. Automotive manufacturers, however, have finally woke up to the fact that EVs are coming and begun investing in equipment to meet the need. Everybody's seen how much ground Tesla is gaining. And because of that, the commitment to new gasoline engines is nearly nonexistent. Everybody's preparing for electric vehicles."
Experience Matters
Whatever the application, Clark suggested key attributes to look for when shopping for twin-spindle machines, especially ones as large as the FZ/DZ 25.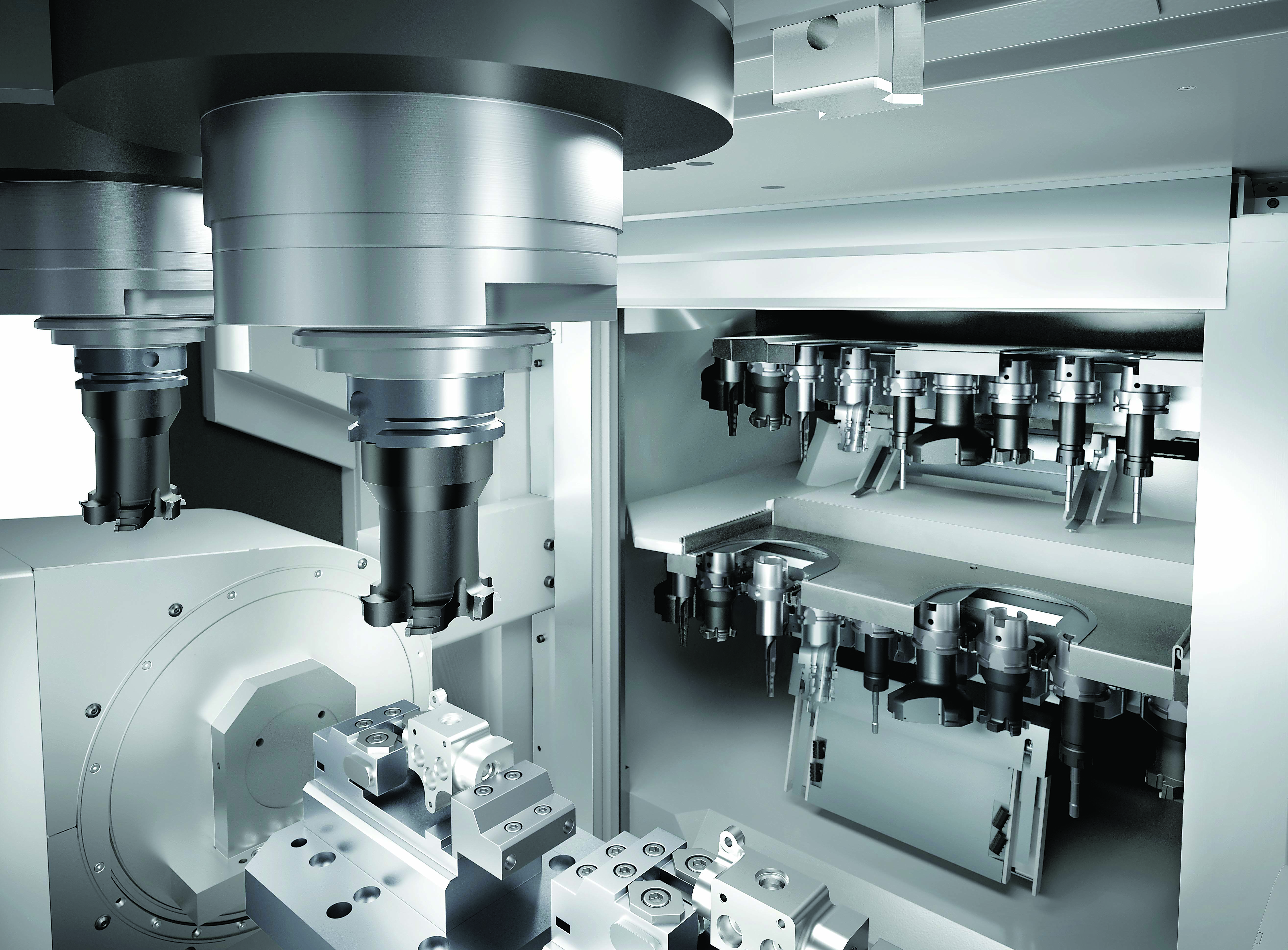 Like many twin-spindle machines, Chiron America's DZ16 W has an independent w-axis, which is used to compensate for differences in tool length and fixture height. Image courtesy of Chiron America
"Geometric alignment between the spindles is critical, as is thermal compensation to eliminate potential growth," he said. "Without this, you're going to face problems maintaining accuracy on one side or the other. It's for this reason that we recommend a stable foundation with any high-precision machine tool — a concrete slab is best — but particularly with a twin spindle since any geometric errors will be multiplied."
In addition, fixture positioning must be exact as there's no way to adjust the distance between spindles. The presence of a tilt rotary table only exacerbates this situation, Clark said, and the fixture data therefore should be perfectly square and parallel with the machine axes and spindle centerlines. This is not as difficult as it might sound.
"We're doing a good deal of that today with our turnkey packages," he said. "The problem is getting everything trued up again after the inevitable crash, but there are proven strategies to address this challenge. This is one example of how proficiency and experience are even more critical throughout installation and setup with multispindle machines, so choose partners wisely."
Bringing Work Home
As referred to earlier, automation goes hand in hand with twin-spindle machining centers. Dual-spindle machine tool builders typically offer robust material handling and part loading capabilities, ranging from Lazy Susan-style pallet changers to robots and gantry loaders.
Doosan Machine Tools America Corp., Pine Brook, New Jersey, is no exception.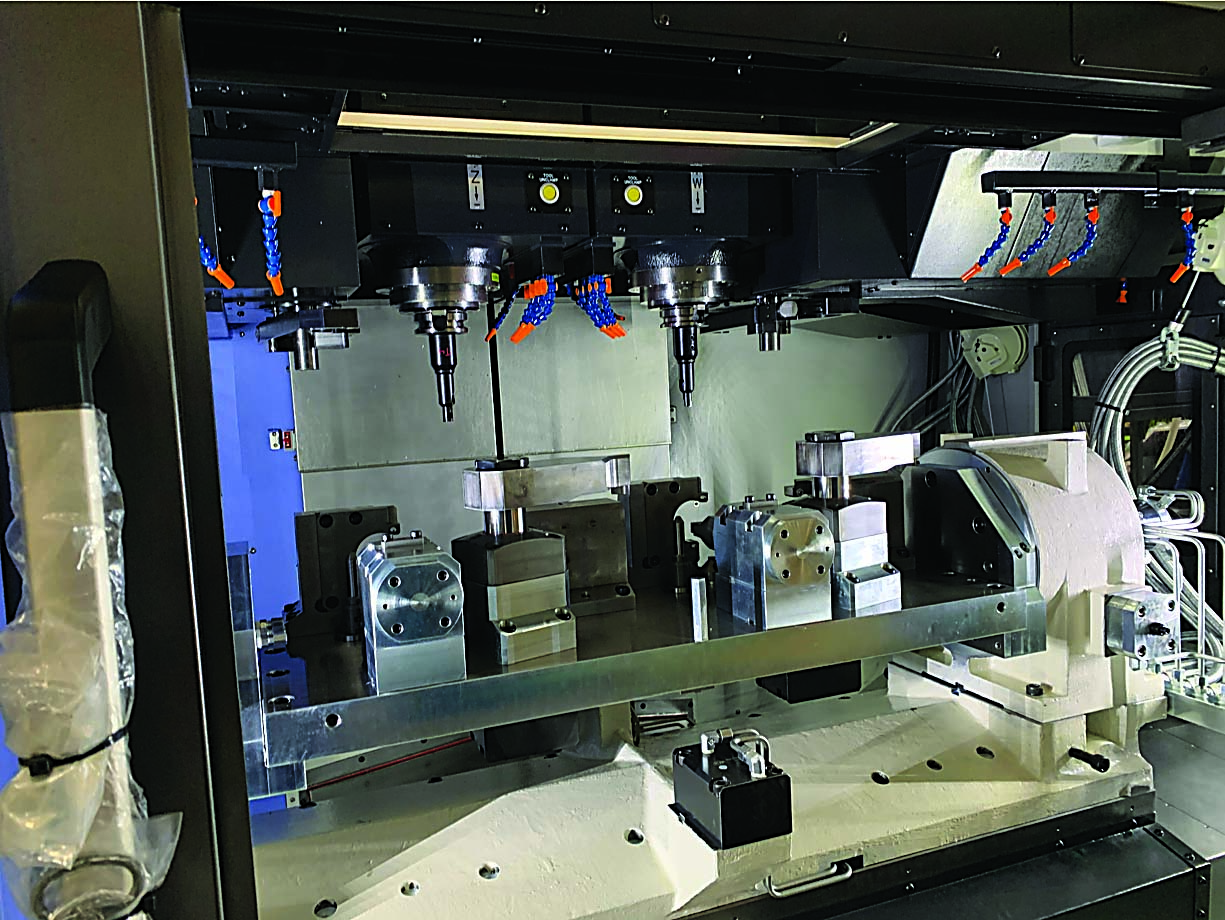 Doosan Machine Tools America offers the XC 4000DA, a 12,000-rpm HSK 63A twin-spindle machine equipped with a servodriven, rotary-style pallet changer. Image courtesy of Doosan Machine Tools America
"The reshoring trend has resulted in a couple of industry shifts," said William Carr, director of key accounts and engineered applications. "One is that jobs coming back to the U.S. must be automated. That's because the cost of robotics is the same everywhere in the world, but the cost of machine operators is dramatically different. Automation levels the playing field. The second thing is that plant expansion is becoming very expensive in America. Consequently, there's a growing call to produce more parts per square foot in your plant. Manufacturers don't want to bring work back by having to expand the factory floor. Not only is the ROI too slow, but they can't wait a year or more for new construction to be completed. They want an immediate hit and want to maximize available floor space."
Enter twin-spindle machining centers with automated material handling. Most machines aren't that much larger than a single-spindle vertical machining center, doubling production output per square foot. They are more expensive but not twice the price, and they are far less costly than punching out the side of a factory to expand.
A Helping Hand
Doosan Machine Tools America's XC 4000DA machining center is a good example. Launched late last year, the 12,000-rpm HSK 63A twin-spindle machine comes with a servodriven, rotary-style pallet changer with rotary table (a-axis) and trunnion (a+c) versions available. An open design allows the use of a front-mounted robot or an overhead gantry loader. Carr said the machine is suitable for high-throughput machining, with particular attention paid to coolant flow, chip management and 24/7 reliability.
However, he recommends that shops not go it alone on a twin-spindle purchase, automated or not.
"These are not commodity machines," Carr said, "and for good reasons. Some people think they can easily manage their own integration, their own engineering efforts. And in some cases, this is true. Yet twin spindles are a different animal. Things can get ugly when a shop buys a machine and is unhappy a few months down the road because the decision-makers there didn't fully understand the application or accept the fact that they didn't have the resources needed to make it into a productive solution."
He said it's the job of machine tool partners to look closely at customer requirements.
"This means studying the manufacturing and engineering requirements, yes, but it also requires studying the culture of the shop, the skill level of the people, and making sure that we don't sell them a piece of equipment they can't adapt to," Carr said. "This is true for any machine tool but even more so with complex machinery like twin-spindle machining centers."