Author
Alan Richter
Published
January 01, 2015 - 10:30am
Kyocera Corp. brings a surface-hardening hybrid structure to a cermet substrate by combining conventional cermet and a metal-bonded phase with a high melting point. This reduces the likelihood of chips adhering to an insert during machining and provides a stable, machined surface to extend tool life and improve surface finishes, according to the Japanese toolmaker.
The new TN620- and PV720-grade inserts have a tough cermet with enhanced resistance to chipping and thermal shock for the internal structure and a cermet with a hardness from about 1,800 to 1,900 HV for the surface structure, noted Eric Jenkins, senior applications engineer for Kyocera Precision Tools Inc. By enhancing hardness and toughness, the hybrid cermet inserts reportedly improve abrasion and fracture resistance by 50 percent compared to the company's conventional cermet inserts.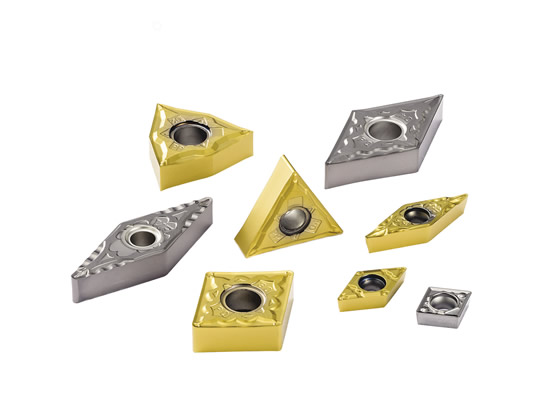 Courtesy of Kyocera
Kyocera reports that its TN620 (silver) and PV720 (gold) hybrid cermet inserts provide a 50 percent improvement in abrasion and fracture resistance compared to the company's conventional cermet grades.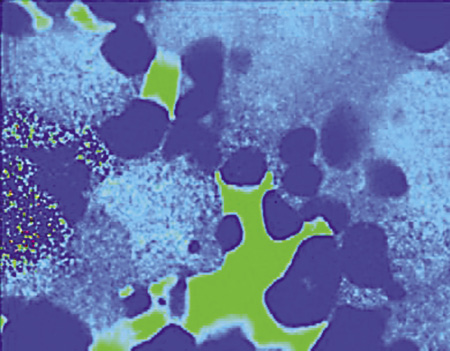 Courtesy of Kyocera
The metal-bonded phase in hybrid cermet inserts from Kyocera is shown in green.
In addition, the new cermet materials improve flexural strength by incorporating a "hybrid hard phase" comprised of particles from 0.5µm to 2.0µm, Jenkins explained.
While TN620 inserts are uncoated, PV720 inserts are PVD-coated with Kyocera's Megacoat Nano multilayer coating, which the company reports is its first cermet grade to incorporate that technology. Jenkins added that the coating is applied to the company's PR15-series milling inserts and PR1425-grade inserts for turning small parts.
Targeted for carbon and alloy steel applications, Kyocera recommends a cutting speed from 100 to 300 m/min. (330 to 1,000 sfm) for the TN620 inserts and 100 to 350 m/min. (330 to 1,150 sfm) for the PV720.
For more information about Kyocera Precision Tools Inc., Hendersonville, N.C., call (800) 823-7284 or visit www.kyoceraprecisiontools.com.
---
About the Author
Alan Richter is editor of CTE. Contact him at (847) 714-0175 or alanr@jwr.com.