Author
Evan Jones Thorne
Published
December 01, 2016 - 02:15pm
Electrical discharge machining (EDMing) goes by many names—burning, spark machining, spark eroding, vaporizing—but they all refer to variations on the same process: removing material by running an electric current between an electrode and a negatively charged workpiece material submerged in a dielectric fluid. At least in the case of sinker EDMing, that's pretty much all there is to it.
Current History
That may sound simple now, but it was a long time in coming. According to Stephen Krar and Arthur Gill's book "Exploring Advanced Manufacturing Technologies," the principle of electrical discharge erosion was discovered in 1770 by Joseph Priestley, an English physicist who is also credited with the discovery of oxygen, having isolated it in its gaseous state.
However, the EDM principle wasn't fully harnessed until 1943, when Russian scientists B.R. Butinzky and N.I. Lazarenko set out to find ways of preventing the erosion of metal in electrical contacts. While they failed in that regard, their resistor-capacitor-powered machine was the initial foray into sinker EDMing.
Almost simultaneously, halfway around the world, U.S. scientists Harold Stark, Victor Harding and Jack Beaver were developing a machine to remove broken drills and taps from aluminum castings. Krar and Gill wrote that experiments with more-effective power sources, fluid replacement and electromagnetic circuit interrupters led to the creation of a vacuum-tube-powered design that could produce thousands of sparks per second—arguably making it the first recognizable sinker EDM.
Nearly 3 decades later, in 1970, EDM specialist ABET Industries Corp. opened its doors in LaGrange Park, Ill., located west of Chicago.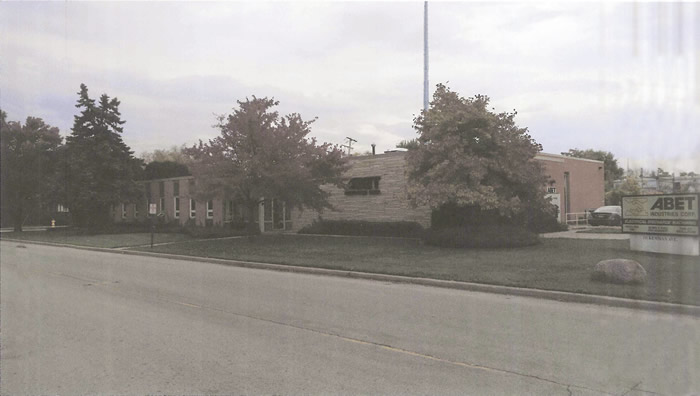 ABET Engineering Corp. was established in 1970 (above) and occupies the same facility in LaGrange Park, Ill., today (below). Image above courtesy ABET Engineering. Image below courtesy E. Jones Thorne.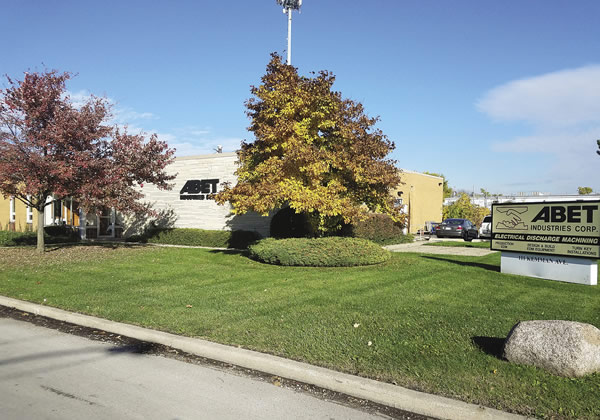 Expanding the Reach
The EDM job shop initially served the tool & die and aerospace industries, according to ABET Industries Plant Manager Paul Tomac, but over the past half-century has expanded its reach into other industries, including automotive, military/defense, nuclear-power generation, medical and railroad.
"When you have all your eggs in one basket, things are a lot more volatile," Tomac said. "Today, we try to work in as many different areas as we can. That way, when one industry slows, we can pretty much count on another one picking up."
Tomac began his EDMing career in 1995 as a service engineer for MC Machinery Systems Inc., Wood Dale, Ill. After 5 years of installing and servicing machines and training shop personnel all over the country, he opted to give up life on the road to spend more time with his family. Learning to make parts on the machines he'd been working with was a logical next step, so after cutting his teeth at various shops in the Chicago area, he joined ABET in 2000 as a team leader.
"When they gave me the opportunity to run the facility," he said, "I jumped at it."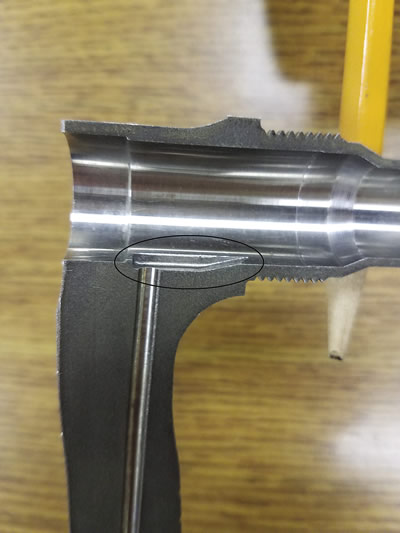 One advantage to sinker EDMing is its ability to create tiny, precise features. Both of these parts were received in a machined state; only the highlighted features were EDMed, but any imperfection in the profile would have led to scrapping the finished part. Images courtesy E. Jones Thorne.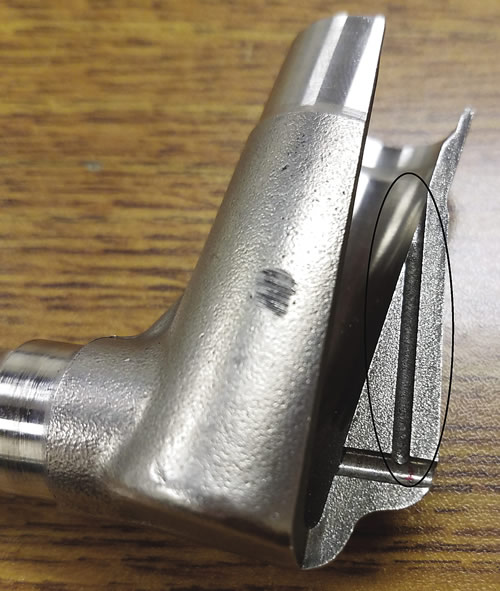 EDM as a Specialty
In the old days, EDM was incredibly specialized—it existed to do jobs no other technology could, according to Tomac. The machines were manually operated and incredibly slow, but they could erode even the hardest, toughest metals. As other technologies improved, so did EDMs.
"It all comes down to the power supply," Tomac said. "That's where all the technology comes together to control the machine. It's where the power comes from that lets us create the 'spark,' but it's also where the computer chips that act as the 'brain' sit, where the CNC is located. Electrodes are a fairly straightforward business, so almost all the utility of the machine comes from the power supply."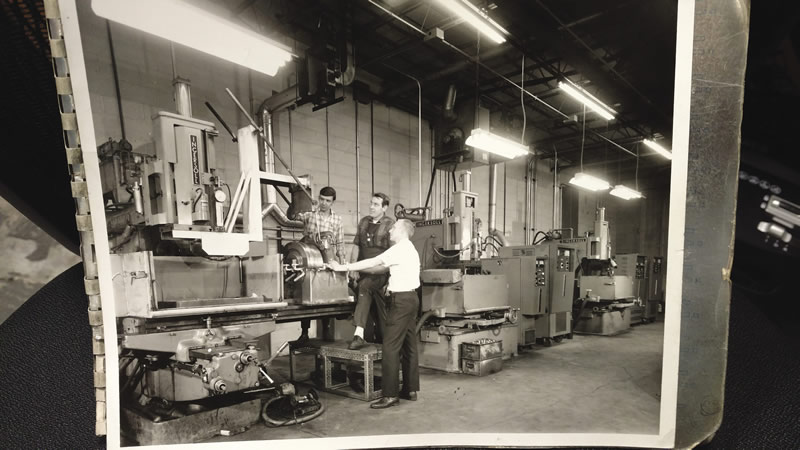 Machinists from ABET's early days, with one of the company's earliest sinker EDMs. Image courtesy ABET Engineering.

Since Tomac joined the industry, he's seen the introduction of automated electrode changers, the integration of robots, the development of autonomous cells capable of 24/7 lights-out manufacturing, ever-finer surface finishes and ever-tightening tolerances, along with new dielectrics, each bringing new capabilities to the technology—unique capabilities that are key to sinker EDM's continuing relevance.
For example, Tomac recalled that an ABET customer needed a profile that consisted of six thin fingers running the entire internal length of a 12' (3.7m) shaft. The shaft itself was in the center of a carbide workpiece and would have been literally impossible to machine conventionally.
"Looking at the specs of the job, there was just no other way to get it done," he said, "but we could do it. Being able to do something that other people—other very talented, capable people with impressive skill sets—can't do is very gratifying."
EDM is just as uniquely suited to small parts. It's capable of holding tolerances of 0.0001" (2.54µm) and imparting surface finishes fine enough to eliminate lapping or grinding. According to Tomac, it's not uncommon for a customer to provide a machined part that only needs a small, specific profile, but unless that profile is perfect, the customer will have to scrap an expensive part.
Competitive Technology
"EDMing technology is going to be around for a long time," Tomac said, "and not only because we can do things you can't with a CNC machining center. The technology that would be necessary to accomplish the same work with a CNC machine is almost beyond imagination." He added that CNC machines are constantly evolving, and there are constantly new applications being developed. "The real challenge for sinker EDMing is going to be in becoming more competitive, because the limit to what CNC machines can do is constantly being pushed."
Indeed, the main competition to sinker EDM work has consistently been traditional machining, such as high-speed milling. But Tomac sees a bright future, especially with the rise of synthetic materials and carbon parts for the automotive and aerospace industries—and making the tools for those new types of jobs is a function perfectly suited to EDMing.
"The capabilities of our technology are increasing constantly, and we just need to make sure people know what we can do," he said.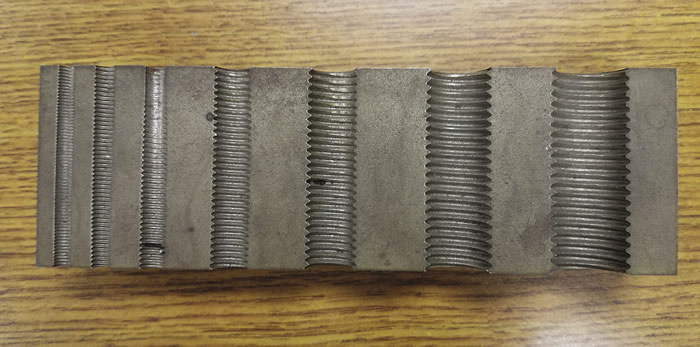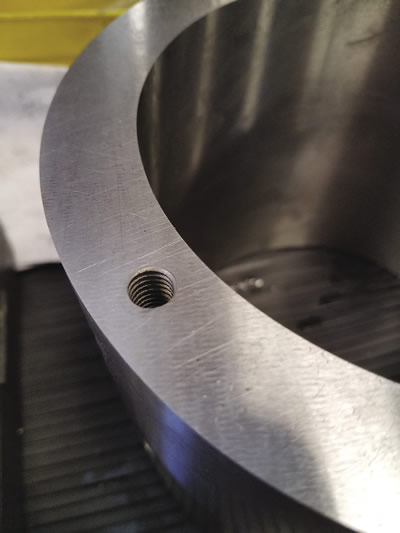 Sinker EDMing can also be used to thread holes. Images courtesy E. Jones Thorne.

Process Improvement
Success in manufacturing, Tomac explained, boils down to streamlining and improving processes. If you can do the job faster, you are saving not just time but money. But if you can do the job faster and better than your competition, you are not only gaining a business edge by delivering a superior product at a good price, you're working toward the development of entirely new technologies that weren't even possible until the tools to make them existed.
"Every year when I go to shows and see the new machines that are coming out, I leave convinced that we've reached the limit of what this technology can do," Tomac said. "Then, the following year, people come in with faster burn times, longer electrode life, higher-quality finishes … and I am just constantly excited to see how far this technology can be fine-tuned. Frankly, I don't see the future getting dim at all, just different."

Contributor
ABET Industries Corp.
(708) 482-8282
www.abet-industries.com