Author
Cutting Tool Engineering
Published
February 01, 2009 - 11:00am
One of the largest cutting tool companies in the world began as a kitchen-table operation in a remote part of Israel.
Stef Wertheimer is the founder of Iscar Metalworking, which began operations in 1952 as a one-man tool shop in northern Israel. Today, Iscar is a multinational business, 80 percent of which was purchased in 2006 by Warren Buffett's Berkshire Hathaway Co. In a wide-ranging interview with Cutting Tool Engineering Editorial Director Alan Rooks, Wertheimer recounts the history of Iscar and his project of developing industrial parks throughout the Near East.
After serving in the Israeli army in the late 1940s and early 1950s, Wertheimer found himself unemployed and unable to find a job in industry. So Wertheimer—married with two children—started his own business, founding Iscar in January 1952 in Nahariya, Israel.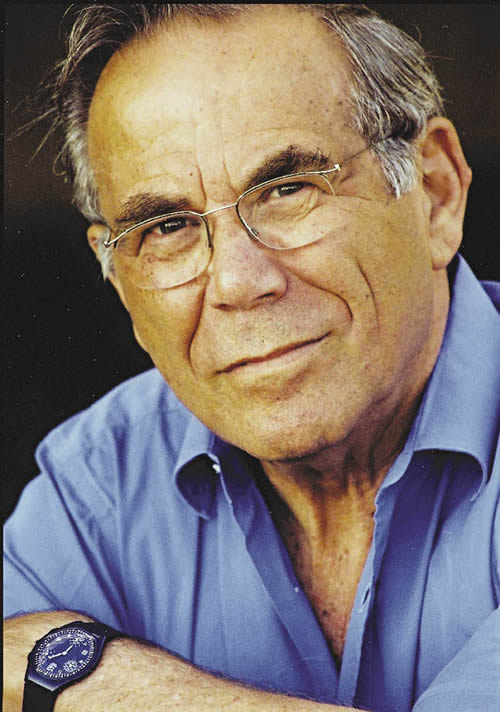 All images: Iscar Metalworking
Stef Wertheimer
More specifically, he started the company in his kitchen, he recounted. Contrary to some published information, Iscar did not begin in a garage. "I did not have a garage," he recalled. "I didn't even have a car!"
Iscar grew slowly through its first 25 years. Wertheimer eventually moved the business from his kitchen to a nearby rented space. "I also rented some grinding machines," he said. "I didn't have much funding, and not too much help."
The first year, he noted, he worked by himself. During the second year, "I took two young apprentices. We then slowly moved up, and 4 to 5 years later, I had 20 people. We were a very small company struggling to find a market. We had a hard time getting raw materials because Israel didn't have the funds to purchase them then, and we also had lot of technical disadvantages.
"My main asset was that people like to work with me—both my workers and my customers," he continued, "and I was trying to educate them to use the tools better. So my point was not so much marketing, but the educational end. I would take my tools to a shop, put them on a lathe and tell them how to do a job quicker."
In the early years, Wertheimer said finding enough business in metalworking was tough "because there weren't enough machine shops in Israel." So he began making tools for woodworking and mining operations. "I took any job that I could get in carbide tools," Wertheimer recounted. "It was a very undeveloped market."
Wertheimer, who started the business with brazed tools (because almost all carbide tools were brazed in the early 1950s), later developed the throwaway-tip side of his business.
About 20 to 25 years into the business, said Wertheimer, "I decided I needed a new angle." That's when he began a new product development project. Until then, he noted, the company focused mainly on specials.
The cutoff tool, which he considers the first good new product developed by Iscar, came to market in 1976.
Rooks: How did you get the idea for the cutoff tool?
Wertheimer: I went to a few trade shows, especially in Germany, to show my products, and I found that I had nothing special to talk about. We wanted to offer something that was an improvement on existing tools. The cutoff tool performed clamping by the forces of the taper instead of a screw. Most of the tools at that time had a screw to hold the tip. [Our product] made it like [changing cartridges in] a Gillette shaver. It was easy to exchange.
Rooks: Besides new products, what forces drove the growth of Iscar?
Wertheimer: It was mostly the disadvantage of being in Israel where the market is extremely small and not secure. In 1958, I had to go and look for export markets—in Greece, Yugoslavia and Switzerland. I immediately got exposed to the European market and to the American market, because in 1956, after 4 years in business, I bought a license to produce tungsten carbide from a company in Kenilworth, New Jersey, called Adamas, which doesn't exist anymore, because I could not get a license previously to buy this material directly. I'm still very grateful to Adamas' people for helping me. I bought the tungsten-carbide powder from them and made sintered parts exactly how they educated me to do so.
All my life, I've been a specialist in improvisation and problem solving. I wasn't born like this, but I lived in an environment that pushed me in that direction.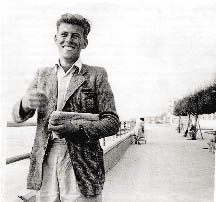 Wertheimer at age 18 in Tel Aviv.
Rooks: How did you approach export markets?
Wertheimer: I did not have the money at first to set up multiple organizations. However, I established a small company in Holland in 1961 because I wanted to see how business was done in Europe. I stayed for 3 years. It was a partnership with Adamas (which was also trying to penetrate the European market) and it worked out fine. After that, we established companies in other markets, mostly sales organizations. It was all very modest, very small.
Rooks: Were there any major milestones or key developments along the way to Iscar becoming a large company?
Wertheimer: We first had to have a stable, skilled labor force, and that included learning how to do a better job of managing our company. Thirty years ago, I attended a course that Harvard held here in Israel to study management practices, and I also sent my son and daughter to courses there later on. Again, from the beginning we had to be a worldwide company and I wanted to understand international business.
We had to automate our operations earlier than most companies in the world because we did not have enough skilled labor. Also, we had to decide what to focus on and what not to manufacture. Thus, we stopped making tools for mining and woodworking and concentrated on metalworking.
Rooks: What did you do about the lack of skilled labor in Israel?
Wertheimer: I established a technical school 45 years ago near Iscar, which a good part of the management of Iscar has gone through. The word "skill" has always been more important to me than the word "money." With people who wanted to continue to learn, we helped them go to the next level. Some people took time off for learning and came back to the company.
Today, the computer age is causing problems in terms of learning skills. People look at using computers as a skill and, of course, you need it, but it's not a real skill. The computer helps out on one side, but on the second side it downgrades our skills. It happens because people think that knowing things is equal to doing things, but for certain things you have to actually do them. We are working to train a new generation of people with high-level metalworking skills. Anybody who does a good job on metal machining is my friend.
Rooks: What other factors drove the growth of Iscar?
Wertheimer: The people working at Iscar have always felt that they are part of a bigger story, which is building Israel, and very early on we had very good, very hard workers. Our main problem was always delivery time; we never had time to quarrel about religion or things like that.
Rooks: What changes have taken place at the company as a result of being acquired by Berkshire Hathaway 2 years ago?
Wertheimer: We are very happy with this arrangement, and it was understood from the beginning that the big asset is that we are a smooth-running company. So we are handling the company like we have been handling it all our lives. There have been no changes at all. I am even eating lunch at the same dining room table every day!
Rooks: You have been an advocate of developing industrial parks as a way to promote economic development and peace efforts in Israel and other Middle East countries. How did you develop this idea?
Wertheimer: I was elected a member of the Knesset, our Congress, from 1977 to 1981, and I always told people that we have to educate our people to work in industry and to export and this will solve our problems. In the end, I came to the conclusion that I should build industrial parks and teach people how to run businesses. And then I decided that it's not a real estate story, it is not a bank story, it is not an academic story—it's a different animal. I built the first industrial park in 1981 in Tefen in the Galilee, which has 50 percent Jews and 50 percent Arabs. So it provided a good place for Arabs and Jews to work together, as well as a place where we could teach people what they can do after the army. It was kind of a G.I. program. I decided to build an industrial park so that companies could stay for 5 years, pay a minimal rent and have a safe place to work. I've built five parks in Israel, and one park in Turkey, and I plan to make a sixth park in Nazareth, Israel, mainly for the Arab community there. So it's an ongoing story.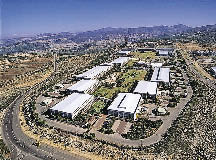 An aerial view of Tefen Industrial Park.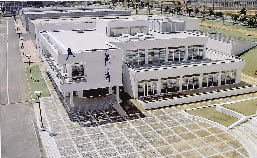 GOSB Teknopark A.S. is an industrial park established by Wertheimer with Turkish partners in Gebze, Turkey.
Rooks: Where does the funding for the parks come from?
Wertheimer: It is a completely private venture that I fund. I didn't ask anybody for help. I understood that Israel will only survive if we expand our longstanding emphasis on religion and the army to industry.
Rooks: How do you go about selecting the companies to operate in the parks?
Wertheimer: I always look for people who have one of two skills: either a good understanding of technical aspects of manufacturing or a knowledge of marketing. I always wanted ambitious companies that could leave after 5 years because they need more space. Basically, I made it easier for them to overcome the first few years.
Rooks: Would some companies want to stay in the parks?
Wertheimer: Many of them wanted to stay in the parks, but I try to ship them out because I need the space for the next companies. The parks are incubators. It's not a real estate story. The four parks in the Galilee are located so that everyone in the area can work there, Arabs and Jews. And, since all of the parks include educational facilities, they fulfill an important social responsibility in their regions.
Rooks: Have you been able to draw on a multinational or multiethnic workforce?
Wertheimer: Yes, definitely. We are very pleased with that. We always ask, why do you quarrel? You should be focused on how to deliver your product on time. In addition, we are very proud of the many Russian immigrants who have joined our workplace. They have brought a lot of expertise and have contributed to our success as well. Iscar is built on the talents of the Israeli population, in all of its varied parts.
Rooks: You have been quoted in the press as promoting the idea of a "Marshall Plan" for the Middle East to promote political reconciliation and peaceful economic development. What are the prospects for this plan?
Wertheimer: I went to the U.S. looking for help on the Marshall Plan in 2003, but it just was 3 weeks before America went into Iraq. So the timing was not the best. I think the Marshall Plan after World War II did a marvelous job for Europe, and it could do a similar job in this area if we would accept a long process of educating people, not just donating money.
I believe the next step in calming this region must be a plan like this. It takes some time for people to look at this option, which really hasn 't been tried before here. Our efforts have been proven in Turkey, however. For the past 6 years our park there has proven to be a great success, so it seems clear that this type of program can be successful as well in our area. Both the E.U. and the U.S. are beginning to study these possibilities once again. CTE