Author
Alan Richter
Published
July 11, 2022 - 12:30pm
Machining large, heavy workpieces requires more than machine tools massive enough to accommodate oversized production. It also takes machinists with appropriate skills and expertise. Amit Shirsat said his job shop has the needed human and mechanical capabilities to effectively machine big parts. He is owner of Technox Machine & Manufacturing Inc. in Chicago.
The company, which his father, Shamkant, launched in 1976, has a variety of manual and CNC machines, he said. Those include an array of large horizontal boring machines with a maximum work envelope of 3,048 mm × 3,860.8 mm × 1,778 mm (120"×152"×70"); planers and CNC vertical mills for components up to 2,870.2 mm (113") in length, 8,534.4 mm (336") in width and 2,133.6 mm (84") in height; and horizontal, vertical and CNC lathes.
Shirsat said manual machining on some equipment that is now 40 to 50 years old was the norm about 15 years ago.
"The times have changed," he said, "so now we have more CNCs than we did before."
To move weighty workpieces, which can weigh up to 13,608 kg (30,000 lbs.), Technox Machine & Manufacturing uses overhead cranes with suitable capacities. But removing workpieces, particularly forgings, from machine tools isn't as energy-intensive.
"Generally, forgings have a lot of stock to remove," Shirsat said. "Forging can become much lighter after machining."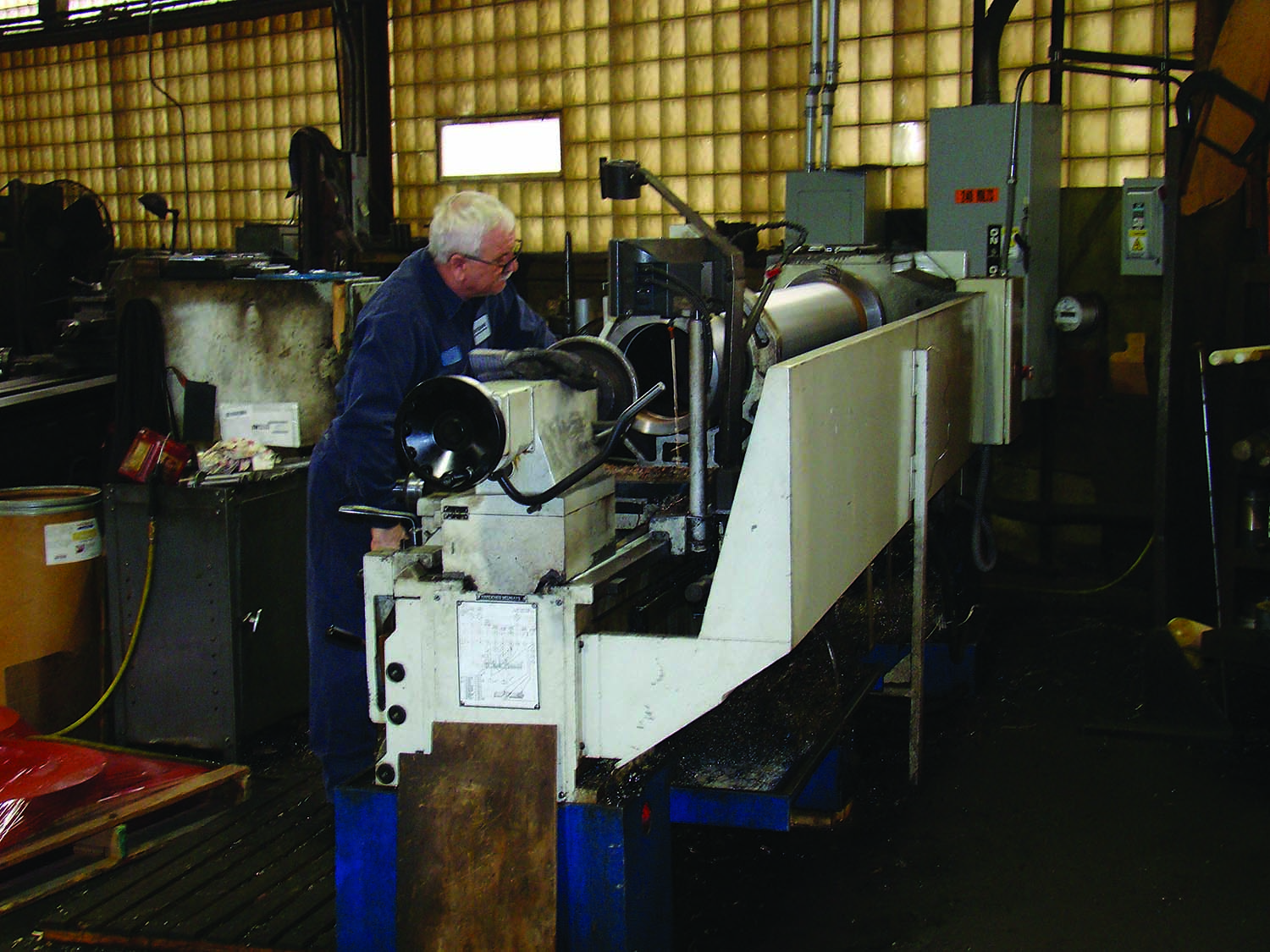 In addition, the machine shop employs about 20 people to run the machines and operates on one full shift five days a week and until noon on Saturday.
"Some of our guys have been here for 40 years," Shirsat said. "Accidents can happen with (large machine tools), and you have to have knowledgeable people who know what they're doing."
Technox Machine & Manufacturing serves customers in various industries, including mining, food processing, power generation, steel processing, textile and automation, and mostly performs 2D machining.
"Every now and then," Shirsat said, "we'll do 3D machining of molds and aerospace-type work."
The main workpiece material is cast ductile iron, but the shop also cuts stainless steel, carbon steel, bronze, chromium, plastics and Ni-Hard, which is a white cast iron alloyed with nickel and chromium for low-impact, sliding abrasion
applications.
"Sometimes we work with nickel-base castings that are hard-turned," Shirsat said, adding that hardness ranges from 30 to 40 HRC.
Specs for Large
Technox Machine & Manufacturing can achieve tolerances as tight as 0.0127 mm (0.0005"), but Shirsat said that isn't the case for large parts.
"We can hold plus or minus 0.002" (0.0508 mm) to 0.003" (0.0762 mm) on diameter," he said. "If we're required to hold five-tenths, we generally leave stock and send it out for grinding."
The shop outsources cylindrical grinding and performs surface grinding at its grinding facility in Elk Grove Village, Illinois, which has Blanchard and Mattison grinders.
In a company blog post about the challenges of large-part machining, Shirsat said factors that typically hurt machining accuracy are magnified when parts are bigger. This means that careful consideration needs to be placed on monitoring and countering these factors. Temperature is one of the more notable and significant examples of this. The process for machining massive parts generates a lot of heat, so users must compensate for the heat to maintain integrity of the final part. As these parts have larger surface areas, additional quality checks may be required to ensure that parts are being fabricated with reliable repeatability. Taking semifinishing passes and setting aside time to measure between passes before taking one or more finishing passes can be critical to achieving tight tolerances.
Another difference between machining conventionally sized parts and large, heavy ones is longer cycle times.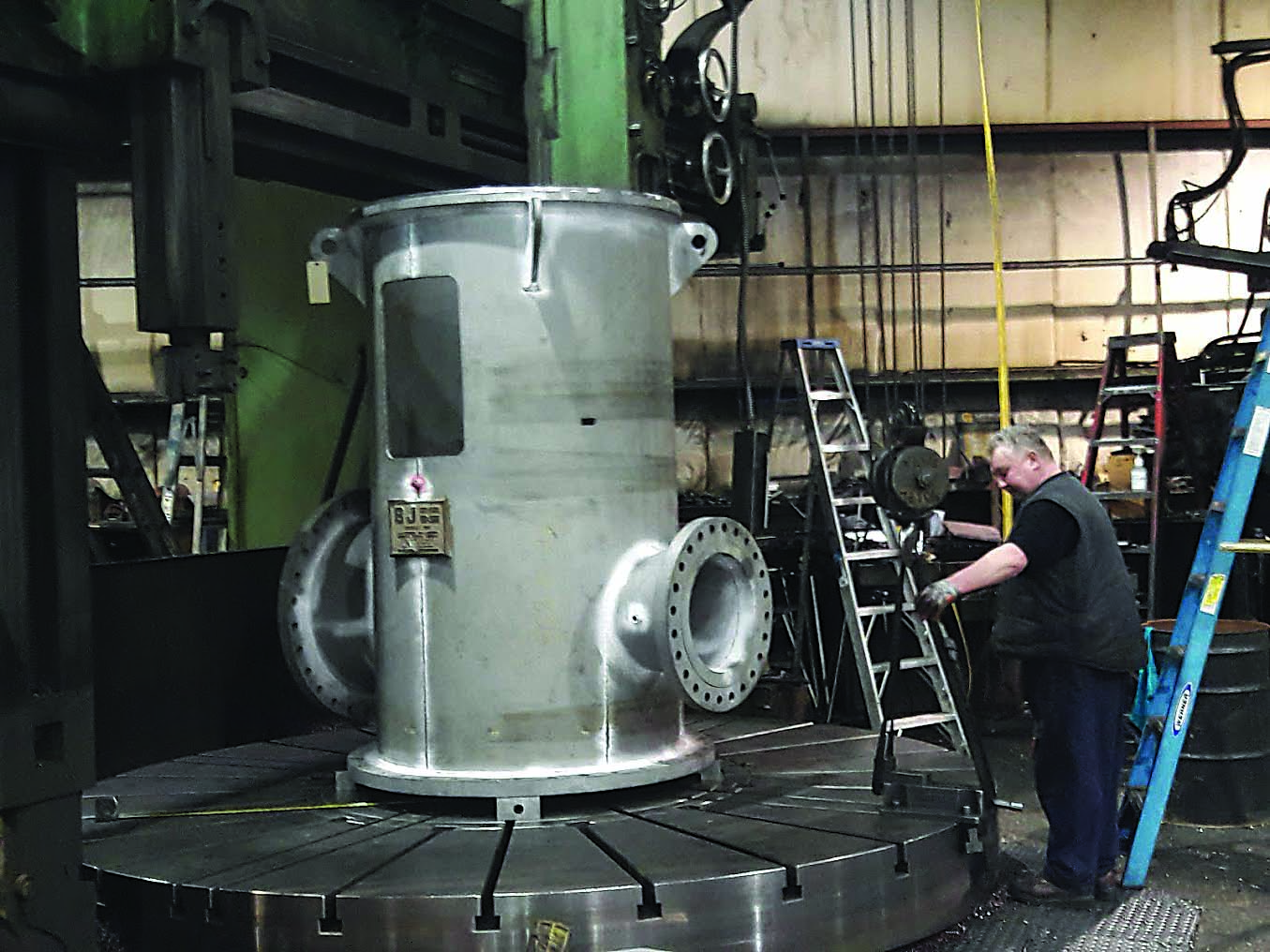 "Some take maybe three days, some take two weeks, and some take longer," Shirsat said.
However, he said lengthy cycle times don't involve lights-out machining once a shift ends at the shop's climate-controlled facility.
"We'll just stop and restart it the next day," Shirsat said.
He said the company's electrician also wears a mechanic's hat and helps maintain manual machines. If an issue with a CNC machine isn't overly complex, the shop performs the fix in-house.
"But if it requires more attention," Shirsat said, "we get the builder involved, and they send their technician out and troubleshoot it."
He said Technox Machine & Manufacturing will continue replacing manual machines with CNC ones as their functional lives end while the company explores adding machines to the equipment lineup at its 3,716-sq.-m (40,000-sq.-ft.) facility.
"We do have some room for expansion," Shirsat said, "but not a whole lot."
Tool Time
Shirsat said the shop uses a variety of carbide, high-speed steel and cobalt cutting tools to produce large parts. Because the company machines small volumes of those parts, with runs ranging from a single piece to sometimes 100 to 200 parts, various tools are needed.
"Every part we do here is different," he said, "so that determines what types of tools are required for machining. Whatever opportunity comes knocking on the door, we're open to working with it."
As a result, Shirsat said Technox Machine & Manufacturing has experience working with cutting tool manufacturers to design and produce specials when necessary. Of course, the extra cost of custom tools is reflected in customer quotes.
As commodity prices tend to rise as supply chains continue to face head winds, that impacts part prices. He offered the example of the rising price of stainless steel.
"So we have to pass those increases off to our customers," Shirsat said, "and they are always questioning why. The cost of nickel has been going up every month."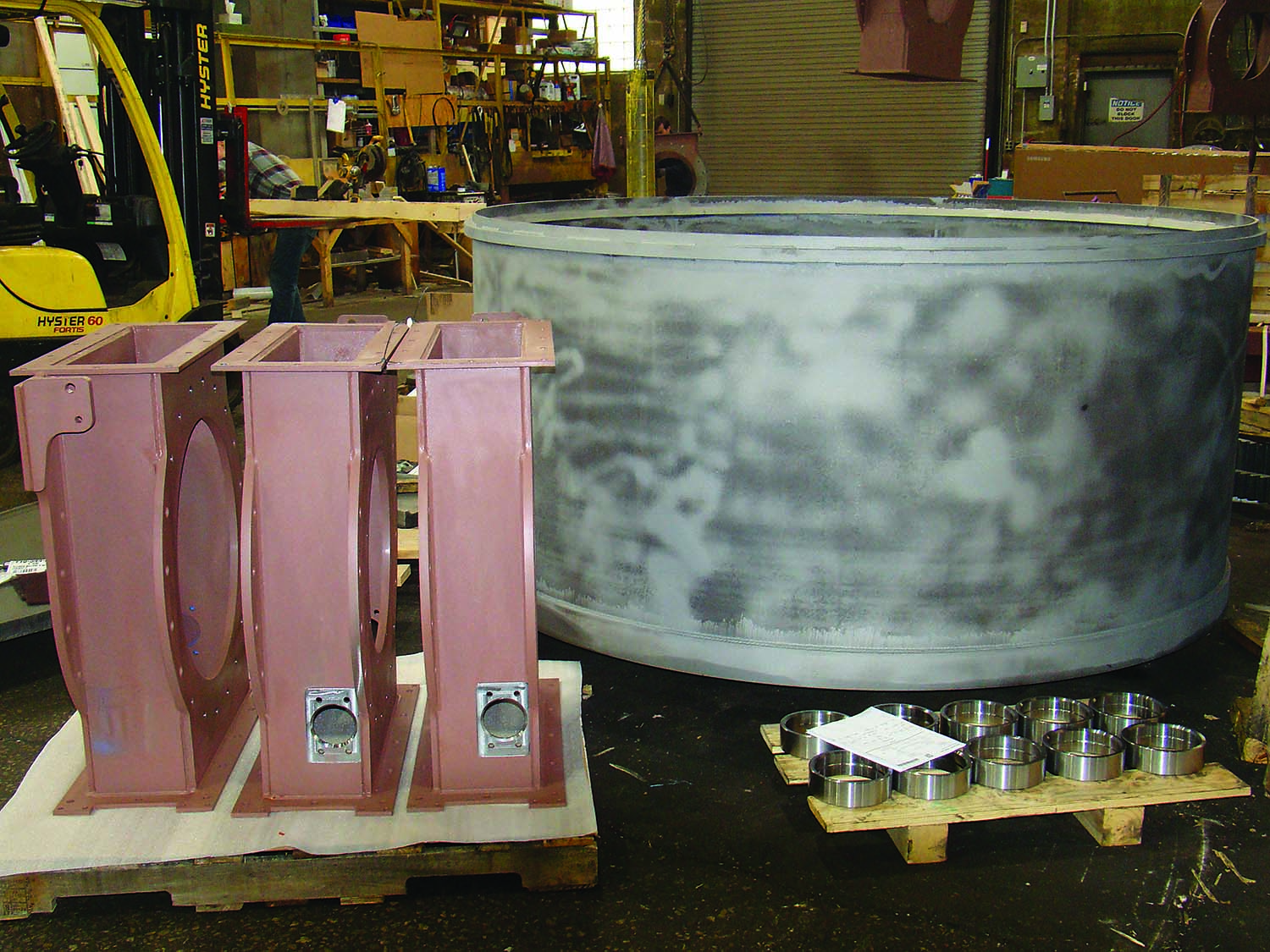 He said that issue is avoided when the shop doesn't have to acquire the workpiece material itself.
"It's nice when customers supply their material," Shirsat said. "We don't have to worry about paying for the material while it's in process, while we're machining it. Then we deliver to the customer and give 30 days to get paid."
Because about 80% to 85% of its business comes from repeat customers, he said the company doesn't have a sales force per se but recently did start working with a sales representative for the East Coast.
Beyond Machining
In addition to machining services, Technox Machine & Manufacturing offers assembly services to combine disparate components into a completed product.
"If the customer has components to make a weldment," Shirsat said as an example, "we will fit it together and make sure it goes together the right way. That way, when it goes to them and they assemble it, it goes together the way they want."
The shop also repairs components, such as bushings, bearings and bearing housings, and performs both MIG and TIG welding of aluminum, stainless steel and carbon steel as part of an original assembly project or to repair an existing component.
To straighten raw or worked materials, Shirsat said the company has 363-to-907-metric ton (400-to-1,000-ton) hydraulic presses and provides glass bead and steel shot blasting to clean, strengthen and/or polish parts.
Machining massive parts isn't for the faint of heart, so Technox Machine & Manufacturing might face an even trickier challenge to hire and retain workers with the required skill set than typically is seen in the overall metalworking industry.
"It's really hard to find knowledgeable people in this day and age," Shirsat said. "Machine tool builders keep making machinery that gets more and more complex. People have to keep up and understand how it works, and that's not easy."
To help attract workers with the skills for machining large parts, he said the company is considering launching an apprenticeship program "down the road."
In the meantime, he said the shop will continue to provide machining and other manufacturing services and try to further diversify and keep busy during a volatile economy.
For more information about Technox Machine & Manufacturing, call 773-745-6800 or visit www.technox​machine.com. 
---
Overcoming Challenges When Machining Large Parts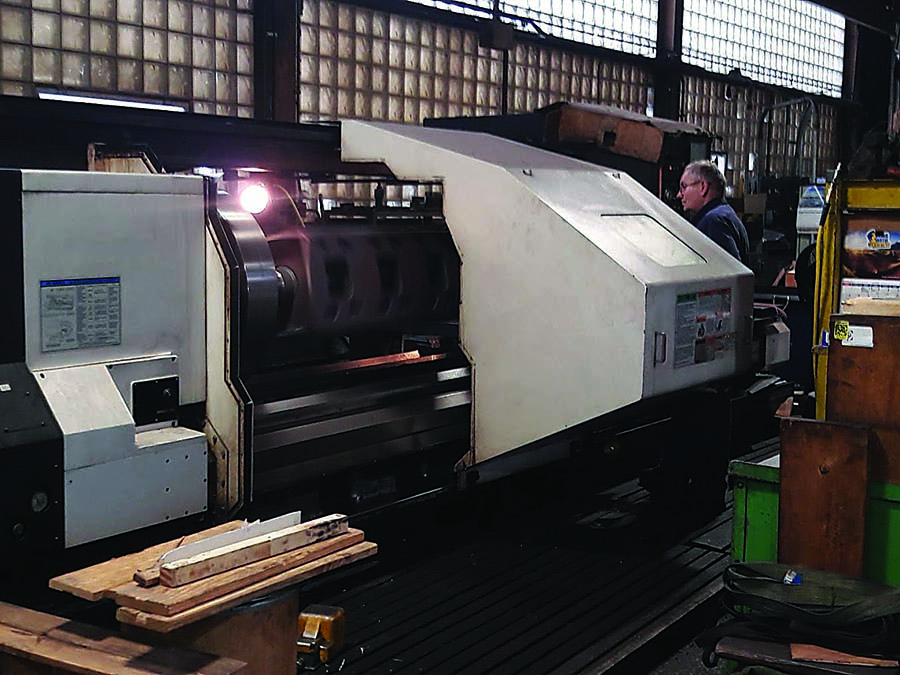 Large-part machining presents a range of unique challenges. When implementing new processes, it's important to keep the following three obstacles in mind.
Implementation is a tough process. Implementing large-part machining capabilities can be stressful. Investing in equipment capable of machining larger parts involves a certain amount of risk. Staff members require additional training on new equipment to successfully fabricate oversized parts, which may cause internal frustration or pushback from the workforce.
Buy-in on the shop floor is a must. The individuals who will do the legwork behind large-part manufacturing need to invest in the process. Any shop relies on the experience and abilities of its workforce to drive success. Without ground-level support, large-part initiatives suffer.
Don't prematurely end experiments. It takes more time than many metalworking professionals may expect to fine-tune a manufacturing process for large parts and get it right. Stumbling along the way and needing to adjust a process is normal, but not everybody comes to terms with this. It's easy to think that a process is broken or ineffective when in its infancy, and this is how many projects fail.
— Amit Shirsat