Author
Kip Hanson
Published
March 27, 2017 - 02:30pm
The first look at a Swiss-style CNC lathe, with its multiple slides, spindles and turrets, will have even experienced machinists scrambling for the instruction manual. For those new to machining, the complexity of Swiss lathes may leave them rethinking their careers. Fortunately, a variety of training options exist to quickly get operators and programmers up to speed. 
One is the Advanced Machining Swiss program at Chippewa Valley Technical College (CVTC), Eau Claire, Wis. Machine tool instructor Dave Thompson said the program is three semesters—48 weeks—long, with 6 hours of instruction per week. Graduates receive nine credits and a certificate.
The first semester, Swiss 1, covers basic machine concepts and operations like tool setting and offset entry. Swiss 2 prepares the operator for programming with G and M codes, and program optimization. The final semester, Swiss 3, teaches students how to use CAD/CAM in a Swiss environment. 
Thompson said students in the school's 2-year machine tooling techniques program learn some of these skills. However, the Swiss-certificate program is for two groups: Those who have graduated with a machining degree and want additional education on Swiss technology, and experienced machinists looking to add to their skill set. Like most vocational-technical schools, CVTC offers placement help to students. 
---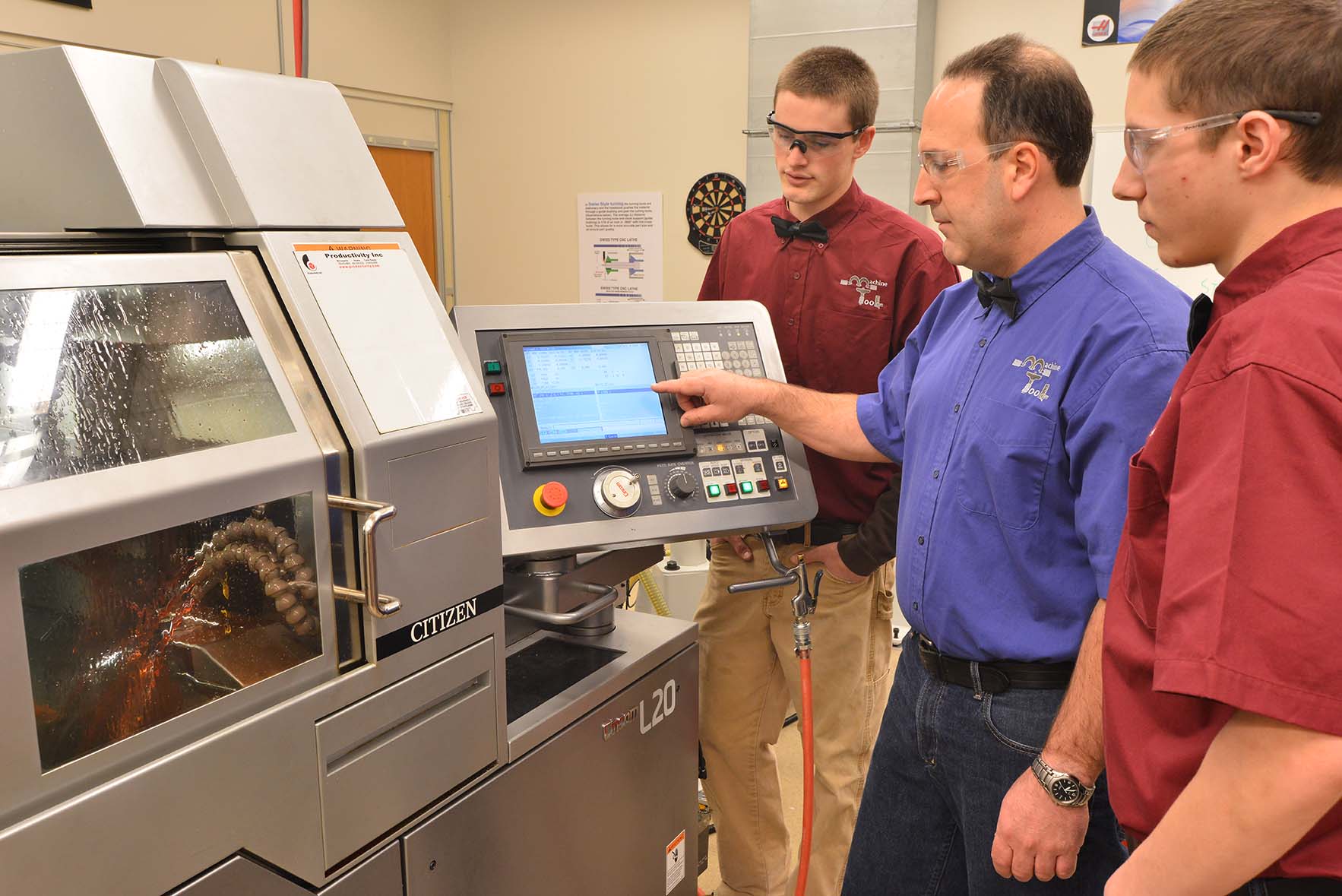 Various programs exist across the U.S. for those wishing to learn Swiss-style CNC lathe
operation and programming, such as the one at Chippewa Valley Technical College.
Image courtesy of Chippewa Valley Technical College.
---
"Here in Wisconsin, there are seven jobs available for every graduate," he said. "There's a definite need for qualified machinists." 
Head west across the St. Croix River and you'll find a similar program at the Hennepin Technical College (HTC), Brooklyn Park, Minn. Students pursuing a 2-year machine technology degree must attend the 6-week introduction-to-Swiss-machining course. They can then continue into advanced operation and programming, which would give them a total of 192 hours of dedicated Swiss instruction. According to faculty member Bruce Ellingson, a number of area machine shops send their employees for this training, and the class is generally filled to its 14-student capacity. 
It's important to achieve "muscle memory" when learning to operate a Swiss machine, Ellingson said. Students, therefore, set up and program nine different parts during the course and program and set up their final project for the programming part of the course. They are encouraged to use flash cards to become familiar with and, in some cases, memorize the large number of complex G and M codes for Swiss machines. "Probably the biggest thing students struggle with is G50, or work coordinate setting," he said. "It can be tough to understand how that works, especially when you throw in absolute vs. incremental coordinates."
As president of Diligence Inc., a machine shop in Maple Grove, Minn., Ellingson understands the need for well-trained employees. During his manufacturing career, he learned first-hand how underutilized many Swiss machines are because of inadequate operator training. "Quite often, you find shops programming these machines as they would a conventional CNC lathe, performing one operation at a time," he said. "They're capable of so much more."
Part of the curricula at HTC comes from Tooling U-SME, which offers a series of online training programs, ranging from blueprint reading to metallurgy, through its website. Chad Schron, senior director of Tooling U-SME, said online classes are often used to augment traditional training programs. They educate visitors on machine theory, tooling concepts, mathematics, programming and the various operations that can be performed on Swiss lathes, while leaving the hands-on aspects of education to brick-and-mortar counterparts.
In addition to online programs, Tooling U-SME offers instructor-led classes, either on-site or via virtual presentations.
"The skills gap in the U.S. continues to be a big problem," Schron said. "For example, we spoke with a large manufacturing company just recently that will soon be losing close to 75 percent of its workforce due to retirement."
He added that attendance in Tooling U-SME is up. "There's huge demand today for trained individuals," Schron said.
Related Glossary Terms
computer numerical control ( CNC)


computer numerical control ( CNC)

Microprocessor-based controller dedicated to a machine tool that permits the creation or modification of parts. Programmed numerical control activates the machine's servos and spindle drives and controls the various machining operations. See DNC, direct numerical control; NC, numerical control.

flash


flash

Thin web or film of metal on a casting that occurs at die partings and around air vents and movable cores. This excess metal is due to necessary working and operating clearances in a die. Flash also is the excess material squeezed out of the cavity as a compression mold closes or as pressure is applied to the cavity.

lathe


lathe

Turning machine capable of sawing, milling, grinding, gear-cutting, drilling, reaming, boring, threading, facing, chamfering, grooving, knurling, spinning, parting, necking, taper-cutting, and cam- and eccentric-cutting, as well as step- and straight-turning. Comes in a variety of forms, ranging from manual to semiautomatic to fully automatic, with major types being engine lathes, turning and contouring lathes, turret lathes and numerical-control lathes. The engine lathe consists of a headstock and spindle, tailstock, bed, carriage (complete with apron) and cross slides. Features include gear- (speed) and feed-selector levers, toolpost, compound rest, lead screw and reversing lead screw, threading dial and rapid-traverse lever. Special lathe types include through-the-spindle, camshaft and crankshaft, brake drum and rotor, spinning and gun-barrel machines. Toolroom and bench lathes are used for precision work; the former for tool-and-die work and similar tasks, the latter for small workpieces (instruments, watches), normally without a power feed. Models are typically designated according to their "swing," or the largest-diameter workpiece that can be rotated; bed length, or the distance between centers; and horsepower generated. See turning machine.