Author
John Saunders
Published
February 03, 2020 - 12:30pm
Presented here is ProvenCut recipe 440 for machining a deep slot in 6061-T6 aluminum. ProvenCut recipes, which use real-world, unbiased testing to enable successful cutting, have been developed at our machine shop since last year.
With 63.5 mm (2.5") of the 9.5 mm-dia. (0.375") endmill from Helical Solutions LLC sticking out from the collet holder face, or 6.7 times the tool diameter, determining this recipe was sure to be tricky — and a recipe that ultimately deviated significantly from the toolmaker's recommended speeds and feeds. Even Helical Solutions' software for calculating speeds and feeds, Machining Advisor Pro, suggested running the machine at its maximum spindle speed.
While carbide cutting tools frequently can exceed a cutting speed of 304.8 m/min. (1,000 sfm) when machining a nonferrous material, a recipe that includes a long gauge length and stick-out would not support such a high speed. Although speed and feed calculators often recommend starting points, that software is unable to account for all cutting conditions. As this example illustrates, the initial recommendations were unsatisfactory.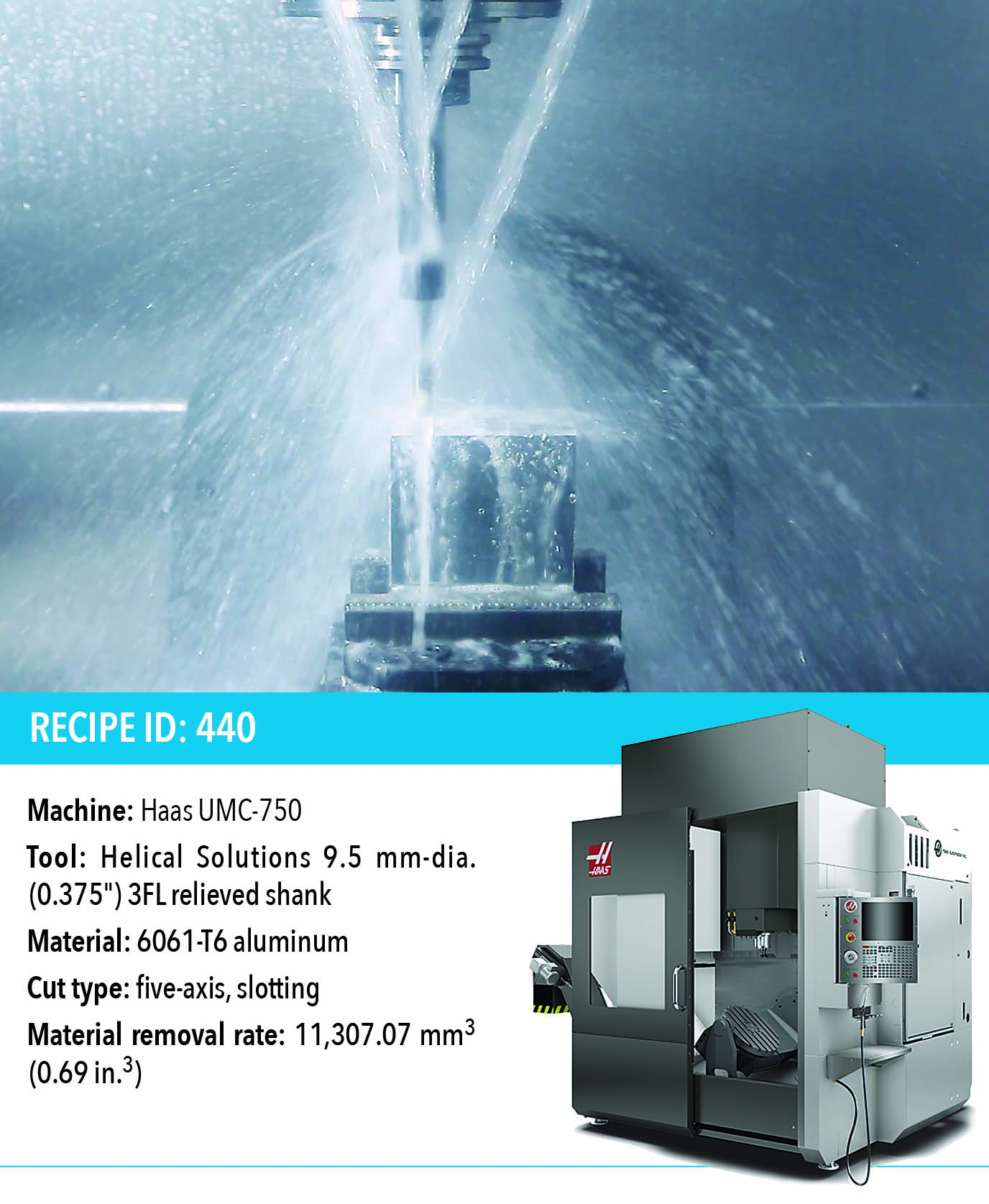 The task required milling a deep slot in which chatter would lead to an unacceptable surface finish, re-cutting of chips and likely a scrapped part. Machinists commonly do not have the time, material or machine setup to start testing a new recipe; their goal is to machine a part as quickly as possible while having confidence in the process. Machinists do not want suggestions but solutions — things that work on the first try. For this recipe, surface speed was reduced to 61 m/min. (200 sfm) at a feed rate of 0.0381 mm (0.0015") per tooth and 233.7 mm/min. (9.2 ipm) to provide a stable, reliable cut that was free of chatter.
This is how ProvenCut offers substantial value to any machine shop owner, machinist or CAM programmer. With ProvenCut, there are no formulas working behind the scenes to calculate theoretical recipes, no surprise factors — like extreme stick-out — to invalidate calculations and no guesswork. ProvenCut helps shops produce good parts without trial and error.    
---
To view a video of the slotting operation at www.ctemag.com enter this URL on your web browser: cteplus.delivr.com/2t5vn