Author
Alan Richter
Published
March 18, 2021 - 09:30am
The most common stainless steel alloy is 304. It is also the most machinable stainless steel. However, it's rarely used to make aerospace components, said Christopher Dones, application specialist for the Northeast at Elgin, Illinois-based Dormer Pramet.
Instead, types that are more challenging to machine, such as 321 and 17-4 PH, frequently are found in aerospace applications, he said. In addition, austenitic stainless steel is more common than martensitic stainless. Precipitation hardening, he said, increases corrosion resistance comparable to austenitic alloys. Austenitic alloys typically have about 16% to 18% chromium content and from 0% to 5% nickel content while martensitic alloy's chromium content is from 12% to 14% and nickel content is from 0% to 5%.
The higher amount of chromium and nickel makes the material more abrasive and gummy, Dones said, adding that the "harshest" stainless has 26% chromium. He said the higher the chromium content is, the harder the stainless steel is.


When tapping stainless steel, the blue ring Shark tap reduces axial forces and torque compared with conventional taps, according to Dormer Pramet. Image courtesy of Dormer Pramet
"The material wants to stick to the tool, makes the tool spin in the part and makes the part harder," he said. "Workhardening is the No. 1 challenge with stainless steel."
To minimize the harm that workhardening has on tool life, the toolmaker recommends avoiding the use of tools with worn, dull edges, which could accelerate tool wear and cause premature failure. Also, end users should prevent dwells or pauses in the cutting process, which cause heat buildup and increase workhardening.
Adding to the challenge is airplane parts, such as actuators, fasteners and landing gear components, which frequently are manufactured from proprietary types of stainless steel, Dones said.
"They give us some information, but they keep it pretty secretive," he said about the alloying elements. "When we get something like that, we always start with the worst-case scenario.
Walk, Don't Run
Similar to the vast majority of cutting tool manufacturers, Dormer Pramet provides speed and feed recommendations for its cutting tools, but those were developed for metals with known alloying elements. In addition, toolmakers test cutting tools in an ideal environment when establishing starting-point recommendations.
"In the field, it is never a perfect environment," Dones said. "We start low and work our way up. It helps avoid the catastrophe of blowing everything up."
He recommends low cutting speeds but high feed rates.
Additionally, high machining parameters can cause heat to transfer into a cutting tool and increase wear, according to Dormer Pramet. The thermal conductivity of stainless steel, nickel and titanium tends to be low. But with the high feeds required during machining, the cutting edge quickly can become overheated, shortening tool life. Large tools dissipate more heat during machining than smaller ones, Dones said.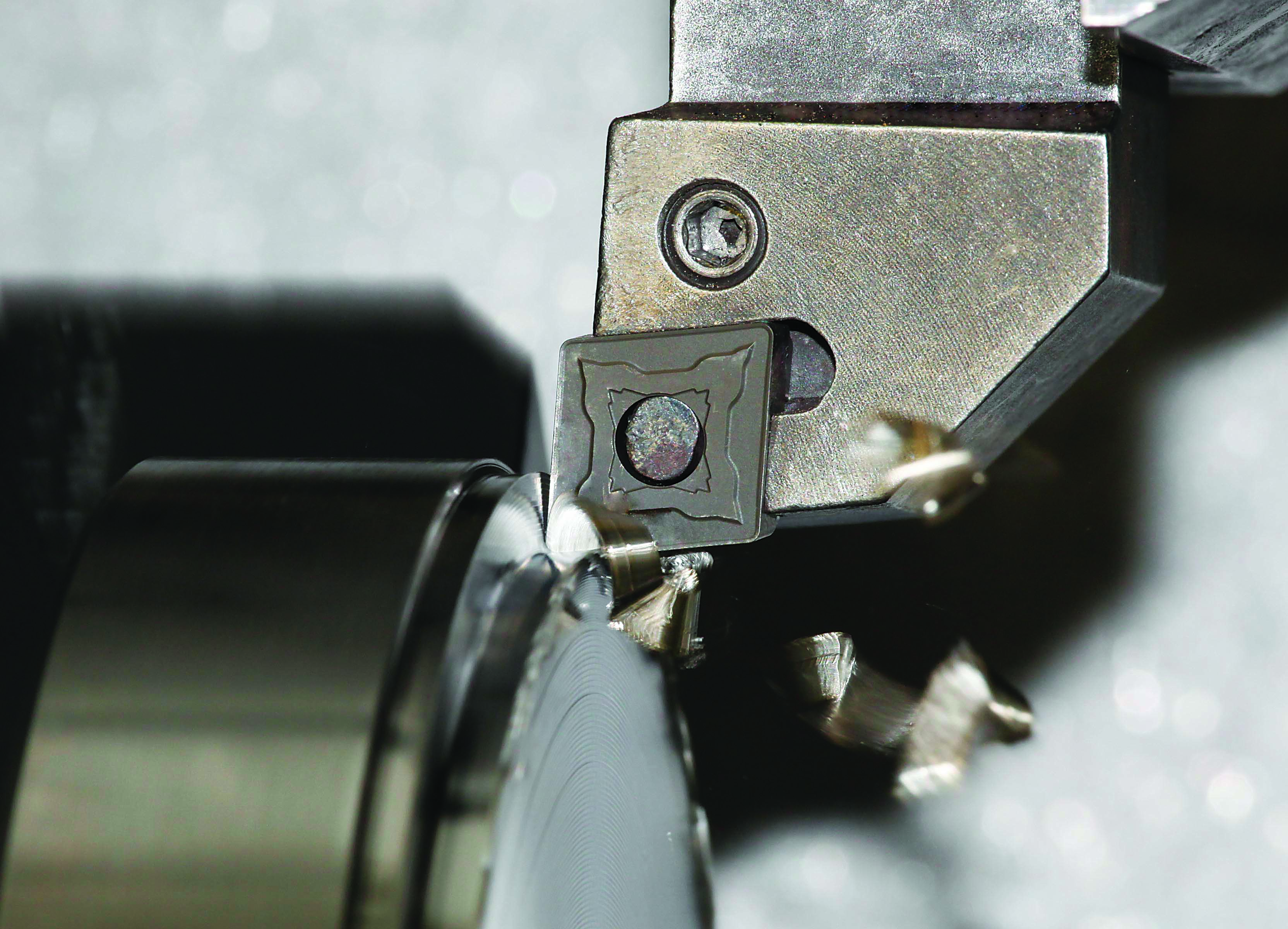 Dormer Pramet has a range of turning tools for stainless steel. Image courtesy of Dormer Pramet
To remove heat from a tool/workpiece interface while helping chip breaking and improving the dimensional stability of the part, a generous flow of metalworking fluid often is recommended when machining stainless steel. Coolant can be applied through the spindle and tool or in a flood arrangement. However, milling with a tool grade that's not optimized to resist the effect of constant temperature changes at the cutting area causes heat stresses on the tool, resulting in thermal cracks.
Dones said coolant is used half the time when milling, depending on the machining environment, machine tool and type of stainless being cut; 95% of the time through the spindle when deep-hole drilling; and all the time when tapping.
"Sometimes coolant and lubricants counteract the heat generated at cutting tool edges," he said.
The toolmaker offers the Dormer-branded blue ring Shark tap for threading stainless steel. The tap can be coated with the company's Super-B, a hard lube TiAlN coating that prevents chips from adhering to the flutes, Dones said. He added that the tap has a lot of back taper to increase sharpness and make it easier to break through a hole.
To increase tool life by reducing torque levels, the toolmaker recommends pre-drilling a hole 0.1 mm (0.004") larger than recommended when tapping stainless steel.
Another Dormer-branded tool designed for stainless steel is the Force M drill, which has a micrograin carbide substrate and a multilayer TiAlN coating. The drill has an S-shape, modified four-facet, split-point geometry to reduce cutting pressure with honed corners and cutting edges so they do not chip when starting a hole, Dones explained.
"When you look at the front tip, it has a 140-degree angle," he said. "That's our high-performance, go-to drill for stainless steel."
To Coat or Not
Both chemical vapor deposition and physical vapor deposition coatings are deposited on tools for cutting stainless, Dones said. He added that although a CVD coating is more forgiving, a PVD-coated tool can run at higher speeds and feeds and the thinner PVD coating helps maintain edge sharpness.
"When it comes to stainless," he said, "you are trying to keep the tool as sharp as possible so you shear the material."
Dones said CVD coatings are generally 9 to 20 µm (0.0004" to 0.0008") thick and more suited for machining steel and cast iron.
"PVD coatings are 2 to 3 µm (0.00008" to 0.00012") but tougher and smoother and have excellent built-up edge resistance with a more broad application and are more effective on high-temperature alloys and stainless steel," he said.


The Force M drill has a micrograin carbide substrate and a multi-layer TiAlN coating.  Image courtesy of Dormer Pramet
However, some types of stainless steel, such as 321, are stabilized with titanium, and many tool coatings, such as TiAlN, contain titanium, Dones said. Cutting titanium with titanium is not particularly effective. Also, as previously noted, an end user might not know the specific composition of a stainless steel for an aerospace project.
"We have to work with what they tell us," he said, "and 9 times out of 10 we go without any coating."
Dones said a tool coating aids with heat resistance, but a tough carbide grade also helps withstand heat's destructive impact on a tool. The more tungsten that is in a tool makes it harder, and that's not suitable for stainless, he said. A carbide substrate with too low a percentage of cobalt makes the substrate brittle and more likely to break.
Because of the material's gumminess, he recommends a polished tool for cutting stainless. If a tool is coated, polishing is performed before the deposition process.
When machining stainless steel, one tool feature trumps all others.
"Sharpness is No. 1 because we want to get under the material and shear it," Dones said. "We look for polished, tough and sharp grades."
---
For more information about Dormer Pramet, call 800-877-3745 or visit www.dormerpramet.com.   
For more information about machining stainless steel, view a video presentation from Dormer Pramet at  cteplus.delivr.com/2hde6