Author
William Leventon
Published
March 01, 2016 - 10:30am
Every machine tool owner can reap benefits from a good spindle maintenance program. These include reductions in costly unplanned machine downtime, longer spindle life and improved part quality.
But effective spindle maintenance requires perseverance and the appropriate technology—plus a little common sense.
"We receive many calls about spindle operation and maintenance issues—the proper coolant to use, lubrication settings, etc.—and, in most cases, the answers are right in the manual," said Gary Quirion, president of GMN USA, Bristol, Conn., which sells and repairs spindles. Quirion advises customers to read the operating manuals supplied with spindles from front to back. "They were made for a reason, and there's a lot of good information in there."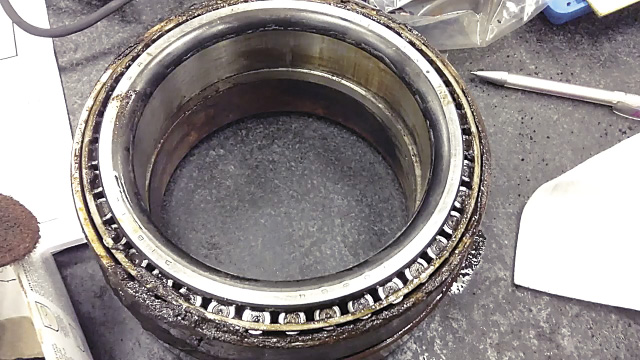 The main cause of spindle failure is bearing contamination. Image courtesy GTI Spindle Technology.

Quirion also recommends training operators to spot telltale signs of spindle problems. "Even without sophisticated vibration-analysis equipment, machine operators can be the first line of defense against failure," he said. Warnings that something might be wrong include a change in spindle sound, an increase in operating temperature and the inability to hold part sizes within required tolerances.
Inspections are also crucial to properly maintain a spindle, noted Tom Hoenig, president of GTI Spindle Technology Inc., Manchester, N.H., which provides spindle repair, rebuilding and predictive maintenance services. For example, Hoenig said spindle lubrication and the coolant chiller for the spindle should be checked at least weekly. He also recommends regular inspection of the drawbar, which clamps a toolholder to the spindle, because the drawbar is a high-wear item that can destroy a spindle if not maintained.
Of course, the main objective of a spindle maintenance program should be to prevent spindle failure. "Wearing out a spindle is one thing, but when a spindle fails catastrophically, especially a high-speed spindle, a lot of other components can get damaged," Quirion said.
GTI touts vibration analysis as the best method for detecting potential failure modes. According to the company, vibration-analysis tools detect imbalance, looseness and bearing problems so a spindle can be removed before an incident necessitates costly component replacement or rework.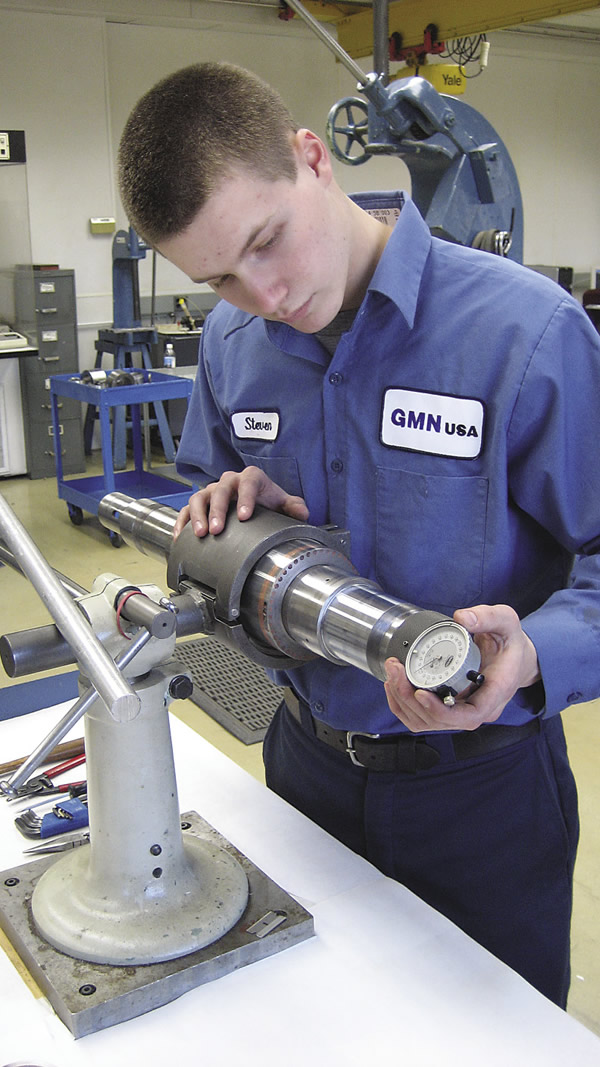 A technician checks the taper of a spindle shaft for size. Image courtesy GMN USA.

To obtain the most useful vibration data, GTI recommends starting with a baseline vibration measurement and then trending over time, being sure to always measure at the same speed and load. Monthly data collection during a maintenance shutdown or shift change will yield accurate trend information.
GTI also pointed out that adding temperature data to the data for vibration trends can improve failure prediction. Temperature increases indicate more bearing friction, as well as over- and under-lubrication.
To monitor vibration, an end user can attach an accelerometer to the spindle. Another option is purchasing a GMN spindle configured with an internal accelerometer that measures vibration in real time during machining. Quirion said an internal accelerometer eliminates the potentially difficult task of finding a place for an externally attached accelerometer on a spindle.
For those seeking a complete vibration-measurement solution, GTI says it offers a product consisting of small, wireless sensors with magnets on them that attach to a spindle, along with an iPad and VibePro vibration-analysis software. Once a vibration reading is taken, the user hits the "results" button to see if the reading is within ISO vibration specifications.
GTI also offers optional apps for balancing, alignment and other maintenance activities. The vibration-measurement system starts at less than $5,000, Hoenig noted.
It might be a small price to pay to prevent a catastrophic and costly spindle failure.
Related Glossary Terms
coolant


coolant

Fluid that reduces temperature buildup at the tool/workpiece interface during machining. Normally takes the form of a liquid such as soluble or chemical mixtures (semisynthetic, synthetic) but can be pressurized air or other gas. Because of water's ability to absorb great quantities of heat, it is widely used as a coolant and vehicle for various cutting compounds, with the water-to-compound ratio varying with the machining task. See cutting fluid; semisynthetic cutting fluid; soluble-oil cutting fluid; synthetic cutting fluid.

toolholder


toolholder

Secures a cutting tool during a machining operation. Basic types include block, cartridge, chuck, collet, fixed, modular, quick-change and rotating.