Author
Harry Mosesian
Published
January 11, 2018 - 10:30pm
Some parts manufacturers try to manage their computerized maintenance management systems (CMMS) with Microsoft Excel spreadsheets, Microsoft Access data-bases or stand-alone third-party applications. Although these methods offer incredible flexibility, six primary reasons exist for why they fail in all but the smallest of job shops.
1. Bumping heads with production scheduling. Do you really want maintenance people scheduling downtime for your equipment without input from production? Can you risk late delivery of an important customer order because the equipment is down for routine maintenance? A CMMS integrated within an ERP (enterprise resource planning) system puts all demands on one schedule. This allows production control people to effectively schedule equipment for all the prioritized needs of the shop.
---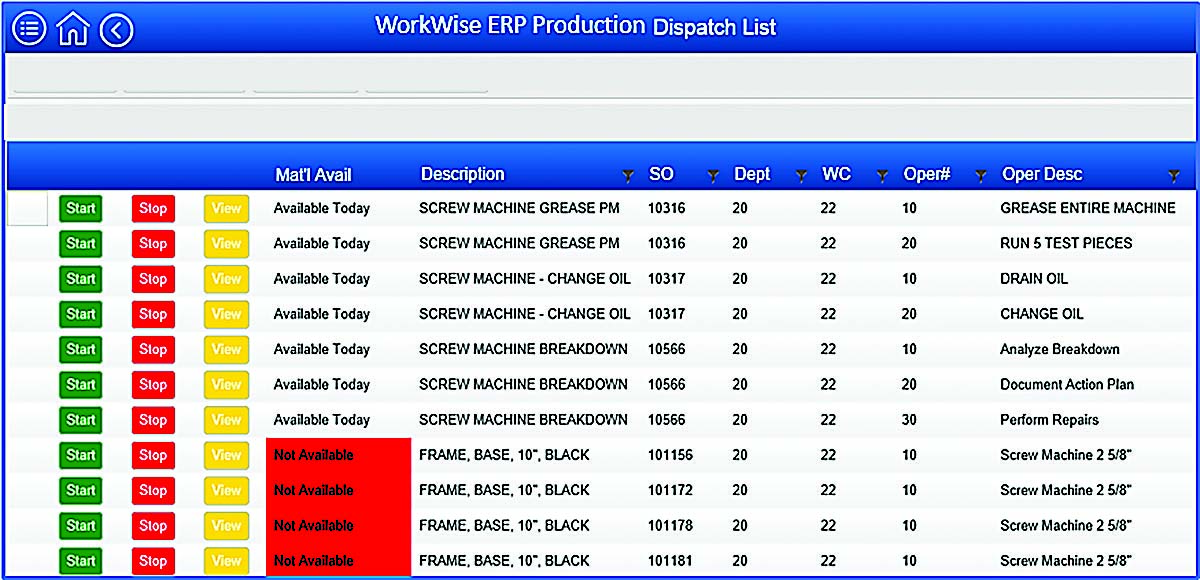 A CMMS integrated within an ERP system puts all demands on one schedule. Image courtesy of WorkWise.
---
2. Impossible to track. Even if you have only 35 pieces of equipment and three maintenance people, the maintenance scheduling can become overwhelming. Let's say there are four tasks per piece of equipment per month, which adds 140 tasks to the schedule. This means adding 140 tasks to the equipment schedules, 140 tasks to the schedule board, 140 lines to record hours and 140 lines to record costs. This also means balancing 35 schedules to ensure that all hours are accounted for and posting 140 lines to the financial records for accounting. And this is before doing trend or other reports. 
Also, because none of the reports are produced in real time, you don't have insight into the work orders or reports until a task is completed.  
3. Lost documentation. Another problem with a manual system is that it has no provision for handling the documentation for each piece of equipment. Hours are lost searching for invoices, warranties, specifications, phone numbers and other necessary documentation. It is also tedious and expensive to track compliance rules and regulations. Some companies lose more money as a result of searching for documents and not being able to collect on warranty claims than the full cost of a CMMS.
4. Inability to coordinate spare parts. Your equipment is down, customer orders are held up, and there is a 3-week lead time on the spare part. The irony is that this has happened before, but you aren't aware of the trend. Even if you stock the large list of parts suggested by the manufacturer of your equipment, you still suffer from stock-outs because you have no formal system of replenishing parts. You also don't have a system to track the performance of spare-part vendors.
5. Breakdowns are easier to handle. It's true that it is easier to manage your shop by responding to breakdowns. The reasons are that a breakdown requires little paperwork, your maintenance people are breakdown heroes and everyone applauds their arrival fresh from their breakdown siesta. Meanwhile, your profitability slips, customer deliveries arrive late and quality slides. An effective CMMS will reduce costs and improve operations.
6. The true cost of downtime is unknown. Many companies simply tally the number of hours and multiply it by the hourly rate for the piece of equipment. This approach ignores many of the other costs, such as the idle person, the schedule disruption, the replanning and the queue time increase. And even more importantly, if the down operation is a known shop bottleneck, the cost could be significantly higher. In other words, for every hour lost on the bottleneck, the entire shop cannot produce another hour of work. If the shop did produce additional work, it would merely remain work in progress until the clog cleared.
The long and short of it: Manual, stand-alone systems just don't work.
It is not unusual for companies to launch initiatives for lean manufacturing. What they often over-look, though, is that every lean method depends on a high level of equipment uptime for the initiative to succeed. When a machine breaks down, lean manufacturing stops. 
Take the step to ensure that your equipment foundation is ready to support your operational strategies and tactics.
Related Glossary Terms
lean manufacturing


lean manufacturing

Companywide culture of continuous improvement, waste reduction and minimal inventory as practiced by individuals in every aspect of the business.