Author
Brandt Taylor
Published
May 23, 2023 - 01:00pm
The nature of work on the shop floor has evolved over the past 50 years, but the perception in the world at large of what our trade does has not kept pace. This is a disservice to bright, young talent.
Make no mistake, our trade takes talent and can reward it. When I was in high school (1962-1966), people who took shop class were the not so bright folks. If you had a brain, it was expected that you would take the college prep curriculum. At that time, before computer control, working at a machine shop meant being a human motor controller. The worker turned cranks and provided the control to guide the machining process. So I chose the college prep courses but took shop as an elective because I just liked to make things.
After high school, it was off to college for me to study mechanical engineering, but the Vietnam War intervened. When I was a junior, I quit school and went to war. After Nam, I banged around for a few years and then started a machine shop because I enjoyed getting my hands on things. I found that the shop world suited me, and I never returned to college. For me, designing a part or system is fun, but what I really like is making the actual parts.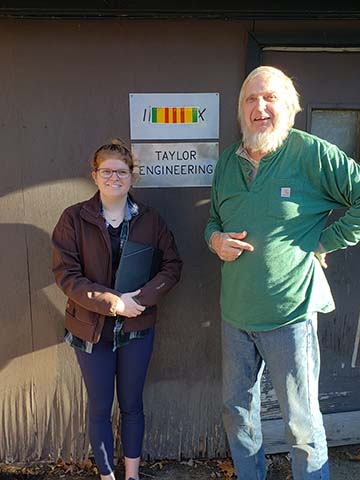 At first, all my machines were manual. I started with the basics: a lathe, a vertical mill and a band saw. During the 1970s and '80s, CAD, CAM and CNC became real and affordable. I purchased my first CNC machine in 1983. It was a bed mill, and I bought it because it could do circular interpolation — something impossible with a human in the control loop. This allowed me to do work that I previously could not do. AutoCAD and CAM software were part of the learning curve. People said and still say computers on the shop floor will take away jobs from people, which is true because human motor controllers are less in demand.
But what else has happened? Now machinists can control multiple machines and make many times more parts than before. During the custom motorcycle craze of about 20 years ago, I found myself running three CNC machines and
making a ton of money. Then it was just me with one human assistant to answer the phone, run errands and do light bookkeeping. I no longer had to turn cranks, but I had to program computers. I had to learn new skills as the manufacturing world evolved. The motorcycle craze ended, and my work changed into making many small lots of precision parts. Here again, my computers helped me make money. Whereas I had an inventory of paper drawings 40 years ago, today I have an inventory of computer programs.
As computers have become a fact of life in the manufacturing space, machinists have had to learn new skills to communicate with their mechanical minions and manage workflow. The machinist of today needs to understand fit and finish, feed rate and spindle speed, and metrology like the machinist of old, but computer skills also are needed. Today's machinists are more productive, and they must know more — therefore they are worth more.
Instead of computers dumbing down the human aspect of manufacturing, they have made it more intellectually challenging. That's a win.