Author
Jeffrey A. Badger, Ph.D.
Published
January 12, 2022 - 04:00pm
Dear Doc: We grind forms into steel and nickel alloys. We use a plunge diamond roll to dress the form into the wheel with a unidirectional +0.8 speed ratio to make the wheel sharp. However, when we need to dress in a new 1A1 wheel, it takes forever. If we increase our plunge speeds, the dressing operation starts chattering. Is there a way to speed this up?
The Doc replies: Yes. Simply switch the direction of rotation of your dressing roll to dress anti-directional during that dressing-in portion — in your case, with a Vdresser/Vwheel = -0.8 speed ratio. This can reduce dressing forces by about one-sixth of what they were originally, allowing you to plunge faster and get that wheel dressed in quicker without any increased risk of chatter.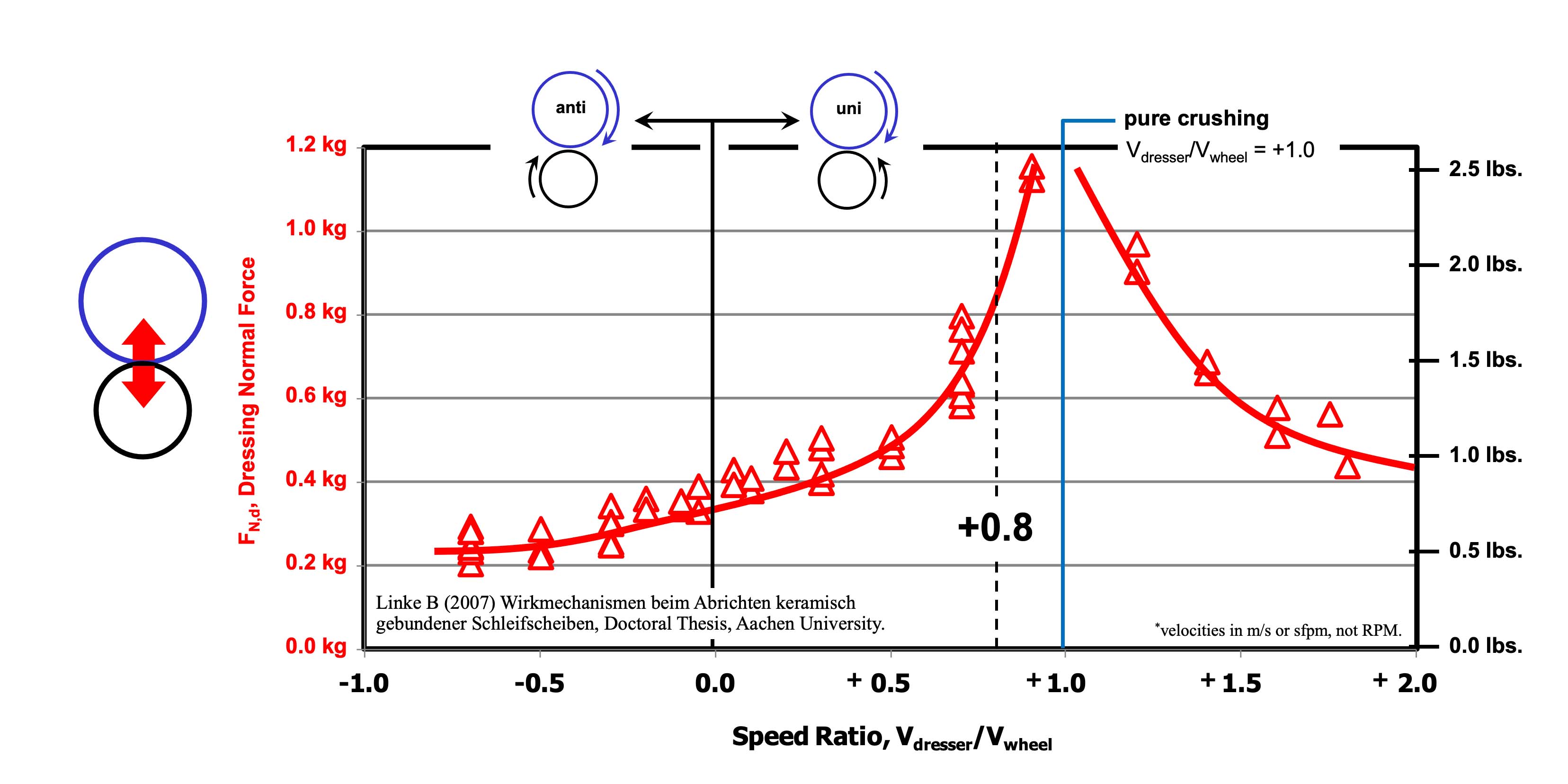 Just make sure to go back to your regular Vdresser/Vwheel = +0.8 ratio before going to grind. That's because going anti-directional makes your wheel dull, and you're doing the right thing in going unidirectional to make the wheel sharp for grinding. Leave around 0.2 mm depth on the wheel before switching back to unidirectional to clear away that residual dullness on the wheel.
Also, make sure you have a coolant nozzle on the other side of the dresser. Diamonds fall apart above 700 degrees Celsius, and diamond rolls aren't cheap.
If you want to get fancy, you can slow down the grinding wheel speed during dressing in using the unidirectional mode. This will decrease the "cutting stiffness" and allow you to plunge even faster. (The reasons for this are complicated, but suffice to say this option can be traced to the realm of hardcore vibration experts. Bottom line: It often works.) Just make sure to switch back to your regular wheel speed when doing the final dress before grinding. (Remember the old machinist's adage: "Dress and grind at the same wheel rpm.")
I've seen companies cut dressing-in times from 40 to 5 minutes.