Author
Alan Richter
Published
August 01, 2023 - 11:00am
Successful deep-hole drilling is hardly easy. Move it into the microscale, which generally is considered to be no more than 3 mm (0.12") in diameter, and the process becomes even more challenging.
Deep hole is a relative term, with the consensus that it starts at three diameters deep, but cutting tool manufacturers offer microdrills for going deeper — sometimes considerably deeper. Sandvik Coromant Co. in Mebane, North Carolina, for example, offers the CoroDrill 462 and CoroDrill 862 microdrills for producing holes up to six and 16 diameters deep, respectively, said Cory Schwenke, product manager for solid round tools.
He added that there are variations to those product lines. The solid-carbide CoroDrill 462 microdrills are available uncoated in diameters from 0.03 mm (0.0012") to 3 mm and coated with titanium aluminum nitride in diameters from 0.2 mm (0.0079") to 3 mm. The toolmaker produces solid-carbide CoroDrill 862 microdrills for going up to 16 diameters deep and ones made from polycrystalline diamond for reaching 12 diameters deep. CoroDrill 862 microdrills are coated with titanium aluminum silicon nitride, with silicon enhancing the coating's heat resistance.
"When you're drilling, heat is the devil," Schwenke said. "It can cause a multitude of problems."
Therefore, coolant is required to bring down the temperature when deep-hole microdrilling. The CoroDrill 462 line requires external coolant to be applied while CoroDrill 862 carbide tools 1 mm (0.039") and larger have coolant channels. The smaller carbide tools, as well as all the PCD ones, receive external coolant, he said. Hole depth also plays a role, with either external or internal coolant being suitable for holemaking up to nine diameters deep and internal coolant only for making holes 12 to 16 diameters deep.
Sandvik Coromant makes the carbide microdrills as off-the-shelf standards, Schwenke said, but not the PCD microdrills.
"For the PCD lines," he said, "we do have standard article codes, but those are all made to order in our facility in Spanish Fork, Utah, so they're nonstock standards."
Diving Deeper
Ceratizit USA Inc. in Schaumburg, Illinois, also provides microdrills for going deep. Its WTX Micro drills are available in diameters from 0.8 to 2.9 mm (0.031" to 0.114") for going up to 30 times diameter, said Patrick Maigatter, product manager for cutting tools and holemaking. The through-coolant tools are suitable for drilling metals that generate relatively short chips that can be evacuated out of the tiny holes.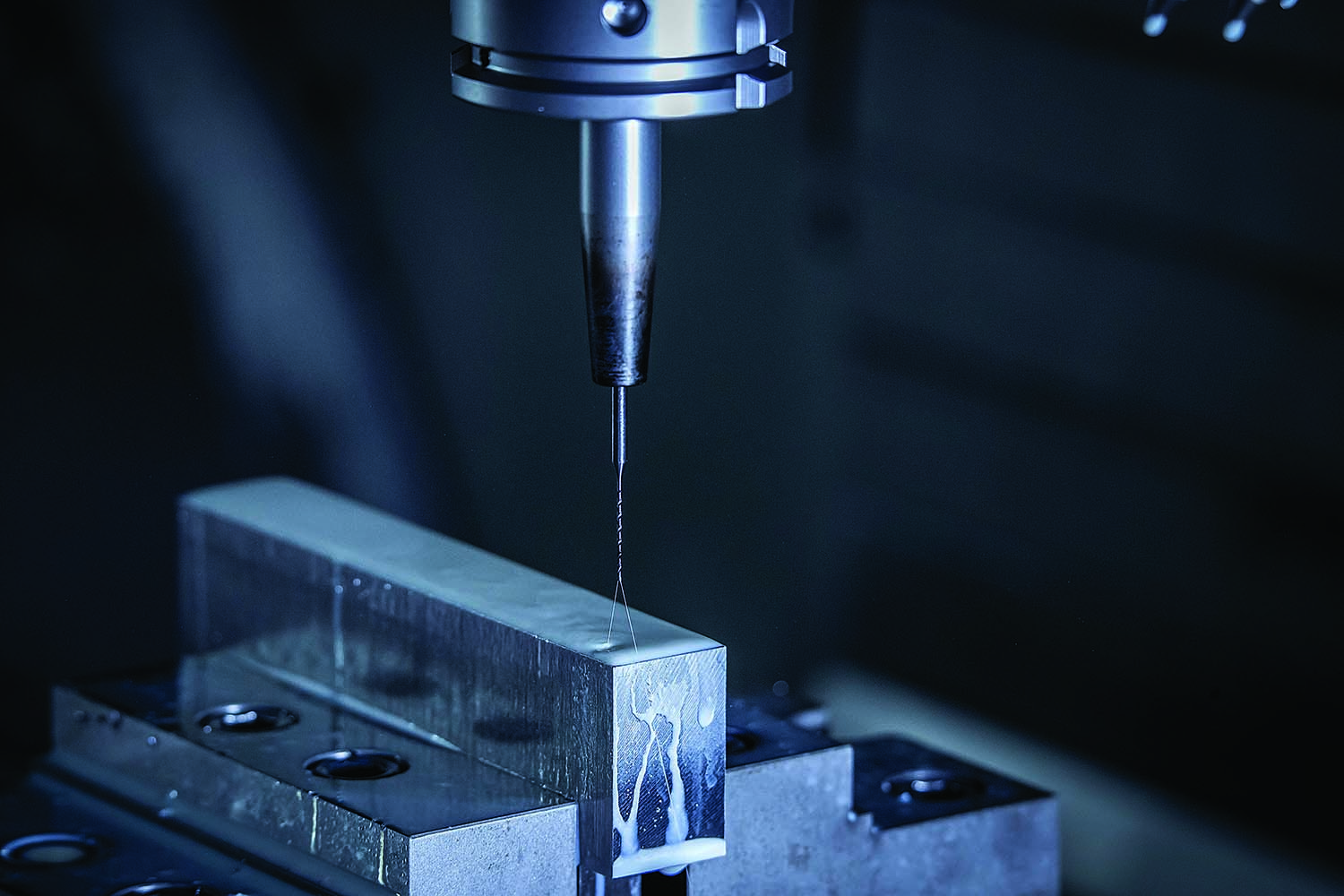 "Basically," he said, "it's used for universal materials, which would be in the case steel, cast iron and stainless. Under the right conditions, it could also be used in titanium and titanium alloys."
Ceratizit coats the tools in-house with Dragonskin, which describes the coating and the coating
technology, Maigatter explained.
"Dragonskin is our way of designating our premium coating offering," he said, "and it can be different coatings."
For the WTX tools, Maigatter said Dragonskin is an aluminum chromium nitride multilayer hard coating. Like other coatings for microdrills, it is deposited via physical vapor deposition.
He added that, if desired, uncoated WTX tools can be ordered as specials.
"But in this case," Maigatter said, "for micro-deep-hole drilling, I would not recommend that."
One of the latest offerings for deep-hole microdrilling is the Ken-Drill Micro from Pittsburgh-based Kennametal Inc. Launched in April, the toolmaker developed the line after conducting a survey of more than 340 participants nearly three years ago, said Frank Martin, holemaking global product manager.
"Based on the survey," he said, "we knew exactly what the market was. We wanted to have a verified product line that is capable of machining multiple materials."
Martin said the result is a line of through-coolant microdrills from 1 to 2.9 mm in diameter that drill up to 50 diameters deep. The smallest diameter starts with 1 mm because Kennametal determined that is what most of the market requires.
"Once we have a foot in the door and have ramped up our portfolio and volume," he said, "we might focus on going a little bit smaller, maybe going down to 0.8 or 0.7 mm."
When going significantly deep, effective coolant flow is extremely critical, Martin added, and the toolmaker enhanced the flow with a triangle-shaped coolant channel while maintaining tool stability.
"With a triangle," he said, "you will see that the coolant flow rate is 3.7 times higher compared to a round coolant channel."
Martin said the increased coolant volume flow enables the microdrills to be used on machine tools with a low coolant pressure capability. For example, the triangular channel can achieve the same volume flow on a machine with 20 bar (290 psi) of pressure as a drill with a round channel on a machine with 69 bar (1,001 psi) of pressure.
"We can apply this tool on a weaker machine," he said.
Geometries at Work
When microdrilling very deep holes, Martin said cutting forces must be reduced to avoid tool breakage. Kennametal accomplishes that on its KenDrill Micro with special gashing around the drill point and special edge preparation on the cutting edges. The gashing helps direct the chip into the flute while the edge prep provides a smooth chip flow.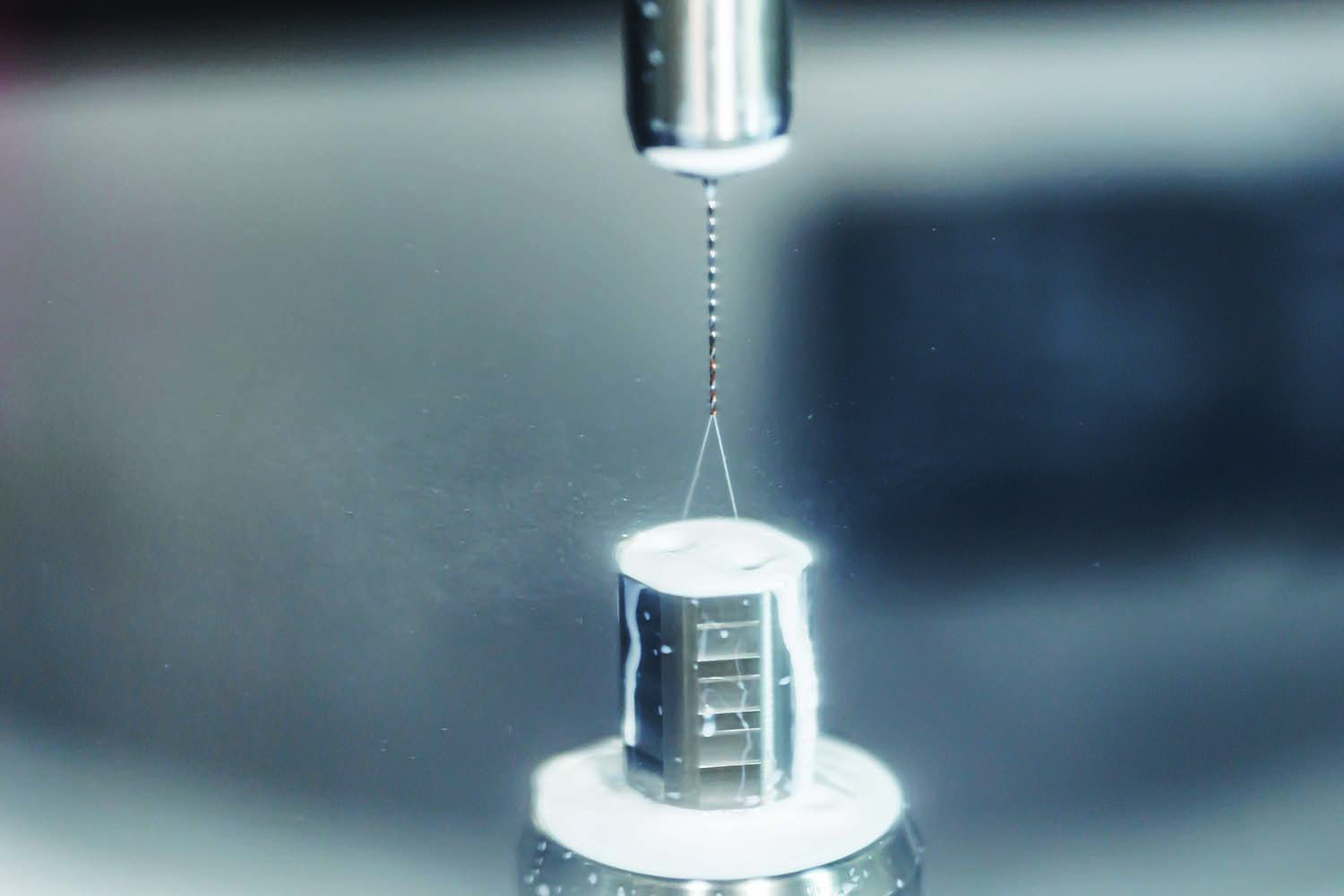 He explained that KenDrill Micro drills have a multilayer PVD coating but not on the entire tool.
"Just the head area where you have the margin land design on it," Martin said.
Because the coating slightly increases surface roughness, he added that the highly polished flutes are uncoated to help evacuate chips.
"Chip evacuation is really key," Martin said.
Another way to help the coolant flow evacuate chips out of the hole is to alter a microdrill's helix angle, Schwenke explained.
"If you have a high helix on a drill design," he said, "you're going to have some chip packing. If you start with a high helix and slow down that helix as you go further down the drill, it's going to allow a lot more space for those chips to evacuate."
Schwenke said CoroDrill 862 tools have the -GM geometry to create a more optimized drill for a specific task than the CoroDrill 462.
"If you're looking for an optimized product where you're running large batches of the same application, the same material, and you really want to nail down your process," he said, "that's where you're going to go with the 862."
On the other hand, Schwenke said the CoroDrill 462 features the -XM geometry, which is more versatile and better suited for shorter runs of multiple jobs.
To reduce the coefficient of friction on the tool surfaces that chips flow along, Maigatter said Ceratizit laps its microdrills' flutes, which have a patented shape to allow proper chip evacuation.
In addition, the WTX Micro has a straight main cutting edge and a widened guide chamber to stabilize the edge corner as it enters the workpiece or hole that a pilot drill created, he said. Another geometric feature is a "power chamber" for the coolant that extends along the entire shank length and has a larger diameter than the coolant channels. The result is increased coolant flow through the coolant channels themselves.
Maigatter said a milling machine should have an internal coolant pressure of at least 30 bar (435 psi).
"The longer the tool," he said, "the higher the pressure should be."
Maigatter added that a machine's coolant system should have a 10 µm (0.00039") filter or finer to prevent recirculated particles from clogging the tiny coolant channels.
Take Me to the Pilot
Microdrilling deep holes can require starting the hole with a pilot drill to stabilize the main drill, depending on the depth-to-diameter ratio of the hole and the type of surface being drilled. For example, Maigatter recommends using a pilot drill when the deep hole is going into a curved surface. Ceratizit's pilot drill for deep-hole microdrilling goes five diameters deep and has a point geometry and nominal diameter tolerance zone that are matched to the deep-hole drill.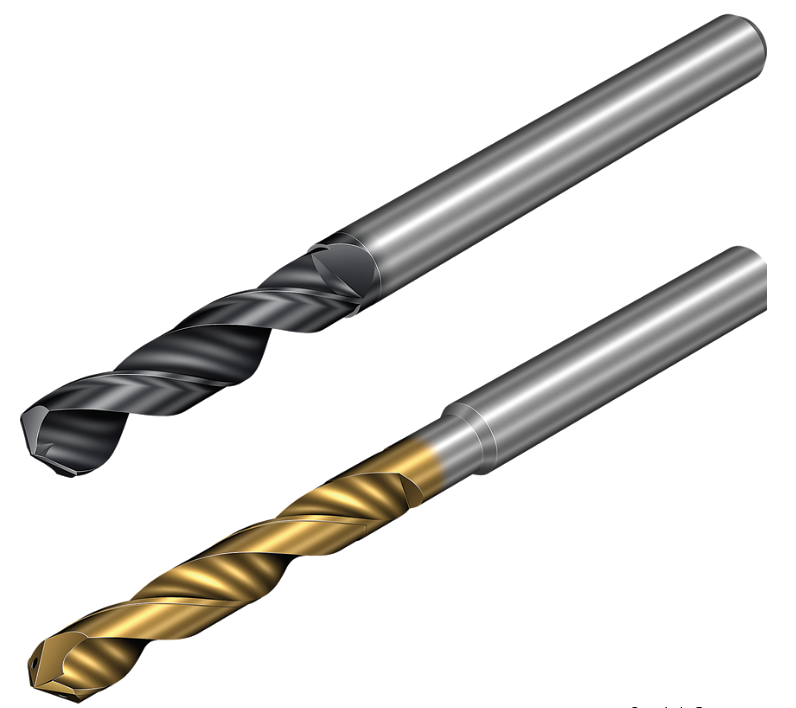 Because WTX Micro drills have good self-centering properties, he said the pilot drill is not required for producing holes up to 12 diameters deep if the drill is entering a flat surface and traveling vertically.
When a deep-hole drill is ready to enter a chip-free pilot hole, entry takes place at a low speed of about 300 rpm and a slow rapid feed of 1,000 mm/min. (39.4 ipm), Ceratizit reports. Only when the deep-hole drill is in the pilot bore should the internal coolant supply be activated to avoid snapping the delicate drill. About 0.5 to 1 mm before reaching the bottom of the hole, the feed motion is stopped and the speed is increased to the desired working level.
In addition, if the deep-hole drill encounters a cross hole, the feed must be reduced by up to 50% because of the risk of cutting breakout. Before a possible exit of the drill from a through hole, the feed also must be reduced by 50%.
Martin recommends using a pilot drill when drilling deeper than 10 or 12 times diameter to enhance entry accuracy of the main drill. He added that an end user should always pilot with a drill that is as short as possible.
"When you pilot with two times D, then seven times D and then 12 times D, you always take the shortest possible drill and the most stable drill," he said, "so you keep the precision as long as possible."
This also shifts tool life from the long drill to the short drill, which costs less.
Schwenke concurred that a pilot drill typically is recommended when drilling holes 12 diameters and deeper, but it might not be needed for relatively easy-to-machine materials. When drilling aluminum and composites at 12 times diameter, for example, a PCD drill might be preferable to optimize tool life because PCD lasts significantly longer than carbide.
The life of a PCD microdrill can be extended by reconditioning it, he added, which can be done up to three times.
"We can utilize some lasers to resharpen that point and help with that cost per hole for those PCD offerings," Schwenke said.
As deep-hole microdrilling applications continue to gain ground in a host of industries, including medical, automotive and mold and die making, Maigatter said he sees it as an area with a lot of potential sales for WTX Micro drills, a newer product for the U.S. market.
Having worked at Kennametal for 15 years while the toolmaker launched an extensive array of product lines, Martin said the recent introduction of KenDrill Micro stood out.
"I never ever had such excitement and demand upfront," he said. 
---
For more information from Ceratizit USA about its WTX Micro drills, view a video presentation at https://qr.ctemag.com/1knx2
Smallest Vibration-Damped Turning Tool Introduced
A manufacturer hit a roadblock when turning an internal bore 10 mm (0.39") in diameter and 80 mm (3.15") deep. The company could not get close to the surface finish specification even after purchasing one of the priciest carbide bars.
The challenge to build a vibration-damped turning tool small enough for the application eventually arrived at MAQ AB in Sweden, said Qilin Fu, the toolmaker's chief technology officer. Tool development began early last year and included designing it with through-coolant capability because it's critically important to excavate chips out of small holes.
"We decided to make it with the coolant channel because we know this is added value for the end user — a very important added value," he said. "If you skip the coolant channel, it's much easier to design and fabricate and assemble."
The result is the STMD M08-120 SCLCR vibration-damped turning tool, which is 8 mm (0.315") in diameter. Machining the tool's components to the required level of precision was not a significant challenge, but Fu said assembling the small parts is a difficult manual task that demands well-trained hands.
"You really need a person who is more or less working like a surgeon," he said.
MAQ reports that the tool imparted an Ra 0.8 to 0.9 µm surface finish at a 10 times diameter setup when turning 34CrNiMo steel with a hardness of 28 to 30 HRC at a depth of cut of 0.25 mm (0.01") and a cutting speed of 200 m/min. (656.2 sfm) with coolant on.
"For us to say that this product is ready for market is that it has reached a surface finish below Ra 1 µm," Fu said.
The tool can effectively turn small bores but is also suitable for finishing larger ones, he noted, which might be needed to turn more than one bore size in a component.
"I have to have the same tool finish both the big bore and the small one," Fu said.
For more information about MAQ, visit www.maqab.com.
— Alan Richter
---
For more information from MAQ about its vibration-damped turning tool, view a video presentation at https://qr.ctemag.com/1knx3