Author
William Leventon
Published
May 05, 2020 - 09:45am
With many job shops shying away from robots because of integration and programming difficulties, a machine tool builder has introduced a couple of products to offer an easier path to automation.
One offering from Okuma America Corp., Charlotte, North Carolina, is Armroid, a robot that is built into an Okuma America machine and can work inside it.
"Many companies build small kitted robots," said Product Specialists Manager Wade Anderson. "The difference here is having something built by the machine tool OEM that comes married up with the machine and ready to run."
The Okuma America-built Armroid is mounted inside a machine tool over the spindle. The result is a smaller footprint than those of conventional robot-machine combinations. Also, Armroid doesn't require any robotic integration or guarding.
An Armroid-equipped machine looks like a lathe with an attached storage cabinet.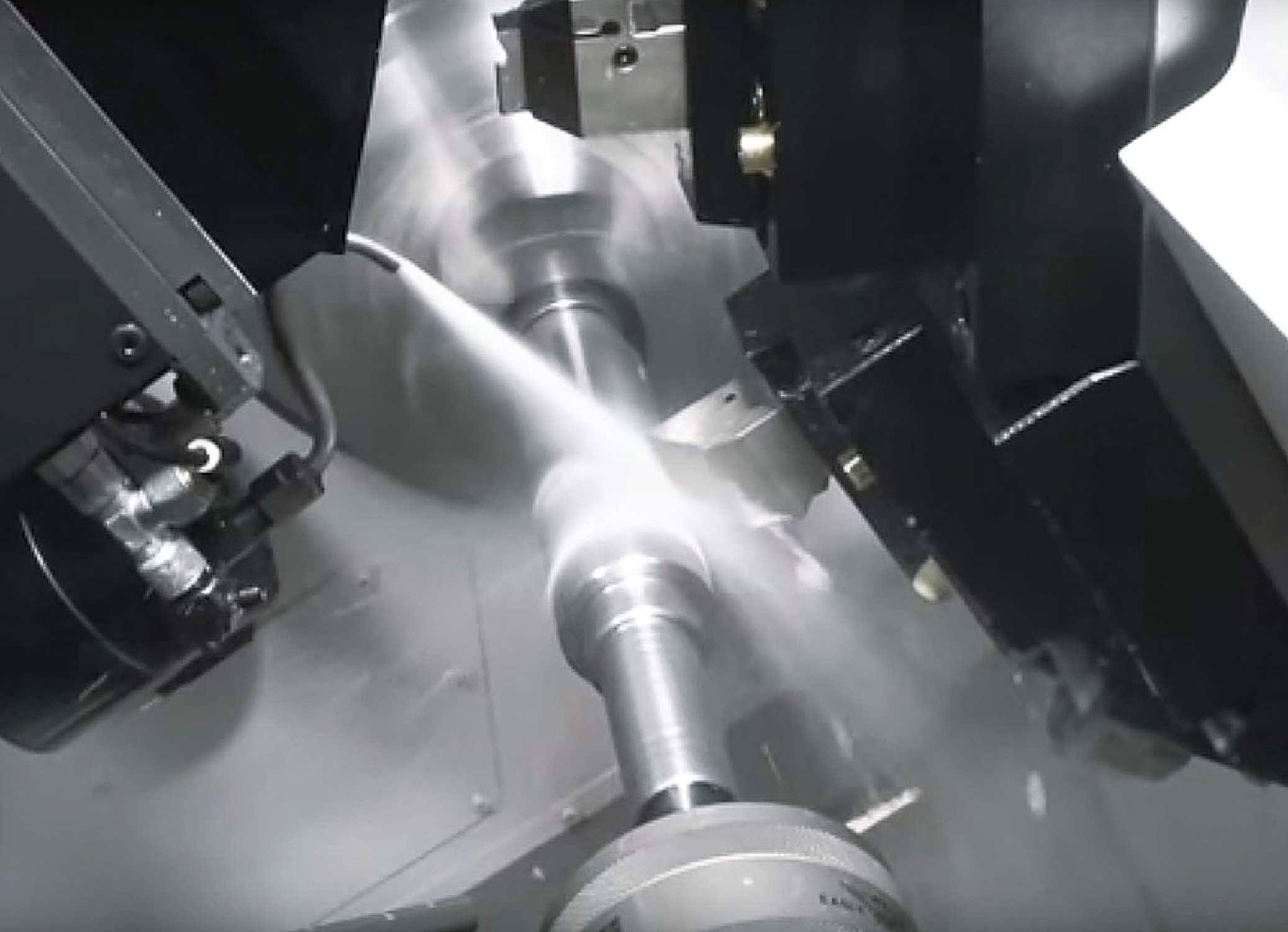 In addition to loading and unloading a machine tool, Armroid can spray coolant after replacing an end effector with a coolant nozzle. Image courtesy of Okuma America
"It's not till you open the door and look inside that you realize, 'Oh, my gosh, there's a robot in there,'" Anderson said.
Creating a robot operating program normally requires special programming language skills that shop personnel may lack. Therefore, Armroid features a robot operation system that needs only interactive inputs of numbers.
"To me," Anderson said, "the coolest thing about the Armroid is the programming aspect of it."
A key feature is a conversational human-machine interface that helps users through the process of providing the necessary programming information. Operators enter information, such as workpiece dimensions and where the robot's gripper should grab the workpiece. Armroid then uses artificial intelligence and the machine's collision avoidance software to learn how to maneuver safely inside the machine. This allows Armroid to generate motion paths for collision-free machine loading and unloading using a configurable cabinet that contains racks for raw materials and finished parts.
When not loading or unloading a machine, Armroid can perform other tasks. For example, it can drop its end effector into a drawer in the machine and pick up a high-pressure coolant nozzle. Following a toolpath with this nozzle, Armroid can deliver coolant to wash troublesome chips out of the machine.
Unlike Armroid, Okuma America's other new automation robot, Standroid, is made by a third-party supplier and located in an enclosure outside a machine. Standroid equipment comes in a compact automated cell package that includes everything needed to build and implement an automation package without the assistance of system integrators, according to Okuma America.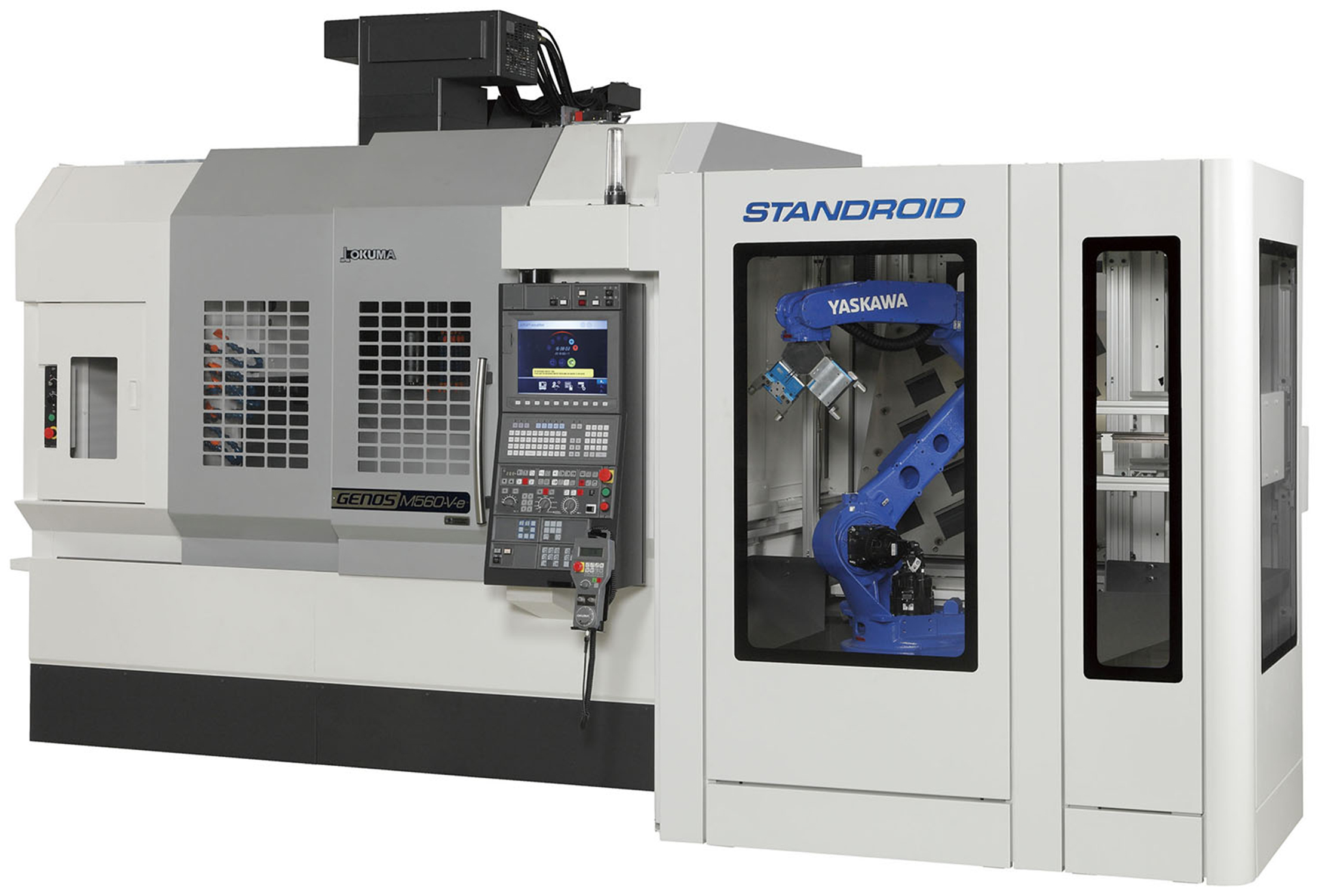 Standroid is in an enclosure outside a machine. Image courtesy of Okuma America
Although it loads and unloads a machine from the outside like a conventional robot, Standroid uses the same AI programming technology as Armroid to teach itself how to move around in a machine environment without collisions. So far, Anderson said, Standroid has been used with mills, mainly handling bigger, heavier parts than those handled by Armroid, which typically is used with lathes.
While automation has been used at high-volume shops for years, most shops have considered it ill-suited for their typical high-mix, low-volume work, he said.
"They think, 'We do small batches, and we're constantly changing over, so we can't automate that,'" Anderson said.
He said in addition to easier integration and programming, Armroid and Standroid offer the flexibility that shops need to successfully automate machining operations. The robots also can make it easier for shops to adjust to whatever circumstances the future may bring.
"If your work is going to be changing and what you do may look a lot different three years from now than it does today," Anderson said, "you've got an automation system that can be adapted as your work evolves."
Related Glossary Terms
coolant


coolant

Fluid that reduces temperature buildup at the tool/workpiece interface during machining. Normally takes the form of a liquid such as soluble or chemical mixtures (semisynthetic, synthetic) but can be pressurized air or other gas. Because of water's ability to absorb great quantities of heat, it is widely used as a coolant and vehicle for various cutting compounds, with the water-to-compound ratio varying with the machining task. See cutting fluid; semisynthetic cutting fluid; soluble-oil cutting fluid; synthetic cutting fluid.

lathe


lathe

Turning machine capable of sawing, milling, grinding, gear-cutting, drilling, reaming, boring, threading, facing, chamfering, grooving, knurling, spinning, parting, necking, taper-cutting, and cam- and eccentric-cutting, as well as step- and straight-turning. Comes in a variety of forms, ranging from manual to semiautomatic to fully automatic, with major types being engine lathes, turning and contouring lathes, turret lathes and numerical-control lathes. The engine lathe consists of a headstock and spindle, tailstock, bed, carriage (complete with apron) and cross slides. Features include gear- (speed) and feed-selector levers, toolpost, compound rest, lead screw and reversing lead screw, threading dial and rapid-traverse lever. Special lathe types include through-the-spindle, camshaft and crankshaft, brake drum and rotor, spinning and gun-barrel machines. Toolroom and bench lathes are used for precision work; the former for tool-and-die work and similar tasks, the latter for small workpieces (instruments, watches), normally without a power feed. Models are typically designated according to their "swing," or the largest-diameter workpiece that can be rotated; bed length, or the distance between centers; and horsepower generated. See turning machine.

toolpath( cutter path)


toolpath( cutter path)

2-D or 3-D path generated by program code or a CAM system and followed by tool when machining a part.