Author
Terry M. Iverson
Published
January 03, 2022 - 02:30pm
If our future is our youth, then we must get the message out that manufacturing offers an alternative career path that requires neither a four-year college degree nor staggering student debt. Unfortunately, that's easier said than done because so many Americans still equate a manufacturing job with a gritty, dangerous, dead-end existence that doesn't provide a decent wage or benefits.
The reality, of course, is that manufacturing careers do indeed offer competitive wages and benefits, and many jobs involve computerized processes performed in work environments that more closely resemble a clean room setting than a machine shop of old.
So, as formidable as the workforce shortage and skills gap is today, changing America's perception of manufacturing careers is the mountain we must move first. For my part, I decided the best place to start was by writing "Finding America's Greatest Champion," a book that encourages our society to rethink how we perceive manufacturing careers in the United States. I also set up a nonprofit organization, ChampionNOW, to help fund the publication and dissemination of the book.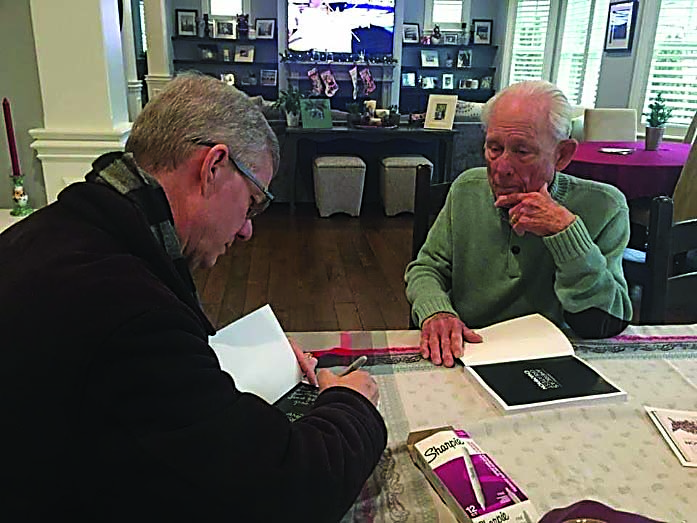 The teacher and the student. Shown is a special photo of me with my father during a conversation about my book. Image courtesy of Kelly I. Pollock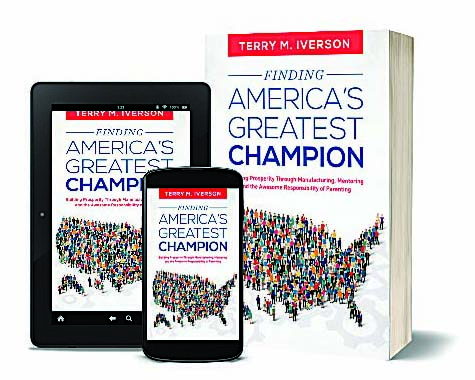 Changing America's perception of manufacturing careers, however, will take the resources and energy of more than a passionate few to be successful. We all need to be involved to help elevate our profession — our industry.
And, of course, a little divine intervention wouldn't hurt when you're trying to move a mountain. One might say that's what it took for me to meet Dennis Spaeth, the publisher and owner of this magazine. Though we had for years attended the same church, Kingswood United Methodist Church in Buffalo Grove, Illinois, he and I had never crossed paths. Then, during the spring of 2018, our church pastor, Rev. James Preston, suggested we meet. Preston knew that Spaeth was in the process of purchasing this magazine and that I was about to publish my book.
So Spaeth and I met for coffee on a Saturday morning in May 2018 in Arlington Heights, Illinois, to explore any opportunities to work together. At the time, Spaeth promised to publicize the book once it was published because, as he said, it was and continues to be such an important subject.
We met again in the fall of 2019 at the U.S. Cutting Tool Institute meeting where we collaborated on a video interview between me and a young man who was attending the event. With Spaeth behind the video camera prompting us to "just have a conversation about manufacturing careers," I was in front of the camera talking with Noah Cantara, who at the time was a product specialist with Hyperion Materials & Technologies in Auburn Hills, Michigan.


ChampionNOW has introduced both a CNC lathe and mill to the market. Image courtesy of T. Iverson
The resulting video report, "The Millennial and the Mentor," received a great deal of positive feedback. Seeing two different generations come together to elevate the dramatic need for young people to join the ranks of manufacturing employment is inspiring. This type of inspiration is what our industry needs to create an awakening across the country.
A short time later, I connected with Vondale Singleton, founder of C.H.A.M.P.S. Male Mentoring Program in Chicago. Singleton invited me to talk about manufacturing careers with his students, which I gladly accepted. Unfortunately, I was only able to provide one presentation before the COVID-19 pandemic shut down in-person meetings and events. I had to quickly adapt to a virtual format for speaking engagements and presentations, and that got me thinking about filming a concept class about manufacturing for Singleton's students.
When I asked Spaeth if he would be interested in filming the concept class, he didn't hesitate. We began shooting video about machining fundamentals early one Saturday morning in September 2020 at Iverson & Co., a 91-year-old family-owned machine tool distributor and rebuilder in Des Plaines, Illinois. (My grandfather and father preceded me as owners/leaders of the company.)
The concept class, "CNC Rocks Virtual Machining Camp," went over well with Singleton's students. Soon afterward, Spaeth and I began producing a whole series of such video training sessions to help spread the word about manufacturing careers. As of this writing, we have produced 22 video training sessions — 4.5 hours in total length — that cover a wide variety of topics, including milling, turning, programming, automation and inspection. The ChampionNOW website features a 19-minute video overview that's available to everyone to review prior to purchase.
The video series is now available through ChampionNOW (www.championnow.org). For access to the video series, ChampionNOW offers a $500 annual subscription package to a single high school that wishes to augment its current vocational curriculum with the video series.
Meanwhile, some industry leaders have indicated that the video series would also be a good fit for open houses, Manufacturing Day events and even something to use for in-house orientation of new employees. For industry members, the annual subscription is normally $995. Thanks to CTE, the video series is available to readers of this article at a reduced subscription fee of $750.
With my deep and long-standing commitment to technical education, I realized that STEM programs needed to do something different when training young people to program, set up and operate CNC machine tools. With the high cost of these machines and the limitation of how many students can be around one machine at a time, I saw the need for tabletop machines. This is why ChampionNOW has introduced both a CNC lathe and a CNC mill to the market. The goal is to provide a basic two-machine package with a laptop as the control for less than $17,000.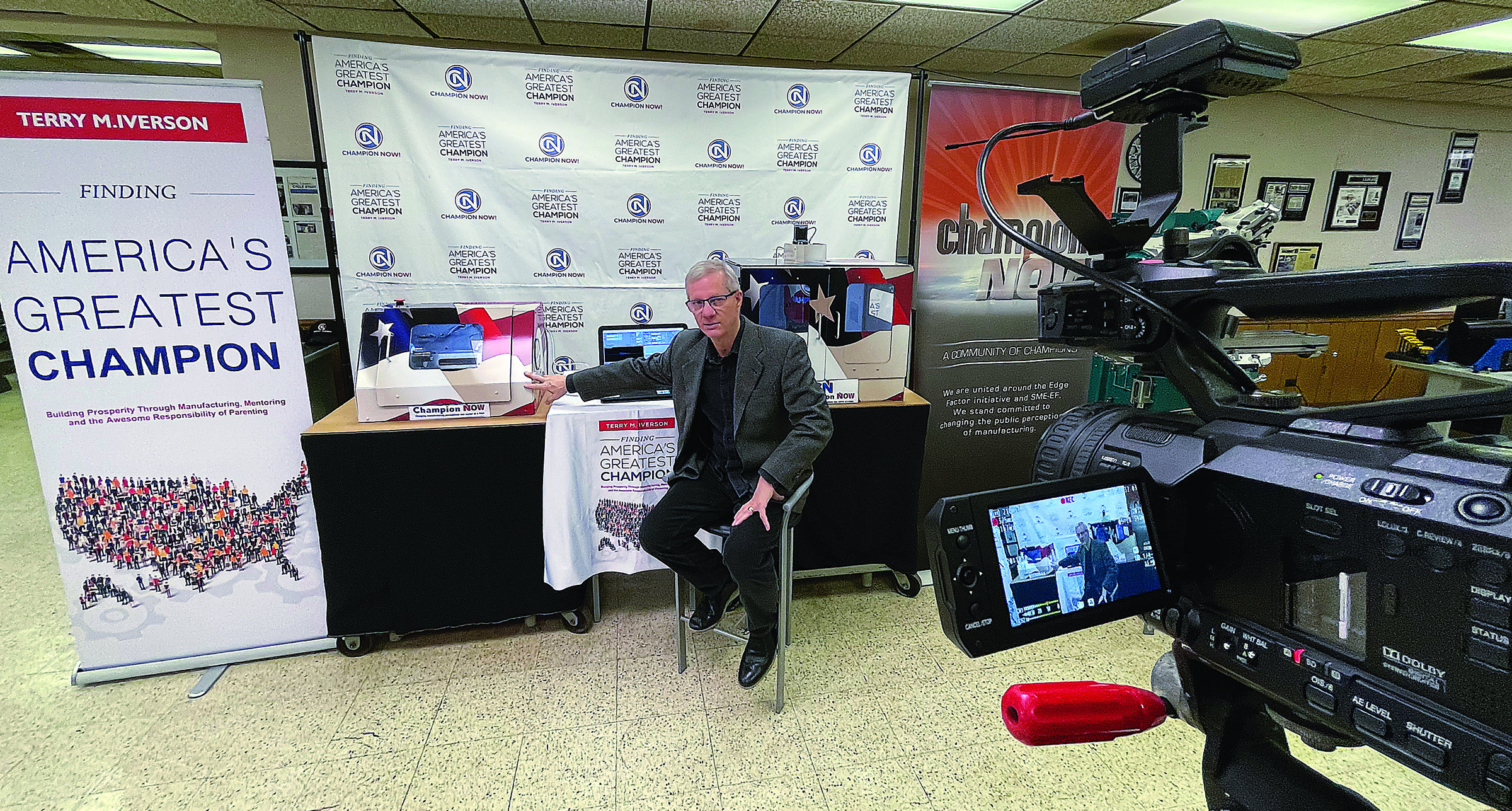 We began shooting video about machining fundamentals early one Saturday morning in September 2020 at Iverson & Co., a 91-year-old family-owned machine tool distributor and rebuilder in Des Plaines, Illinois. Image courtesy of Cutting Tool Engineering
Proceeds from book sales, the video series and the tabletop CNC packages go to the ChampionNOW organization to offset the cost of publishing my book and providing virtual and in-person speaking events. Some of the proceeds also will help fund the Jerry R. Iverson Manufacturing Memorial Scholarship, which I established after my 84-year-old father, Jerry Iverson, passed away this past August. With tens of thousands of dollars in donations received already, we hope to get this endowment funded in time to award a scholarship(s) in the fall of 2022.
The goal is to continue to expand ChampionNOW offerings as the organization flourishes. This would include future books, videos and other plans in the works.
If you represent one of the more progressive companies and believe in this mission, contact me personally. Companies that place a minimum order of 1,000 books can add their brand to the book by authoring the foreword to their version of "Finding America's Greatest Champion." Customizing the book with your message allows your company to be part of the change in this country. Let's Change How American Manufacturing's Perceived In Our Nation (CHAMPION).    
How can you help move that mountain?
Host a Manufacturing Day event. We should all migrate to one day each month, not once a year. Our promotion should be a continual effort going forward.
Join the ChampionNOW organization. Memberships start as low as $995.
Purchase tabletop CNC machines for education.
Purchase a video subscription to donate to your local school.
Purchase a quantity of "Finding America's Greatest Champion" and give away copies. My book, which explores matters beyond just manufacturing, is meant as a resource for those needing answers about their future careers and lives — as the subtitle indicates, "Building Prosperity Through Manufacturing, Mentoring and the Awesome Responsibility of Parenting."
— Terry Iverson