Author
Mark Rentschler
Published
August 01, 2009 - 12:00pm
Like most machine shops, Apex Precision Technologies faces challenges, ranging from higher costs to more demanding customers. "Material costs have been rising dramatically for several years," said Dan Seacat, co-owner of the Camby, Ind.-based shop. "On top of that, customers want parts cheaper and faster. Most shops think there's no choice but to pay more, charge less and watch your profit margins shrink. That couldn't be further from the truth."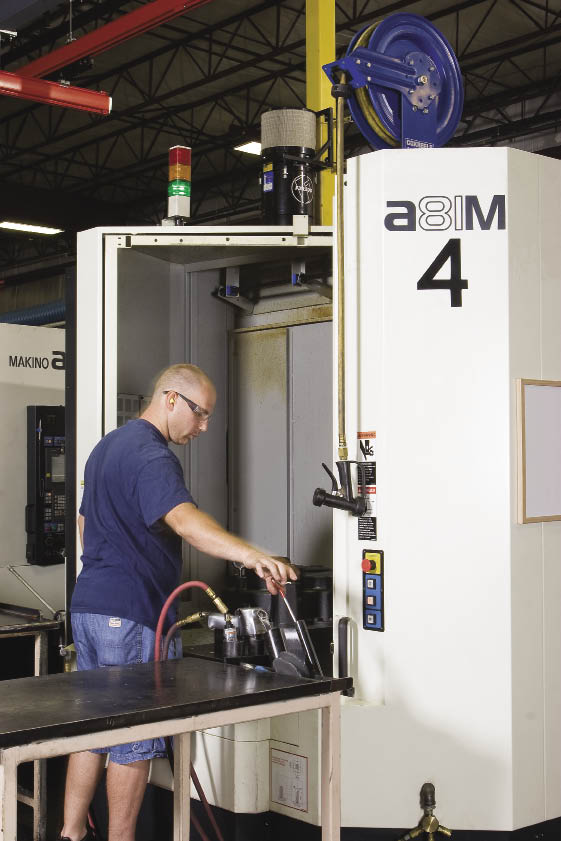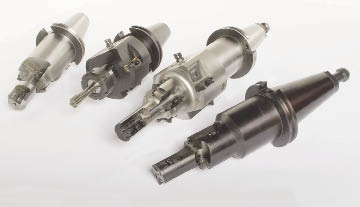 Apex Precision makes most of its custom tools on a81 HMCs. The large, heavy tools are up to 9.25 " in diameter and can weigh 40-plus lbs. Apex's combination tools (inset) perform multiple operations, such as drilling, shoulder milling and finishing. All images courtesy of Makino.
Apex is meeting these challenges in part by using machine tools that allow it to implement combination cutting tools and custom fixtures created for customers' orders. Seacat, who is also Apex's engineering shop floor manager, said the time savings its custom tools provide and the flexibility of its horizontal machining centers allow his shop to meet just-in-time delivery requirements.
"Most of our orders are for big contracts delivered in kanban quantities to large, demanding customers," Seacat said. "So we have two contrasting needs: We must produce large quantities, but in small batches. These kanban orders demand flexibility as much as speed. Our response was to develop internal capabilities to design, build and utilize custom-made fixtures and combination tools." (Kanban is a signal in the JIT system and a directional device that gives information about a material or product, such as quantity or delivery. It is used for controlling production and inventory on the shop floor.)
Apex makes most of its tooling on Makino a81 HMCs. "When you're using large, heavy tools up to 9.25 " in diameter weighing 40-plus pounds, you need a strong, accurate and reliable machine," Seacat said. He said the a81 machines provide the flexibility the shop needs, as well as features such as a chip and coolant evacuation conveyor, rigid spindle design, long axis travels, rapid tool changes and the torque required to handle the shop's frequent cast iron machining operations.
Large-Part Producer
Apex was founded in 1953 in southwest Indianapolis. The company produces large parts for many well-known, off-road and automotive part suppliers, specializing in differential housings, transfer cases and axles.
Apex President Jerry Jackson began his work at Apex as a lean management consultant. His lean techniques have helped Apex grow from annual sales of $7 million in 2003 to $26.2 million in 2008. The company received ISO 9001certification in 1997 and ISO 14001 certification in 2005. Apex won the Toyota Forklift Supplier of the Year award for 2007, besting 149 other suppliers. Its current 40,500-sq.-ft. facility houses 30 machine tools and other equipment.
"Our lean approach involves more than cutting down on waste," Jackson said. "True lean facilities also look for reliability, versatility and flexibility in both programming and machining. With limited floor space, we need machines that can demonstrate those qualities."
Apex first purchased a Makino A55 in 1993, a second A55 the following year and A77 machines shortly thereafter. Several Makino A-series machines were combined in a Makino manufacturing cell to run large-quantity jobs. The cell assigns work and initiates operations automatically, based on machine and material availability, for higher spindle utilization and shorter cycle times with little operator intervention.
The company has since invested in several large new HMCs from Makino, including an A88, three a81s and most recently an a81M. The a81 HMCs are used primarily for quick-run operations and JIT parts. The A88 and A77 machines are used for smaller quantity parts. Some short-run or common-designed parts run on the A77 cell.
Combination Tools
Apex's engineers and CAD programmers have developed combination tools that reduce tool changes and out-of-cut time, and increase machining efficiency. The tools range from 0.150 " to 9.25 " in diameter. They are typically made from carbide or HSS and accept inserts.
To run its combination tools, Apex relies on machines such as the a81s for low-end torque, low spindle runout and the ability to handle long and heavy tools. The combination tools perform a range of operations. For example, one tool drills, shoulder mills and finish bores a feature.
In addition, because they design tools that perform operations in the same area of the part, Apex can often program its machines to go from one operation to another simply by changing the DOC. "It isn't uncommon for a part to require 50 or more tools," Seacat explained. "With this many tools, we require rigid machinery with faster tool changes for longer tool life and reduced out-of-cut time."
Apex's combination tools typically have several layers, with each separate operation moving farther back onto the tool shank. One 9 " long tool has a drill on the end, large-diameter boring inserts in the center and even-larger boring inserts farther toward the back. "These tools may look crazy, but they get the job done much more efficiently than changing out a tool each time we need a new operation," Seacat said. "With greater tool reach, spindle rigidity and tools designed specifically for odd part features, we've been able to reduce vibration for higher accuracies and lower scrap rates. This has also enabled us to achieve improvements in tool life, resulting in even fewer tool changes and lower tooling costs." He noted that changing tools in the a81 machines takes about 2 seconds.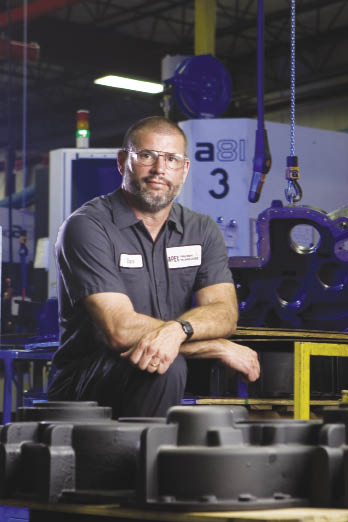 Dan Seacat, engineering shop floor manager for Apex Precision.
Apex's adaptability is an asset when a customer's JIT quantities suddenly change. In one instance, Apex had to change from producing 120 pieces one week to 350 the next with only a few days' warning.
Apex's ability to engineer combination tools enables it to exceed customer expectations. "A customer used their facilities in Japan as an example of how they thought the part could be most efficiently produced. Their facility produced the part in four operations, and the customer was very surprised when we showed them we could produce the part in only two operations with combination tools," Seacat said.
Apex can quickly design a combination tool—often in less than 2 days—and produce it in less than a week. The tools are typically applied in operations that would otherwise slow the machining process, such as finishing large holes or reaching through a window fixture to cut a specific feature.
"Not every machine can handle our tooling," Seacat said. "When your machine places strict limitations on you, it forces you to compromise in your tool and fixture designs." However, the a81 has features that make using combination tools more effective, he said. For example, the spindle face is just 50mm from the pallet center, which allows the shop to use long tools without losing rigidity.
Custom Fixtures
Apex routinely customizes its fixtures to decrease cycle times and optimize toolpaths, and to allow its custom tools to reach part features not possible with standard fixtures.
"We look at each job as an opportunity to create the best manufacturing scenario," Seacat said. "Once we've determined tooling that will work, we'll often create a fixture that will maximize our efficiency and enable us to machine critical features in the first or second operation to limit the potential for stack-up error. Sometimes we use hydraulics, window fixtures or some other trick to make the fixture work around our programming and tooling."
With window fixturing, Apex is typically able to bore large holes complete in a single operation or machine features on the back inside or back of the part, reducing time spent refixturing to complete a part. Hydraulics allow for variable part clamping or easy part loading and unloading. "Every second counts," Seacat added. "We use creatively built fixtures to reduce time spent out of the cut, limit setups and to get the most out of our custom tooling."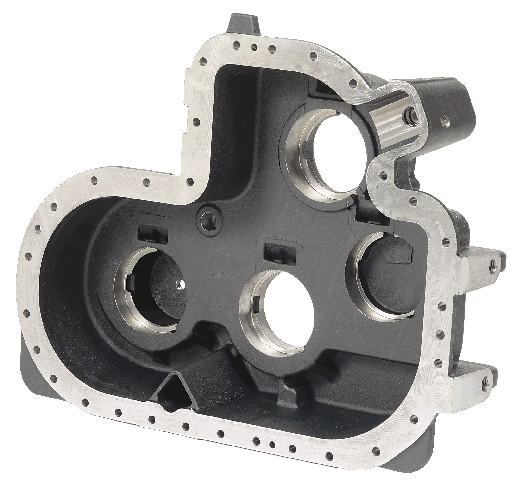 This transfer case required a 7.874 "-dia. combination tool to produce a chamfer with a tolerance of ±0.001 ".
Apex recently produced a rear axle component made of 65-45-12 ductile iron using a custom 500mm-wide × 1,000mm-high window fixture, allowing for flexible machining of all four sides of the part. The fixture was hydraulically clamped with two sequence valves for easy operator loading and clamping in difficult-to-access areas. Window geometries and clamp positions accommodated several special cutting tools, including roughing and finishing tools for turning outside diameter bosses, and an 8mm-dia. milling cutter for the inside face of a flange. By using a custom window fixture and special tooling, Apex completed the part in one operation with higher quality and less operator intervention.
Seacat credits much of Apex's ability to use combination tools and customized fixtures to the flexibility, speed and reliability of its a81 machines. He said the more compact and stable spindles allow for tools to reach farther without the need for extended toolholders, a common issue that leads to rigidity concerns. The machines perform as well high in the Y-axis as they do at the base of the pallet, allowing Apex to create toolpaths that cut far above the center line without worrying about rigidity or loss of accuracy, he said.
"Our guys can get deep into holes or pockets, reach through window fixtures or design large tools that are much more efficient. The stroke and overall design of the machines allow them to get farther from the center of the pallet and farther up in the Y-axis, while retaining the accuracies we need," Seacat said.
The Odd Couple
Machining oddly designed parts is a competitive advantage for Apex, according to Seacat. "It takes custom designs to produce odd parts, but not everyone is able to produce them, making it a niche market for our shop," he said.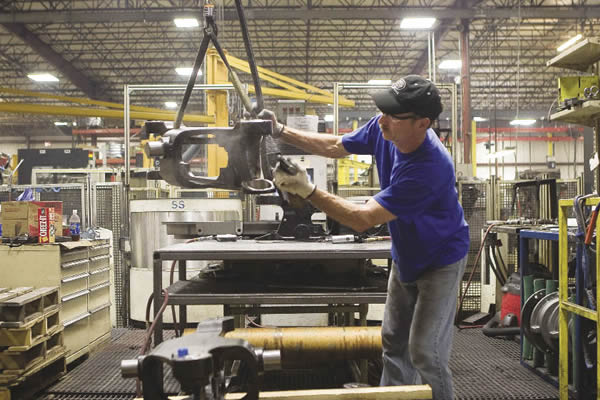 With material costs on the rise, producing large parts requires high accuracy to achieve profitability.
For example, the shop recently machined a transfer case that required a 7.874 "-dia. bore with a chamfer accuracy within ±0.001 " (see photo on page S53). The bore has a 63µm tolerance, is 2.5 " deep and requires a 0.004 "-dia. true position. The part raised concerns due to cycle times, the amount of stock removal, interrupted cuts, parting lines, core prints and a large-diameter bore that required using a lower spindle speed. Apex's solution was to design a custom tool that performs roughing, semifinishing, finishing and chamfering, cutting down the number of operations and tool magazine space requirements.
Another part Apex recently machined required a 4.249 "-dia. through-bore with a tolerance of ±0.001 " and a chamfer, and a roughed, 1.259 "-dia. hole with the same tolerance that needed prepping prior to finishing. Above that was an M60×2 thread that needed the minor diameter machined and a chamfer. The company was concerned with the combined cycle time and potential stack- up error of six operations, a large consumption of tool magazine space due to the need for multiple tools and the difficulty of working with a Class 30 gray iron cast part. Apex was able to produce a single 13 "-dia. tool with inserts that completed all operations with the required accuracies for each feature while saving magazine space for other large tools. By using a window fixture, Apex was able to machine through both bores in one setup.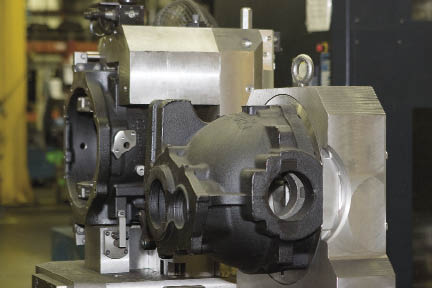 Apex Precision uses custom fixtures for faster production, toolpath optimization and greater accessibility for its custom tools.
After completing this part, Apex was asked to machine an alternate version of the same part. It required a similar 4.249 "-dia. rough, finish and chamfer operation for the main bore, but with an additional M16.0×1.0 tapped hole. Cycle time was an issue due to multiple operations and many tool changes, so the shop again applied a combination tool. The tool included a collet chuck/tap, which reduced tool changes.
"Combination tools and custom fixtures can seriously reduce out-of-cut time and tool changes while allowing you to perform multiple operations in one setup," Seacat said. "But there is a high potential for error when using long, complex, heavy tools. We rely on the Makinos to provide the stability required to handle unbalanced tools and versatile fixtures."
Focus on Process Stability
Lean principles are built on many factors, but one of the most important is process stability, said Jackson of Apex. "This is exactly what the Makinos provide, even with our guys pushing the machines with customized fixtures and multiple-operation tools. The stability and predictability of these machines allow us to bid orders and promise lead-times with confidence.
"We're fighting the same battle everyone else is," he continued. "Customers want parts faster and cheaper, and they don't necessarily care that material costs have skyrocketed. Thanks to the creativity of our designers and machinists, and our Makino horizontals, we are implementing fixtures and tools that most others can't create. As a result, we're on track to nearly double our business from 2008 to 2010." CTE
About the Author: Mark Rentschler is marketing manager for Makino Inc., Mason, Ohio. For more information about the company's machine tools, call (513) 459-3153, visit www.makino.com or enter #310 on the IS form.