Author
Cutting Tool Engineering
Published
September 01, 2016 - 10:45am

END USER: RJ Enterprises, (310) 327-8127, www.rjenterprise.net
SOLUTION PROVIDER: Kyocera Precision Tools Inc., (800) 823-7284, www.kyoceraprecisiontools.com
CHALLENGE: Reduce cycle time when roughing a fuel sensor made of 304 stainless.
SOLUTION: Switching from a ½"-dia., 4-flute solid-carbide endmill to a 5⁄8"-dia., indexable-insert endmill.

Steady production of parts for a long-term contract can motivate a job shop to push its cutting tools hard to meet customer delivery requirements. RJ Enterprises found itself in that situation when roughing a 304 stainless steel fuel sensor and was willing to sacrifice tool life to achieve productivity needs.
Owner Vartan Akrabian explained that the Gardena, Calif., shop was applying a ½"-dia. (12.7mm), 4-flute solid-carbide endmill at a cutting speed of 350 sfm (106.7 m/min.), a feed of 15 ipm (381 mm/min.) and a DOC of 0.050" (1.27mm) but was achieving an unacceptable cycle time of about six parts per hour.
Tool life was six parts per endmill, he added, and the tools experienced chipping and premature failure.
The yearly quantity for the fuel sensor project is about 2,400 parts, and the job is scheduled to run for 5 years, Akrabian said.
RJ Enterprises requested assistance from Hendersonville, N.C.-headquartered Kyocera Precision Tools Inc. The toolmaker recommended its 5⁄8"-dia. (15.875mm), 3-flute MFH-Mini Raptor endmill tooled with its PR1535 inserts. The PVD-coated, double-sided inserts have four cutting edges.
"If it worked out, we would buy it, and, if not, we would return it without paying for it," Akrabian said.
Kyocera Precision Tools reportedly provides a guaranteed test-tool program to all of its customers.



Kyocera's Raptor-Mini endmill accepts the toolmaker's PR1535 double-sided inserts (below), which have four cutting edges. Images courtesy Kyocera Precision Tools.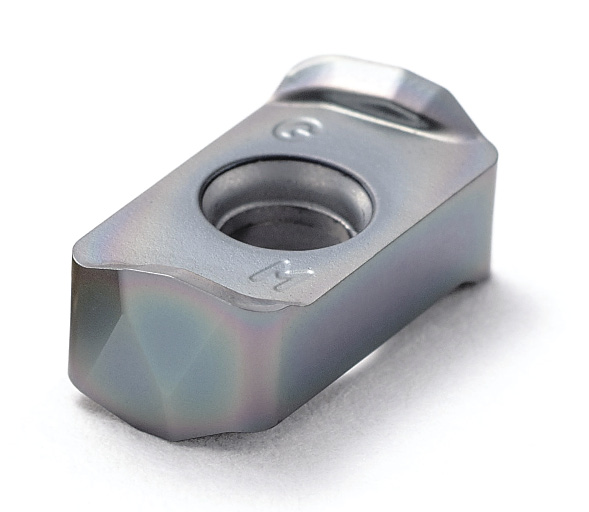 Scott Pettay, field sales engineer for Kyocera, noted RJ Enterprises was able to switch to a larger endmill because the tool is for machining the part OD. He added that Akrabian initially thought he would have to apply an endmill smaller than ½" in diameter to reduce tool pressure.
With the indexable-insert endmill, RJ Enterprises now roughs at a cutting speed of 250 sfm (76.2 m/min.), a feed rate of 90 ipm (2,286 mm/min.) and a DOC of 0.020" (0.508mm). Although the indexable tool runs at a slower speed and takes a smaller DOC than the solid-carbide tool it replaced, Akrabian emphasized the productivity gains made possible by the six-fold increase in the feed rate: "We gave up the depth of cut, but we went from 15 ipm to 90 ipm. It's smoking! I was hoping to cut the cycle time in half, but it went from an hour to 22 minutes for six parts."
In addition, one cutting edge lasts for 12 parts, and a box of 10 inserts, which provides 40 cutting edges, costs about $80 compared to the approximate $50 price tag for the carbide endmill, Akrabian said. "It was a cost savings, overall."
The company still finishes the part using a solid-carbide endmill, removing 0.010" to 0.015" (0.254mm to 0.381mm) of material, he added.
Pettay pointed out that the PR1535 insert offers versatility because it is suitable for milling stainless steel, titanium and Inconel. In addition to 304 stainless, Akrabian said RJ Enterprises uses it for cutting 420 stainless.
"In the future," Akrabian said, "we will try different grades [to see] if they'll improve cycle time or even the life of the tool."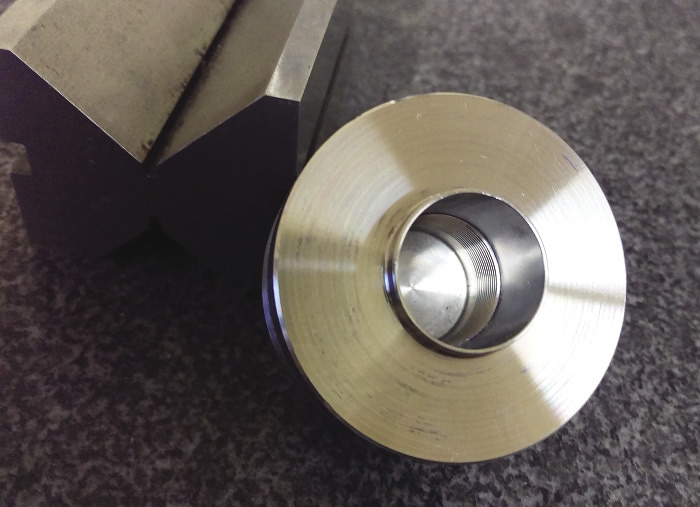 The 304 stainless fuel sensor before (above) and after (below) the roughing operation. Images courtesy RJ Enterprises.