Author
Cutting Tool Engineering
Published
March 01, 2015 - 10:30am
Inside an unassuming industrial building in Euless, Texas, are the results of a remarkable transformation. What began as a one-machine job shop housed in a garage has become a Tier 2 aerospace parts manufacturer, with additional operations in St. Louis, Wichita, Kan., and Ada, Okla. Expansion after expansion turned the once tiny Euless shop into a 170,000-sq.-ft. maze of different buildings that house 70 machine tools. The combined company operates facilities with a total of 590,000 sq. ft. and 160 machine tools.
One of the ways H.M. Dunn Aerospace has grown and continues to grow—quickly—is through continuous manufacturing innovation, with a willingness to invest in the latest machine tools and apply new cutting tools that advance the machining process.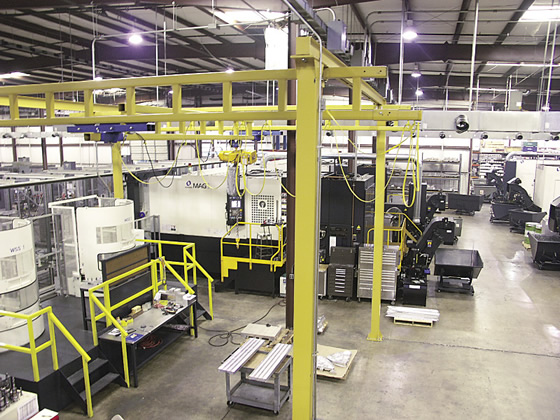 "What has helped us stay competitive is modern equipment," said Scott Fearka, director of engineering for H.M. Dunn Euless. "For example, we bought our first Makino A55, a 20,000-rpm horizontal machining center, in 2000. We had been machining at 10,000 rpm and 20,000 was a big learning curve for us. We had to jump from using cobalt and high-speed steel cutters to strictly solid-carbide cutters. We also had to learn how to use shrink-fit toolholders."
While those changes were challenging, H.M. Dunn began seeing major decreases in cycle times. Jobs that took an hour to run on a 3-axis machine were done on the 4-axis A55 in 10 minutes. The 4th axis, in conjunction with the machine's ability to achieve high spindle speeds and feed rates, played a major role in reducing setup and cycle times.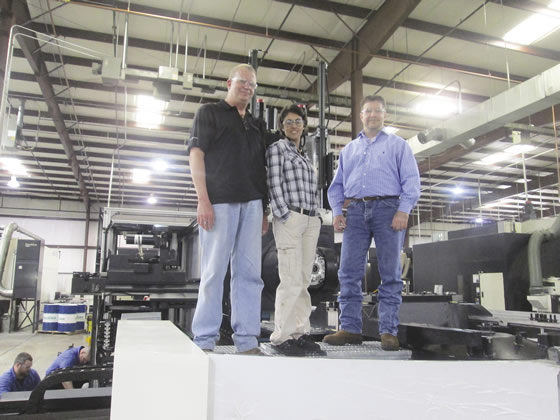 New workholding is also a key part of the company's development strategy. "Back in the old days [the 1980s and 90s], we frequently had to stop machining to add a clamp and take one off," Fearka said. "Red Fultz (company owner at the time) wanted to change that. He moved me into programming and told me, 'I want you to program these parts to be cut without using clamps.' My thought was, 'What planet are you from?' but it became one of those think-outside-the-box situations. We came up with a method of using fixtures like Mitee-Bites, gripper bars and Invert-a-Bolts that allowed us to cut parts without clamps. Once you cross that line and look back, you say, 'It seems so easy now. Why have we been doing it the old way for so long?' "
History of Growth
Focusing on better ways to machine parts has helped the company grow from its humble beginning in 1975, when it was founded by Harlan M. Dunn. In 1979, James "Red" Fultz became a full partner in the company, which had moved to a small building in downtown Euless. In 1981, the shop moved to its current Euless location, with 10 employees and two machine tools. In 1997, Fultz became sole owner.
The company grew and expanded several more times, and, in 2011, was purchased by Gridiron Capital LLC, New Canaan, Conn. In January 2012, Gridiron purchased Nex-Tech Aerospace, which had operations in Mexicali, Mexico, St. Louis and Wichita, and merged Nex-Tech into H.M. Dunn. The Mexicali facility was later closed.
In January 2014, Gridiron purchased Apex Engineering International LLC, Wichita, an assembly operation with an additional plant in Ada, and merged it into H.M. Dunn as well. With about 600 employees, including 190 at the Euless location, the company focuses on the business, commercial and military aerospace markets. It operates a quality management system that complies with the requirements of ISO 9001:2008 and AS9100 Rev. C certifications.
"One of our key areas is the F-35. That's going really strong right now," Fearka said. The company also produces spare parts for the F-16, C-17 and C-130, as well as parts for the Boeing 737 and 787. Nearby Bell Helicopter is also an important customer.
Move to 5-axis
The Euless facility operates some 70 machine tools, and, of those, at least 70 percent are 5-axis. "In this market, 5-axis is huge," Fearka said. "The better the CAD software gets, the more complex the parts get. Everybody's going monolithic now. Our customers want to spend less time riveting parts together. In the past, we might machine three or four different detail parts that would be assembled to making one part. Our customers now design parts that require fewer rivets and less assembly by merging the designs and making one large part. So you need a machine that can get to all sides of that part. There are all kinds of crazy compound angles and contours. A 3-axis machine just can't do the trick anymore with these kinds of parts, even though we still use them for simpler jobs."
The Euless shop has two Makino A55 machines in one cell with 12 pallets and two Makino A88 machines in one cell with 18 pallets. It also operates two Makino MAG1 machines in one cell with 10 pallets (see photo on page 62).
The shop adds most of its machine tools simply to increase overall machining capacity, and will sometimes purchase a machine for a specific part. "We had some F-22 parts where we had a major challenge trying to reach some angles," Fearka said. "We purchased a horizontal machine with a quill that extended 5' out so we could rotate it to get to those angles. [A machine purchase] all hinges on the contract we are given and whether that justifies the purchase."
Outside Help
H.M. Dunn Euless uses its vendors to keep on top of machine and cutting tool technology and implements the technology soon after it becomes available. "We rely on help from outside companies like Iscar," Fearka said. "We don't always know what the latest and greatest is, so we test the technology. We're not afraid to change."
For example, the shop began using Iscar Multi-Master endmills with replaceable solid-carbide heads soon after they were available. "They are very easy to swap out," said Doug Caddell, manufacturing engineer. "We used to use ballnose cutters and would have to remove them from the machine, replace them and shrink-fit the new ones. With the Multi-Masters, I swap out the screw tips and we're good to go. I love it."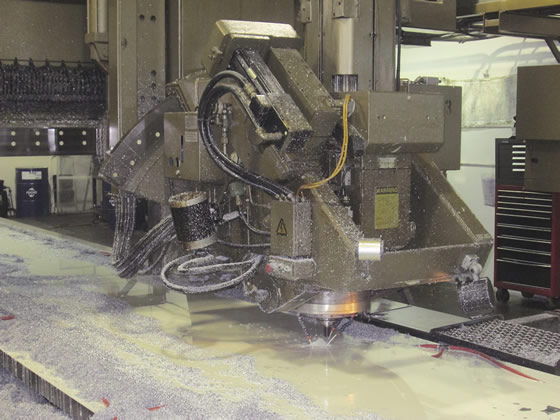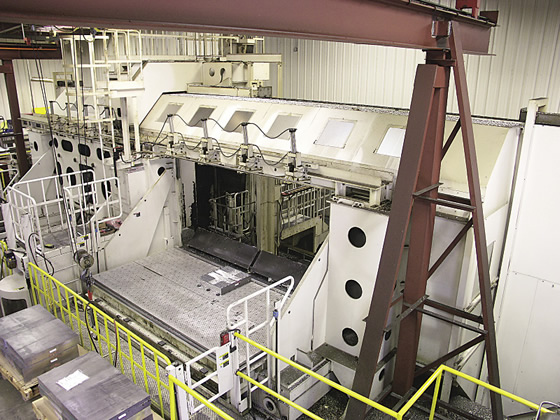 Steve Amaro, sales and applications representative for Iscar Metals Inc., Arlington, Texas, is responsible for the Iscar tools purchased by H.M. Dunn Euless and brought the Multi-Master and other tools to Caddell's attention. "For example, on a 316 stainless job that Doug and I worked on, we used a Millshred P290, which has 90° serrated milling inserts and offers a long length of cut, to replace a 2 " shell mill," Amaro said. "It reduced cycle time by 50 percent."
A goal at H.M. Dunn Euless is to maintain machine uptime of 85 to 90 percent, and tools like the Multi-Master and the Millshred help achieve that goal, according to Fearka.
The shop uses the Multi-Master to machine most of its challenging materials, such as stainless, titanium 5553 and titanium 6Al4V. "I've tried them on just about everything," Caddell said, adding that he uses multiple diameters, but primarily 1⁄2 " (12.7mm) and ¾ " (19.05mm).
Amaro usually visits the Euless shop three times a week to make sure tools are being replenished and bring new tools to evaluate. "He's out here so often, he could use an office," Caddell said.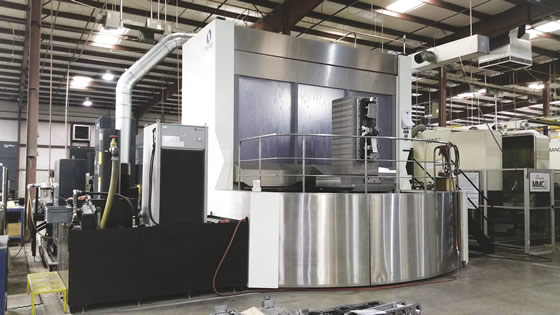 The shop will change tools on existing jobs if they help improve quality and cycle time. "Our part programs and the machines they run on must remain the same on those jobs, due to some customer requirements, but we'll apply the lessons we've learned on one job to other processes," said Daisy Pardo, manufacturing engineer.
The company's investments in new technology continue. Last year, the company installed a Makino T2 6-axis HMC to improve its ability to mill titanium and other difficult-to-machine materials. The machine's 134-hp (100kW) spindle produces 737 ft.-lbs. (1,000 Nm) of torque.
"We used to machine large, heavy parts on a gantry, and it took a long time, so we proved out the T2, installed it, and now we can machine them much faster," Fearka said. "The first part that we ran on our T2, from titanium 6Al4V, yielded a 78 percent reduction in cycle time. We were very happy with the results."
It's one more example of how a once small shop uses new technology to keep flying high.
For more information about H.M. Dunn Aerospace, Euless, Texas, call (817) 283-3722 or visit www.hmdunn aerosystems.com. CTE