Author
Cutting Tool Engineering
Published
May 01, 2016 - 10:30am
--------------
END USER: Van's Manufacturing Inc., (805) 522-6267. SOLUTION PROVIDER: Omegasonics, (888) 989-5560, www.omegasonics.com. CHALLENGE: Reduce the time and cost to clean machined parts. SOLUTION: An ultrasonic parts cleaner with a filtration pump.
-------------
As a rule of thumb, buyers of machined parts don't want to see any particles or oily film on their merchandise. Therefore, most blueprints specify parts must be clean and dry—but don't indicate how that must be achieved or what level of cleanliness is required, noted Lou Tignac, owner and president of Van's Manufacturing Inc.
The Simi Valley, Calif., machine shop employs about 20 workers and produces parts, such as pressure transducer fittings, valves and manifolds, from a variety of workpiece materials, including plastic, stainless steel, aluminum and bronze. The shop long ago realized that its old-school, rudimentary solvent tank was cumbersome, messy and time-consuming. In addition, the solvents required special storage, usage and disposal considerations.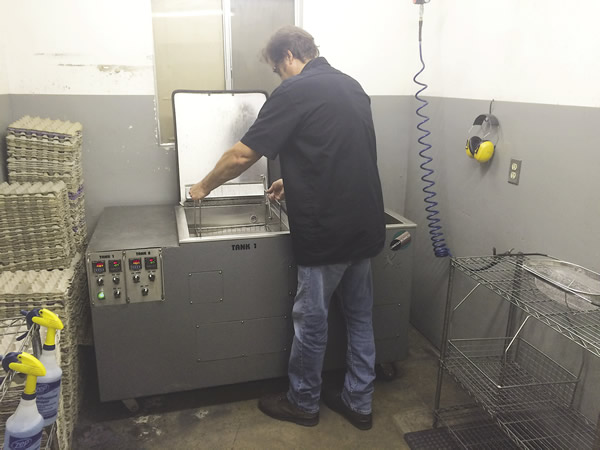 Lou Tignac, owner and president of Van's Manufacturing, removes a basket of parts from the company's Omegasonics Super Pro X2 ultrasonic parts cleaning machine. All images courtesy Omegasonics.

After researching alternative industrial cleaning processes online and at trade shows, Tignac determined ultrasonic cleaning to be a thorough and environmentally friendly method for removing water-soluble coolant and other contaminants from parts—even those with multiple cavities and hard-to-reach internal features. Ultrasonic systems use vibrating molecules within a nontoxic solution to clean parts. A machine generates ultrasound waves that produce cavitation bubbles, which can reach into every nook and cranny in a part to remove dirt, grime and grease.
Tignac selected an ultrasonic cleaning machine from Omegasonics, also in Simi Valley, and soon realized benefits from the equipment. "With labor being the most-expensive component in a shop, any time you can cut down your cycle time or processes that require labor, you save money. Our Omegasonics system did just that," he said. "We can clean parts in one-third of the time it took us prior to using ultrasonic technology."
Tignac estimates that the ultrasonic machine halved the labor requirement for cleaning.
When it came time to replace the ultrasonic cleaning machine, Tignac selected the Omegasonics Super Pro X2 ultrasonic machine, based on his initial experience with the company's equipment. This included ease of maintenance and use, competitive price point and reliability. The second machine, however, comes with a filtration pump, which keeps the bath clean and consistent for a longer period of time compared to the previous parts cleaner. A primary filter removes particles down to 20µm, and a secondary charcoal filter clears debris to a 3µm level on Van's machine.
Removing the particles trapped in the cleaning fluid with the filtration system can double bath life, Tignac said, depending on the types of parts and the amount of debris on them prior to cleaning. For example, aluminum castings and carbon steel parts tend to "shed more" and create dirtier baths.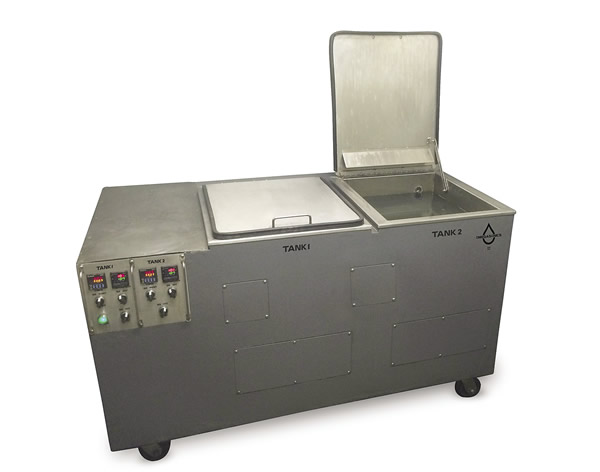 The Omegasonics Super Pro X2 ultrasonic parts cleaning machine features two cleaning tanks and comes with a filtration tank to keep the bath clean and consistent for a long period of time.

"With the old machine, there were a couple times where we ruined the bath because we had particles in there that we could not take out," he said. The company then had to drain the bath, clean the enclosure and refill the bath with new solution. "Now, we have the option of being able to filter those particles, condition the bath and bring it back to life, so to speak."
Enhanced filtration saves the shop money both by reducing cleaning solution costs—because Van's consumes less—and by reducing the amount of wastewater that it pays a licensed carrier to haul away.
The cycle time to clean parts is typically from 3 to 5 minutes, with parts having dried coolant on them taking a little longer to remove, while rinsing in the machine's second tank consumes about 2 minutes, Tignac said. He estimated that Van's ultrasonically cleans about 95 percent of its machined parts, as well as some of the shop's own equipment to ensure peak performance.
"I know what level of cleaning customers want, and ultrasonic cleaning exceeds that every time," he added. "Across the board, we make sure everything leaves here in the cleanest condition possible."
Related Glossary Terms
coolant


coolant

Fluid that reduces temperature buildup at the tool/workpiece interface during machining. Normally takes the form of a liquid such as soluble or chemical mixtures (semisynthetic, synthetic) but can be pressurized air or other gas. Because of water's ability to absorb great quantities of heat, it is widely used as a coolant and vehicle for various cutting compounds, with the water-to-compound ratio varying with the machining task. See cutting fluid; semisynthetic cutting fluid; soluble-oil cutting fluid; synthetic cutting fluid.

ultrasonic cleaning


ultrasonic cleaning

Method of cleaning metal or plastic parts by immersing them in an aqueous or solvent-based cleaning solution and imposing ultrasound energy on the bath to enhance cleaning by creating cavitation conditions at the part surface, which imparts a strong scouring action to remove tenacious soils.