Author
Ken Schnepf
Published
August 17, 2020 - 03:00pm
The next-generation Sapphire industrial 3D metal printer can print up to 1 m (3.3') in height. Available in the fourth quarter of this year, the laser powder bed fusion additive manufacturing system by Velo3D Inc. of Campbell, California, includes a 315 mm (12.4") dia. build plate, dual 1-kW lasers and in situ optical calibration. The 1-m-tall machine targets a variety of industries, such as aerospace and energy.
"I think there's a lot of different applications where the geometries that customers are looking for at the end of the day can be very difficult to machine," said Zach Murphree, vice president of technical partnerships. "And a lot of that has to do with access limitations. So if you think about parts that are manifolds or shrouded impellers or pieces that have kind of internal flow paths, these are generally difficult to get to with a machining tool — or they can be depending on the geometry. And that's one of the places where we see the technology, 3D metal specifically, being very, very useful."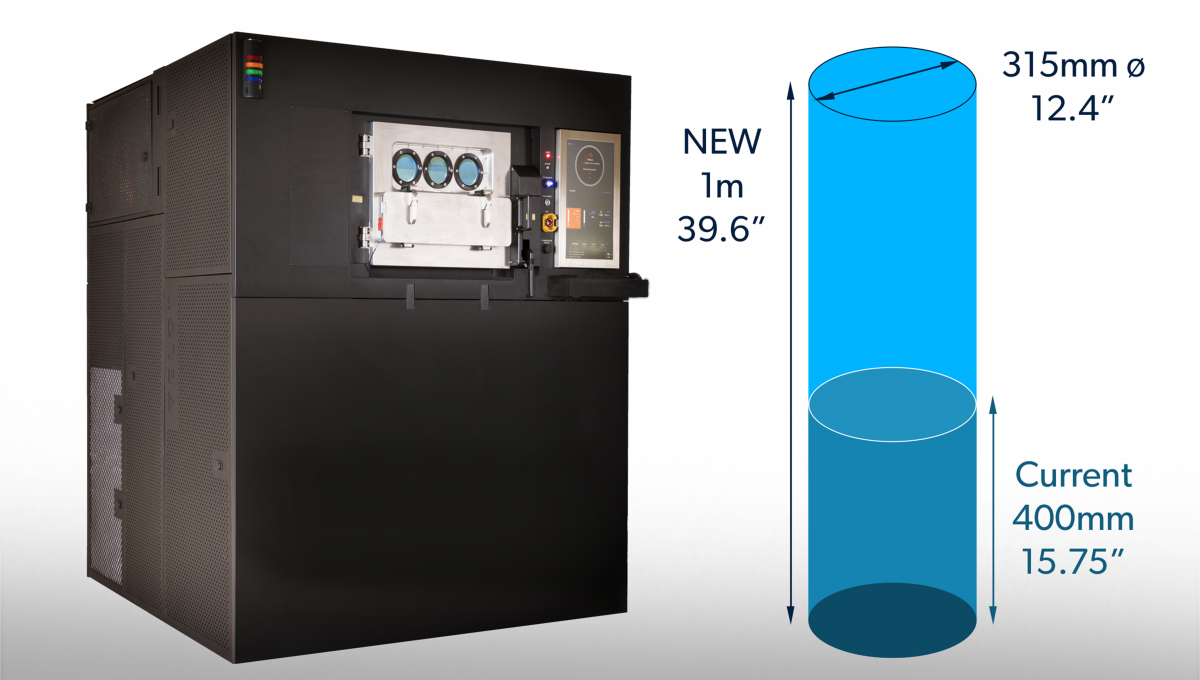 The next-generation Sapphire will print parts up to 1 m in height (the blue dimension to the right of the existing model). Image courtesy of Velo3D
For example, he said a 12.7 mm (0.5") dia. gundrilled hole that is 762 mm (30") long and needs to maintain a certain tolerance dimensionally in terms of straightness and where it is in relation to the other surfaces of a part can be challenging to machine. Or perhaps a part requires machining as separate components before being
assembled.
With the Sapphire, Murphree said much complexity can be incorporated into a part from the beginning. Costs, lead times and cycle times may be reduced because fewer steps are demanded to produce parts.
"You can be a really good machine shop and add this to your toolkit without needing to create a center of excellence and hire people who went to school only for additive manufacturing," he said. "There is calibration and metrology built in to the machine, so the operator can hit a button on the screen and the machine can calibrate itself. It can measure how healthy its optical components are and how accurately the lasers are pointing at different places on the plate, how much is building, how accurate the lasers are relative to each other and do this all without requiring a field service engineer. And so the system that we built is really completely focused on being a production technology that can live on a shop floor next to a five-axis mill and kind of have the same mode of operation."    
---
For more information about Velo3D, call 408-610-3915 or visit www.velo3d.com.