Author
Kip Hanson
Published
January 27, 2017 - 02:00pm
If you enjoy the growl of heavy milling cuts, the machine-gun sound of chips striking glass and the heady odor of superheated cutting fluid, a compact machining center might not be the right machine for you. Like I used to, you scoff at phone booth-sized machining centers, with their tiny toolholders and tables not much larger than a 6" machinist vise. If so, you're not looking at the big picture. 
Compact machining centers are … well, compact. But they save valuable floor space, are fast and agile, and are able to turn corners on a dime. Axis and spindle acceleration rates are often 1 G or higher, and with tool changes of a few seconds or less, compact machining centers get in and out of the cut quickly. Also, with the light radial DOCs and high feed rates commonly employed today, compact machining centers can often remove more material per minute than larger, heavy-duty machines.
---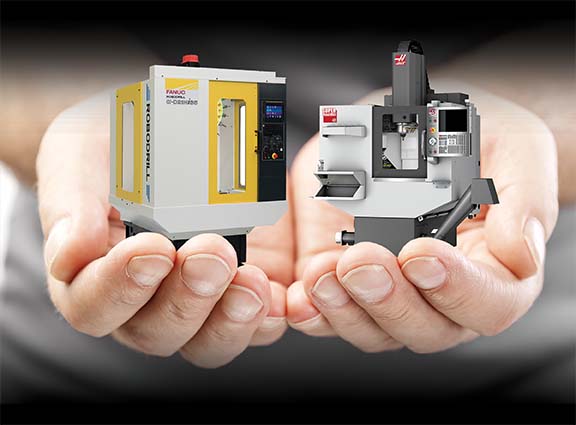 FANUC's latest RoboDrill, left, sports a new, user-friendly control interface, faster tool changes and a number
of high-speed machining functions. The Haas Super MiniMill, right, is the largest of the company's compact
machining centers and is equipped with a 40-taper spindle. A special, no-frills version is available specifically
for educational organizations.  Images courtesy of FANUC America and Haas Automation.
---
Call Me Robo
Many in the industry know compact machining centers as drill-tap centers. One of the first machines marketed as such was the RoboDrill, introduced by FANUC in 1972. The early versions of these and other models were equipped with light-duty spindles that limited their ability to handle the side loads common when milling, making them suitable for little more than holemaking. Still, they were quick, boasting rapid-traverse and spindle speeds far faster than their clunky 40-taper cousins. 
Drill-tap machines were among the first to come standard with synchronous thread cutting, aka rigid tapping, eliminating the need for floating holders and reversible tapping heads. Because of this, they became popular in the automotive industry for secondary drilling and tapping operations in magnesium and aluminum casting houses and similar high-volume applications.  
Since then, the metal-removal performance of drill-tap machines has continued to improve, as has their popularity. 
Sergio Tondato, director of sales at FANUC America Corp., Rochester Hills, Mich., said the RoboDrill is used across the entire machining spectrum, with the aerospace, medical and automotive industries taking center stage. "The RoboDrill is an excellent machining solution for any part that fits in a 24"×16"×16" cube."
FANUC controls engineer Charles "Cal" Faunt said the α-DiB series RoboDrill was introduced at IMTS 2016 and sports a number of features that make it well-suited to job shop work and other types of general-purpose machining. 
The control interface has been redesigned, with three main areas corresponding to functions planning, machining and process improvement, he said. "We have 20 percent faster chip-to-chip times than previous-generation RoboDrills and 1,000-psi through-the-spindle coolant. There's also a function called HRV 3plus (high-response vector control), which provides better surface finishes and accuracy during high-speed machining. As an example, we can achieve circular interpolation accuracy of 3.1µm at 8,000 mm/min. when machining mild steel."
Heavy-Hitting Horizontals
Another indication that so-called drill-tap machines are no longer limited to holemaking is their use in 5-axis work. FANUC and others noted increased sales to "major medical manufacturers" for machining titanium implants and similarly challenging parts. 
---

Most compact machining centers can be equipped with 4- and 5-axis capability, making them suitable
for complex machining tasks.  Image courtesy of Kitamura Machinery of USA.
---
One such offering is from Kitamura Machinery of USA Inc., Wheeling, Ill. Slawomir "Sal" Swierczek, the machine builder's sales applications engineer, said the Mycenter-HX250iG offers high-feed machining functions, tool life management and axial load sensing that adjusts machining parameters on the fly—features required for the multiple-axis profiling common to medical work.  
The Mycenter-HX250iG is a horizontal machining center, a platform that few would place in the "compact-machine" category. Despite this, it's small for a machine with a 40-tool magazine (field-retrofittable to 102 tools) and an integrated pallet changer that measures just 111"×116" (2,832mm × 2,948mm). It comes standard with a 15-hp, 15,000-rpm, BT 30 spindle; a 30,000-rpm, HSK E40 spindle is available. 
Admittedly, the 30-taper and smaller toolholders commonly used with compact machining centers can't handle the same radial loads as 40-taper toolholders. Swierczek said heavy cuts in steel on many small machines using indexable endmills can overload drive motors, as can face-mills much larger than 2" (50.8mm) or so. Nor is drilling 1"-dia. (25.4mm) holes advisable, for example, or tapping ¾-16 threads. Either operation might stall the spindle. 
According to Swierczek, the HX250iG is indeed capable of heavy cuts in stainless, titanium and other difficult-to-cut materials, but leveraging a compact machining center's ability to take multiple light cuts at high feed rates is often a more-effective approach than heavy cuts at lower feed rates.
More than Mini
When it comes to small machining centers, Haas Automation Inc. has plenty of options. The Oxnard, Calif.-based machine tool builder offers three lines of machines that can be classified as "compact." Ironically, the one labeled "Mini" is the largest and comes with a 40-taper spindle, as does the company's DM series drill-mill machine. The DT-1 drill-tap machine is the only Haas mill with a 30-taper spindle, and the CM-1 (compact mill) is the only one able to qualify for the "phone booth" category, with a machine footprint less than 3' (0.9m) per side. 
Product technical specialist Keve Shoemaker said the DT-1 offers a 15,000-rpm spindle (20,000 rpm is optional) and rapid-traverse speeds of 2,400 ipm (60.96 m/min.). Like all Haas machines, advanced control features such as high-speed look-ahead and visual programming are available, as is probing, 4- and 5-axis capability, and through-spindle coolant. This makes them ideal for job shop work, according to Shoemaker, adding that they have a smaller footprint and price tag than many vertical machining centers. 
The CM-1 comes standard with a 30,000-rpm, ISO 20-taper spindle; a 50,000-rpm model is optional. Shoemaker said it's ideal for small dental and medical component machining, but is also popular in the electronics, aerospace and research markets. 
"Basically, it's a great fit for any small-parts machining where accurate, high-speed contouring is required," he said. "And with its small size and light weight, the CM-1 can be easily moved with a pallet jack or equipment dolly and will fit into most freight elevators." 
Haas also offers a "schools only" compact machining center, the Mini Mill-EDU. "It sells for just under $19,000 and is offered only to educational facilities," said Chris McHugh, business manager for HTEC (Haas Technical Education Centers). "We've found that students who train on the desktop machines commonly found in schools are completely dumbstruck when they get out in the industry and face a real machine with a real control. This helps eliminate all that."
Machines on the Move
Patrick A. Fitzsimmons, senior sales representative at Southwestern Industries Inc., Rancho Dominguez, Calif., said one of the beauties of his company's equipment is its mobility. "The TRAK 2OP Portable vertical machining center measures 4' deep by 30" wide. It can literally be brought down a hallway, allowing shops to quickly move it to wherever another spindle is needed."
Southwestern Industries is best known for its ProtoTRAK controls, introduced more than 20 years ago. Since then, the company has expanded into CNC knee and bed mills, lathes and VMCs. Fitzsimmons said the idea for a portable second-operation machine was born years ago, but the execution of that idea did not initially pan out. 
---

The TRAK 2OP from Southwestern Industries is compact enough to be transported
via a pallet jack. Images courtesy of Southwestern Industries.
---
"Richard Leonhard, one of the owners of Southwestern Industries, feels that lean principles are an important part of our ability to compete globally, and, to accomplish those objectives, we need to get the most out of our labor force," Fitzsimmons said. "That requires the use of cellular manufacturing and keeping operators busy running multiple machines. So we started selling a brand of small mills that we retrofitted with our control and could be wheeled around the factory floor with a pallet jack for use as second-operation machines."
According to Fitzsimmons, that product line did not succeed in the market because there was no enclosure, toolchanger or rigid-tapping capability. Three years ago, Southwestern Industries went back to the drawing board, completely redesigning the machine to make up for those missing features. The TRAK 2OP was born. "Despite its small size, the 2OP delivers 17" of X-axis travel," he said. "It has an eight-station automatic toolchanger, a 30-taper, 6,000-rpm spindle and a conversational control that also runs G code. It was designed specifically for secondary operations, but out of the hundreds of machines we've sold, we have quite a few customers that use it as their primary machine."
Southwestern Industries drinks its own Kool-Aid. The shop makes and assembles most of its own machine components, and the 2OP is an important part of those activities. "We have multiple machines available and move them around the shop floor nearly every day, keeping operators busy running three to four machines simultaneously," Fitzsimmons said. "Because of this, we are now at 100 percent capacity with only nine operators, whereas before the 2OP, we needed 15 people to do the same amount of work."
It ain't Heavy, It's a Brother
Greg Burns, president of Burns Machinery Inc., Minden, Nev., is a big fan of compact machining centers. He has two RoboDrills and a pair of 20-year-old Brother drill-tap machines, which he bought at auction and uses to machine a variety of small parts for the military and other industries. 
"Tool-change time drives me crazy," he said. "An average part might have six tools and a total cycle time of 1 minute. If you were to machine it on a typical 40-taper vertical machining center, you'd lose half a minute on tool changes alone."
Burns said the metal-removal rate with small, high-speed machining centers is phenomenal. "We have one part made from a block of stainless steel that's 2" wide and 4" long. The whole thing gets hollowed out. Twenty years ago, we would have gone in with a ¾" mill and started hogging. Today, I put it on the RoboDrill or Brother and take light, full-length radial cuts at 200 ipm. Tool life is better, the parts get done in less time, and the cutters and toolholders are less expensive to boot. A lot of people look at these machines as toys. Let them keep thinking that, because I'm taking their lunch money."