Author
Alan Richter
Published
September 01, 2016 - 04:30am
The difference in the skills required on the job and the actual skills job candidates possess—the skills gap—has been a topic of discussion since I started covering metal cutting and grinding more than 16 years ago, and its origin probably dates back at least to the time when carbon steel was the primary cutting tool material.
Whether the cause is a lack of proper education for industrial trades at schools, inadequate compensation, a feeling that those running manufacturing companies mistreat their employees (see first letter in the Letters to the Editor section on page 18) or some other reason is open to debate. Nonetheless, people continue to proactively do something about overcoming the skills gap, and I'd like to highlight two such efforts.
After developing a four-page piece titled "Machining a Great Career Path" and receiving a positive reply to its posting on the website for his local SME chapter, Matt Schowalter wanted to make his story, his six steps to success and insightful information about machining more accessible to interested students. To help achieve this, he launched the website machiningcareer.com earlier this year. The site includes a blog about information that Schowalter feels could be helpful to a student.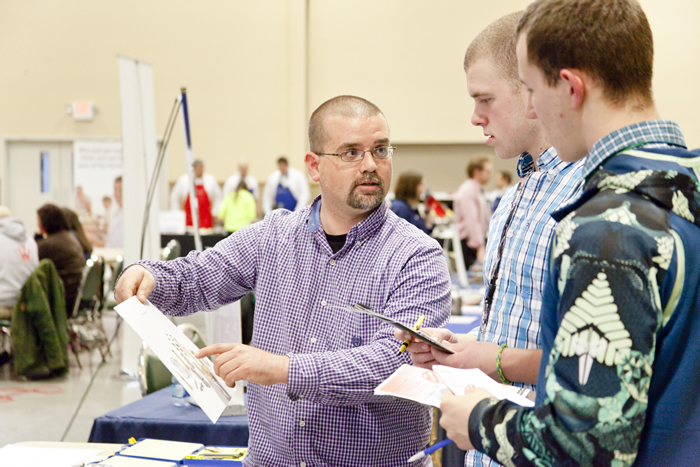 Matt Schowalter (left), developer of machiningcareer.com, discusses machining with students at a career fair. Image courtesy Matt Schowalter.
"I put my story out there to give kids some direction on where to go for information," Schowalter said. "It covers the things that I was confused about when I was that age. For example, they tell you math is important in machining—but nobody could really tell me what math is important, so I put that on the website too."
Although Schowalter is the machining group lead at Gauthier Biomedical Inc., Grafton, Wis., which produces some of its medical devices on Swiss-style machines with up to 11 axes, he emphasized that he commits his time, effort and money to promoting machining careers because he's passionate about what he does for a living and not to profit from it nor necessarily to attract and help train new co-workers. "I want to fill up everyone's shop with people," Schowalter said. "It's my way to give back."
Schowalter also promotes machining at career fairs and conducts tours of the shop at Gauthier Biomedical, one of which did result in a new-hire, he said. Schowalter added that his next step is to offer an app for smartphones. "I'm working with the developer right now," he said.
With its mission to ignite interest in manufacturing careers among youth enrolled in grades 6 to 12 through innovation and outreach, the Shop Rat Foundation, Pleasant Lake, Mich., is also helping to develop future machinists. In addition to machining, the foundation's focus areas are additive manufacturing, construction, engineering, mechatronics and welding.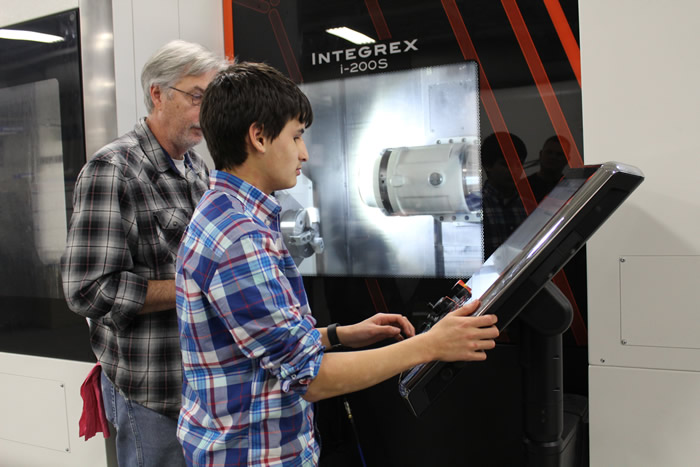 Machining is one of the focus areas the Shop Rat Foundation provides as part of its youth education programs. Image courtesy Shop Rat Foundation.
Shop Rat Foundation Executive Director Kelly A. Burr said machining is the foundation's most-difficult area to get kids into. "Not because they don't think it's cool, but it's just something that they are not familiar with," she said.
No wonder: Of the 13 school districts in Michigan's Jackson County, where most of the foundation's activities take place, there's only one metalworking shop at the individual district level, Kelly said.
The foundation states that shop rats have many positive characteristics, such as enjoying a challenge, and above all they are seldom seen but always there! I just wish the rats that congregate in the garden of my building would be so out of sight.
Related Glossary Terms
burr


burr

Stringy portions of material formed on workpiece edges during machining. Often sharp. Can be removed with hand files, abrasive wheels or belts, wire wheels, abrasive-fiber brushes, waterjet equipment or other methods.

grinding


grinding

Machining operation in which material is removed from the workpiece by a powered abrasive wheel, stone, belt, paste, sheet, compound, slurry, etc. Takes various forms: surface grinding (creates flat and/or squared surfaces); cylindrical grinding (for external cylindrical and tapered shapes, fillets, undercuts, etc.); centerless grinding; chamfering; thread and form grinding; tool and cutter grinding; offhand grinding; lapping and polishing (grinding with extremely fine grits to create ultrasmooth surfaces); honing; and disc grinding.

metalworking


metalworking

Any manufacturing process in which metal is processed or machined such that the workpiece is given a new shape. Broadly defined, the term includes processes such as design and layout, heat-treating, material handling and inspection.