Author
Cutting Tool Engineering
Published
August 16, 2023 - 03:30pm
For more than 20 years, Matt Maschmann, associate professor of mechanical and aerospace engineering at University of Missouri, has worked with materials that require specialized technology — electron microscopes — to be seen by the human eye.
"When we deal with materials interacting on a nanoscale level," he said, "we can't physically see the processes that are occurring — like the charging and discharging of a battery, for instance — without the help of an electron microscope."
Now, with the support of a two-year, $800,000 grant from the National Science Foundation and an additional $300,000 from the university, Maschmann and a team of researchers are purchasing equipment from Protochips Inc., which will allow them to conduct scientific experiments while simultaneously viewing reactions as they happen in real time under the lens of a Thermo Fisher Scientific Spectra 300 transmission electron microscope, or TEM.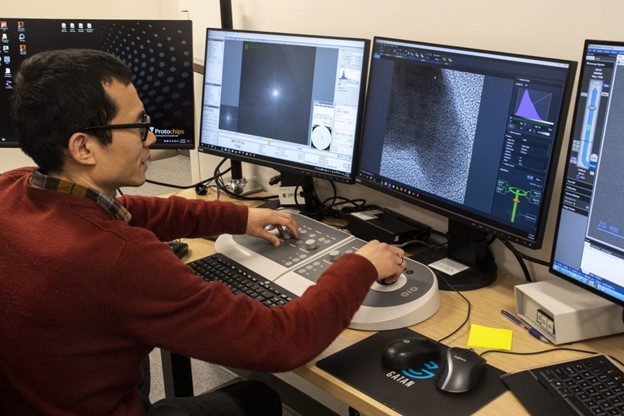 "The TEM is capable of letting researchers visualize reactions and material changes with up to atomic resolution, which is amazing," he said. "But conducting experiments within a TEM environment is challenging because only small amounts of material will fit into a TEM chamber, and the system operates in a high-vacuum environment. Traditionally, researchers acquire TEM images of what a material looks like before and after an experiment, which leaves them to make an educated hypothesis about why and how a material has changed."
With the new equipment, Maschmann said researchers will be able to gain a greater understanding of what's going on at the most basic level of the structure of a material by seeing an entire experiment unfold in real time. He said they also can use the equipment to conduct experiments in three different environments — liquid, gas or vacuum — within the electron microscope. These capabilities will allow them to explore and observe how different materials react to different environmental stimuli, such as heat or electricity.
"For instance, we will be able to examine the composition of nanomaterials all the way down to the atomic level," he said. "We can obtain detailed measurements by seeing the atoms moving and can even determine what element the atoms are."
The grant also highlights an interdisciplinary collaboration between the Electron Microscopy Core Facility and the MU Materials Science & Engineering Institute, or MUMSI, which opened in 2021 as a partnership between the College of Engineering and the College of Arts and Science. MUMSI's goal is to advance collaboration on materials research and engineering education across the university. Maschmann is MUMSI's co-director. 
— University of Missouri